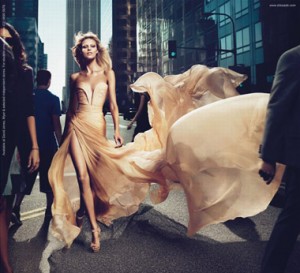 I've been really looking forward to trying the new Elie Saab le Parfum, and in fact I'm glad I followed up on that lemming, because of this year's releases, I think I'm going to enjoy and wear this more than Amouage Honour Woman (and I'm the biggest Amouage whore you will ever find – I was really dying for Honour to come out).
The combination of white flowers, fizzy aldehydes and a touch of fruit in Elie Saab reads almost like peach to my nose – a very elegant, ladylike peach, with a lot of daylight sparkle to it and maybe a touch of skin but never leg. Might there be such a thing as a Mitsouko made of sunshine?
But I don't enjoy wearing Mitsouko, and I do enjoy wearing this. There's a touch of that elusive musk/something else (orange blossom?) accord that marks it as the work of Francis Kurkdjian – Kurkdjianade, anyone? If you loved les Absolues pour le Soir ou le Matin you loved this accord, and I know when I smell it that it is a work of his matchless nose.
But Elie Saab le Parfum isn't Absolue pour le Matin (or pour le Soir either), though it's closer to those scents than the work M. Kurkdjian did for his Indult label. It is a scent no one will have trouble labelling classically "Perfume" (the capital P is in intentional), but very appealing to the younger generation at the same time. There isn't a whiff of oakmoss or cleaned-up patchouli either; yet no one of any age could fail to tell that this is a direct descendent of classic perfume. I think it's because of the aldehydes; there's a reminiscent shadow of Chanel No. 5 if anything, and even the most nouveau perfumista has smelled Chanel No. 5.
The scent it reminds me of most closely is the classic Champagne (now Yvresse) by Yves Saint Laurent. I have some of the original Champagne, and the swoon-worthy peach bouquet is perhaps something similar. But Champagne, at least on my super-dry skin, is a fruitier scent (truly peach, not just reminiscent of peach bellinis) and one that it would be tough to get away with wearing to the office in the daytime. Elie Saab le Parfum is fizzier, more sparkling (more truly evocative of champagne?) and it has a very slight soapy, almost powdery note that somehow causes it to murmure demurely, "It's all right, you can wear me in the daytime." I dislike both soap and powder notes in perfume, but in this composition, I'm enjoying them. I think it's because behind them there lurks the merest touch of a clean, light musk that makes the whole thing modern and yet not predictable (or unbearable, depending on how you feel about clean light musk). (Perhaps it is an elegantly crafted use of the iso e super molecule?)
All I can say is that while Champagne made me nearly giddy with delight, Elie Saab le Parfum is making me buy a decent amount to have on hand. I could easily imagine wearing this as a regular day scent for quite a while. It's lovely and it's different and it's totally wearable and it's completely day-appropriate. It dries down into a very delicately feminine skin scent. I can't imagine the perfumista who doesn't want to at least smell it, and I predict that for those who ignore my previous article about how you should never buy perfume, this is going to be a popular and successful gift come the gift-giving season. I look forward to this perfume becoming an under-the-radar classic.
P.S. I agree strongly with the review here at museinwoodenshoes – I think we had very similar experiences of the fragrance with slightly different skin and different perfume preferences. Now I want to go back and look more specifically for clean patchouli – it really didn't poke out at me like it does in a lot of "modern chypres" (of which Elie Saab really isn't one). Interesting!
Bookmark or Share