Orientals are smothering to a lot of people and life itself to the rest of us. Ignore the not-yet-postcolonial tag; what an oriental really is, is vanilla and wood and spice, and in cooler weather like the east coast is enjoying now, it's my idea of heaven.
Via Sniffapalooza's Scentences I see that the Wall Street Journal is reporting on a new crop of "florientals" – perfumes that mix floral notes with the classic oriental style (or something like it – by which they seem to primarily mean vanilla). I don't know why this is revolutionary except that it makes a nice change from the fruity floral that the average American shopper has been snapping up by the gallon for lo these many years. A floriental must smell to these shoppers a little more dangerous, perhaps a little more luxurious, richer, deeper, even more sensual. "Clean" is the watchword for the average fruity floral; "sensuous" would be more appropriate for a class of fragrances that tends to dry down at least to vanilla (surely something most of us would like to lick) rather than the laundry detergent musk that is the farewell of the fruity floral.
I haven't actually smelled any of the six the WSJ is featuring – Givenchy Dahlia Noir, Fendi Fan di Fendi, Calvin Klein Forbidden Euphoria, Lubin Paris Black Jade, Prada Candy, or Tom Ford Violet Blonde (though I think I must be the only perfumista on the boards not yet snorting Prada Candy – it seems to have gained quite a following very quickly). They all came out over the summer and except for Black Jade, which I am dying to try, none of them sounded particularly interesting to me. Most of them sound a bit lighter and more designed to appeal to the broader audience than I often go for (though don't get me wrong, I loved this year's Kate Spade Twirl and there is no more mass-appeal scent than that one). Also, though, they didn't sound like warm weather fragrances. Now that the weather is cooler, I'm more interested.
Fumeheads often divide their perfume into warmer and cooler scents – and then often they don't. Something filled with vanilla and spice is the kind of thing some people only want around them when the weather makes it reasonable to dream of soft encompassing luxuries; other people wear them year round happily.
My beloved Opus I (my preciouuuussssss) always smells good to me, but in the summer it mostly smells like a ginger molasses cookie, and if I don't want to wear ginger molasses cookie, I have to leave it alone. In the fall and winter all the other aspects come out, and I wear – well, probably too much of the stuff.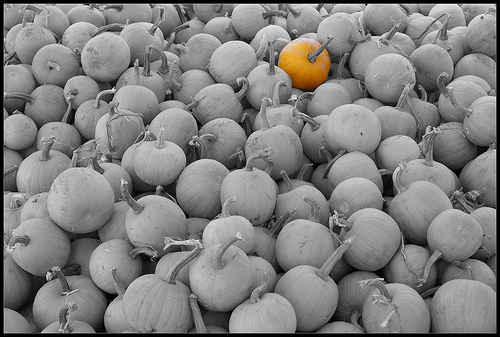 For the first officially chilly day of the year this year I started out with Etat Libre d'Orange's Like This, arguably the best celebrity fragrance of all time. Like This's odd fresh pumpkin opening and orange notes like a chiffon scarf dried down to the faintest trail of spice and something lighter and cleaner on me – probably the imortelle and a musk that does not smell like laundry detergent. I always love it, and it was the perfect scent to usher in fall. Like This knows there will probably still be some warm days ahead and can go either way. It never makes you choose; there's something all-encompassing about it. And yet I still probably wouldn't wear it in July – not because I couldn't, just because, like a cocktail dress with sneakers, it just wouldn't seem to go.
(Note that there are people far more stylish than I who undoubtedly could wear a cocktail dress with sneakers. I'm sure those people make even better use of Like This than I do.)
I finished the day with a spritz of October from Neil Morris Fragrances. I am fast falling in love with NMF – these are becoming some of my favorite scents. There is often a drydown that has a touch of wood in it that is indicative of masculine scents – I don't know exactly what it is (labdanum?) but it smells to me like Men I Like To Smell, and not suprisingly I love wearing it for myself. October doesn't have this note and it's not one of NMF's most sophisticated, yet I wouldn't hesitate to recommend it to anyone muttering to themselves "I'd like a really autumnal fragrance." It is indeed October. The pumpkin and the spice are there – like Like This, I think the pumpkin is more fresh-cut than cooked with sugar, far lighter than you would think – and the drydown is lovely, without the musk and floral touches of Like This. Like many of NMF's scents, it seems more masculine to me somehow – while Like This could be worn by anyone and so could October, October seems more like no man would fight wearing it. Next to Like This it seems rougher-edged, less polished; but it also made a perfect brother to Like This, the perfect thing to wear at the end of the day when Like This had worn off but the cool weather hadn't.
If you like a perfume that is surprising, elegant, unique and beautiful for fall, try Like This. If you find it too weird, too light, too feminine, or simply not sufficiently redolent of All That Is Autumn, try October. I personally can't imagine that either would disappoint.
Image by Creative Commons license, by Rusty Boxcars
Bookmark or Share