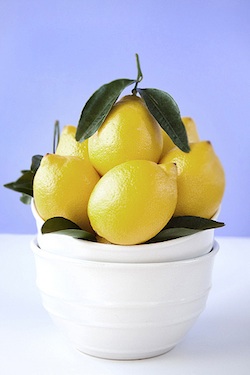 I had one perfume in mind to smell when I visited Barcelona: Lemon Cloud (Núvol de Llimona), inspired by a dessert by famous pastry chef Jordi Roca i Fontané. I read the Time article about it long before my trip and definitely wanted to try it. This was the one perfume I went prepared to plunk down money for, unsniffed.
Lemon in a perfume is tough. It usually is a fleeting top note; if you want to revel in it, it's difficult to find something in that category. I was lucky enough to try the very pleasant Philly & Phill at Henri Bendel this spring, and I think that comes closest to a real "lemon" perfume. The fruit in it makes it extremely sweet, and it has more of a powdery finish than I would normally like, but it is indeed the experience of wearing a lemon perfume. I've also recently worn Eau des Fleurs de Cedrat by Guerlain, as my friend K fell in love with this at a recent Sniffa and the extraordinary sales associate at the Guerlain counter at Bergdorf Goodman actually remembered which one we tried on and directed me right back to it in seconds. (And well done her, because I had NO. IDEA.) Cedrat is a green cologne of a lemon scent, and the floral heart wears off within, seemingly, seconds on me. It is not half as sweet as Philly & Phill, it is perfectly unisex, it is gorgeous, and in half an hour it is gone.
Núvol de Llimona (or Lemon Cloud as they are calling it in English) is a true perfume, not a cologne, and the perfumer is a pro; the perfume smells of it. We were able to meet both Jordi and the nose, Augusti Vidal, in Barcelona. Jordi was able to tell us the story of how he came up with the perfume; Augusti gave us perhaps the more pertinent story of how he translated Jordi's creation to a commercially viable scent. Augusti has worked in a number of scent markets – upscale perfume as well as the type of environmental scents found in household products – and his professionalism shows in the product. It is a smooth blend of what it is: a nicely lemon top, not at all "Lemon Pledge"-like, with a creamy heart, just a touch of floral echoes in the background, and a clean musky drydown that would not put off any perfume wearer these days. It is sweet but not too sweet, light but not too light, not too evanescent, and there is nothing jarring in it. If you are looking for a true lemon perfume, this might well be what you are looking for. It is a true lemon perfume, with the luxurious pastry touch of its namesake and a melting milky sense of a cloud fading away.
I guess that was a bit of what disappointed me about Lemon Cloud. I wanted genius. Jordi is a genius. But the commercially produced perfume that you buy when you buy this isn't what Jordi distilled in his kitchen; it's a professional piece of work, and there is no genius in it. There are no surprising juxtapositions (except perhaps that of the milkiness and the lemon, which Jordi created in his dessert). It reminded me a bit of the tea collection from Jo Malone this past summer; the milk and the lemon are diluted, as they are in tea, not strong or rich as they can be in perfume. The scent dries down on my super-dry skin to almost nothing very quickly. Instead of living in a lemon cloud as I'd wanted to, I was left with some wispy lemon tea dreams.
And that was OK, in a sense, because for various reasons we were not able to BUY Lemon Cloud in Barcelona. Luckyscent.com is now carrying it, and it is probably well worth buying. The creators were nice enough to pass around samples, though, for those of us on the Sniffa trip, and I'm still working my way through mine. If I use it up I might buy a full bottle… but it isn't the dream I was hoping it would be. Whenever one has expectations, I find, in life as in perfume, they aren't usually met. This was one of those cases. Is the fault in the perfume or in myself?
Image is from Mowie Kay, Creative Commons licensed; some rights reserved.
Bookmark or Share