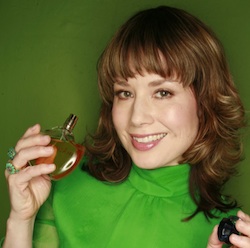 How did we meet? I don't remember. I know other perfumistas had pointed out her appeal (and reviews, on www.katiepuckriksmells.com) on the boards but I somehow just didn't get "caught" when I watched her YouTube video reviews of perfumes. When did I fall? When I watched her videos on her own perfume collection. Somehow it wasn't just reviews, it was a person's own perfume collection, an insight into her collecting and wearing habits as well as a long exposure to her delightful on-screen personality and great way with words. She's like your adorable neighbor, way cooler than you but still somehow sweet, who's desperately trying not to say "crotch" in front of the kids because she still does talk to you even though, see above, she's way cooler than you. Something about her just makes you want to stay tuned in to her orbit, even though, y'know, she's on the intarweb screen and you aren't. If I weren't so lazy I would totally stalk her.
Her attitude toward perfume is positive but not relentlessly so; she is open-armed to the idea of people wearing what they enjoy (as most perfumistas are); and she has a broad knowledge of perfume and uses it in her reviews without ever once sounding pretentious or like she's schooling you. That's an art. In fact she isn't really schooling anyone; she's informing, and after you watch her you feel more In The Know than lectured. Plus, did I mention she's just adorable? I can't get enough of her rock-star haircut, her perfectly flattering makeup, and her edgy-without-being-stupidly-trendy outfits. Plus, color! (I live in the New York area, I admire ANYONE who doesn't constantly go around wrapped in black.)
I am fascinated by her perfume collection (5 videos! start here). Katie and I have almost absolutely opposite tastes in perfume, and her 70+ bottle collection has pretty much NO overlap with mine. We both own Amouage's Homage attar (my precioussss) and I own a bottle of Lovely while she has the oil. I don't think I heard a single other thing we both own.
Interesting, because if you didn't love perfume you'd think it would be possible for two collections to be so large and not overlap at all. If you do love perfume you know exactly how likely it is.
She has a lot of brands I never shop from. Parfum de Rosine, a lot of Parfumerie Generale. Several Etros – I don't know this brand at all. I love looking at the bottles in her videos, almost none of which I can identify (unless it's a bottle I know and is used throughout the brand, like L'Artisan Parfumeur's). She is causing me to explore more ambers and that, as Martha Stewart used to say, is a good thing.
Katie's appeal is addictive and grows on me. I love listening to her talk about perfumes I know; I love listening to her talk about perfumes I don't know; I love listening to her even when I'm tuning her out because I just have her to listen to while I reorganize my own collection. She's like your way cooler best friend, on the Internet, talking to you about perfume. And isn't that what YouTube is supposed to be for?
—
Promo pic totally swiped from her website, and not half as cute as she looks in her actual videos.
Bookmark or Share