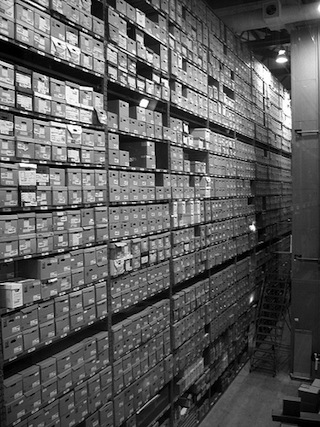 There are three reasons why I keep a GoogleDoc spreadsheet of my perfume acquisitions:
1. So that I don't duplicate something I already have.
2. So that I can keep track of what I spend.
3. Because keeping track of all the data is such a #*##&&!! hassle, it encourages me to get less.
The first one is already a lifesaver. If you buy most of your samples, as I do, it's a killer to buy something you already bought. You can't have money trickling out the door that way! That way lies madness. And if someone mentions something and you think "Mmm, that sounds good!", you want to be able to check and see if you can go try it right now, without a trip to a store or another outlay.
The second one is the old diet theory, that you have to journal what you're splurging on. This never worked for me with food but definitely works with perfume. Every time I total up what I've spent in a month, or a quarter (to participate in the quarterly polls at Now Smell This), I'm appalled with myself. Also, I can't pretend I don't know where all my pocket money goes. Whenever I'm on a binge, entering the acquisitions in the ol' spreadsheet – and totalling up the damage – tends to slow me down.
The third is simply reality. I tend to buy samples, decants, bottles from eBay, plus the occasional swap… I have a hard time keeping track of it all. When I go back through and make a note of it, I have to pull all those records together. It's not the same as when I come home from a Sniffapalooza and immediately catalog my haul; I have to figure out where everything is and what I paid for it and enter the data. This also gives me a rough idea of where to FIND something in my house or office – not an inconsiderable feat, especially with all those damn samples. I try to make notes as I acquire things, and periodically I go through a specific storage area and catalog the contents of that.
I have two counts, the whole database, and the quarterly expenditures. Keeping the two lists cross-checked is a hassle and a half, but that's where the accuracy comes from. Sometimes I enter something I bought in the quarterly damage, but not the whole spreadsheet; and vice versa, too. Goddammit.
How do you keep track of your holdings?
—
Image is "Miles of Files" by drpritch, via Flikr; CC licensed, some rights reserved.
Bookmark or Share