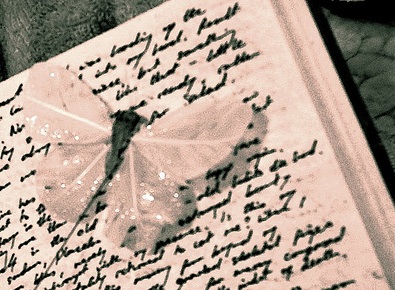 I needed a pick-me-up yesterday, and found it by rifling through the shelves of a local Sephora looking for scents I didn't already "know". Turned out there were a lot. I covered quite a bit of testing ground by spritzing some strips and walking around for the next few hours with them clutched in my hand, smelling them dry down.
Usually if I'm seriously testing something, I do it straight on skin, because I don't like how a lot of perfumes smell on paper. But the kinds of perfumes they sell at Sephora are formulated to do well on paper, and anyway, this was way too many to try to subject to skin!
Here are my quick observations – completely unscientific, unobjective, and probably objectionably off-the-cuff.
Miss Dior Cherie – I can see why lovers of vintage Miss Dior are pissed. There's a faint shadow of something classic, but overall this was the most forgettable of the bunch – and that's saying something. Fruity floral, and who cares?
Billionaire Boyfriend – should be called Boyfriend Intense. Amps up the wood and skin musk of the original. Could be worn by a man or at a man. Still pretty well done for a celeb, but in no way rocks my world.
Chanel Coco – smells old-fashioned in this company, and yet not enough to please my vintage-lovin' heart. Nothing about it grabbed me enough to make me want to try it on skin, but I will probably have to try it again at some point because I didn't really "grasp" what this is trying to do.
Marc Jacobs Cranberry – Ye Olde Standard Marc Jacobs "gardenia"/musk base, with cranberry on top. C'est tout.
Chanel Chance – easily the most nondescript fruity floral I have smelled in … as long as I can recall right now. Only slightly more memorable than Miss Dior Cherie because of an objectionable chemical note to the fruit. Why??
Hypnotic Poison – I was eager to try this, because My New Love, Katie Puckrik was raving about this one as a great ambery type of thing, I am trying to investigate ambers (because of My New Love, Katie Puckrik), and I've seen it mentioned other places as the "other" genius Poison. And I freaking love Poison.
This was interesting, very little top, and base notes consisting of – while I walked on the street – a nice dryish cocoa-vanilla-almond combo that I could quite see liking. It didn't seem as suffocating as Katie had described it, and it was very pretty, a balanced type of gourmand thing that was nonetheless not too sweet.
Then… I walked onto the subway. And in the warm, humid car, BOOM the thing bloomed and THERE was that benzoin/almond/Play-Doh note that I hate in Traverseé du Bosphorus and that therefore causes all the cool kids not to talk to me. I intensely dislike it when perfumistas rant on and on about some specific note they just can't stand. "Grow a pair!" I want to say. "Everything's good in the right formulation!" But this is the note that causes me to despise myself; I just can't find a way to like it, and it sometimes seems like it's in every damn thing that I would otherwise like.
So, there it is, bam; not intending to wear Hypnotic Poison, I am weak. There it is.
Pure Poison – see, I don't read a lot of love for this, but I would wear this. I like white florals and white musk. It's unobjectionable, it's pretty. I'm not sure it's sufficiently differentiated from my other white florals with white musk to shell out for a bottle. But I wouldn't chuck it out.
Jennifer Aniston – Laugh if you want. I won't be adding a tag for this brand. But I did want to try it, and I'm quite glad I did. This was the oddest of the bunch, a beachy, but yes, non-calone scent, with no discernible lavender or vetiver in it (I bet myself it would have one or the other given the descriptions, but I couldn't smell it) and a soap-floral note (heliotrope??) that was just weird when mixed with the beachy element. What was the beachy element, you ask? Don't freaking know. It isn't quite coconut, but it's in that category – it's suntan lotion, and you know it when you smell it. My beachy celeb frag of choice is J Lo's Deseo, and I wouldn't bother to switch it out for this one. But it is true that Jennifer Aniston is odd, it isn't like everything else, and I can see it appealing to a demographic that doesn't like perfume, but at this moment for some reason is willing to put some on. It's an affordable choice, it's not a copy of everything else out there, it's pretty well done, and I suspect it will do well in my demographic, the demographic of Gen Xers who would like the baby boomers to go away with their vintage stuff and the teeny boppers to take every bottle of Fantasy and go far, far away, farther than the boomers. Yes. That is our demographic, and we wore Jennifer Aniston's haircut when "Friends" was big, many of us, and many of us will probably also buy her perfume. Not me, though.
Givenchy Ange ou Demon Le Secret – this one I have no notes for. This one I carried around all night, huffing, after I had finished thinking about the rest. This one I want to wear. What is it that gives it that indefinable something, that I want to wear it, not just analyze it? I don't know. It's attraction. This one has it. I want some.
Bonus snort: DSH Aquarius, from the Patchouli Project; I tossed this on to sleep in, it did nothing for my mood. I will try this again in a different mood. I've been coming to terms with patchouli, but there are still patchoulis that draw a response from me in which any nuance is overwhelmed with a sense of "Bleargh." Not into it, but as I said, will try again at a different point.
Summary: Oh, I will have a bottle of Ange ou Demon Le Secret. Also, many more *shrugs*. Thank goodness; that's money saved.
—
Image is Diary by benleto, used by Creative Commons license; some rights reserved.
Bookmark or Share