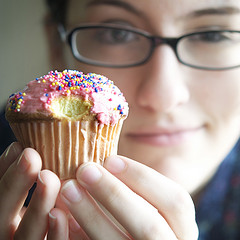 I'm a lackadaisical tester. I treat samples like M&M's. I come across them, in my desk, in my purse, on my bureau, and I pop them.
At least, I'm trying to do that. I have literally hundreds of samples that I cared enough to acquire but haven't tried, or haven't tried enough. After feeling oppressed by the samples everywhere (they would fall out of the desk every time I opened it looking for something, or swim around in the bottom of my purse), I've finally consolidated all the samples in my bedroom, in designated containers, including a rather large covered bowl on the bureau itself; AND I've noted the location of each sample in my inventory.
I can't be the only perfumista using her obsession to try to treat her own issues. In my case, I tend to hoard without using. There's a part of my brain that is convinced that whatever I have is all I will ever have. I hoard, saving up for some future day when I can't have any more of what I want. In my childhood it was cookies; now it's perfume. It's still not a healthy attitude to have. I need to believe in the future. There will probably be perfumes in it and I will probably be able to have them. Nonetheless, I fight it by trying to use what I have. I want to try the samples I've acquired. (When I get really advanced, I want to do the perfumista trick of using up a sample before I buy a full bottle. This would be wise. I'm not there yet but I aspire.)
There were quite a number of things that weren't even entered in the inventory. They must have come with something else. I had a few things that I probably would have bought if I didn't take note that I have them. (Absolutely haven't yet located the first Montale Chocolate Greedy sample I bought, though. Only the house gods know for sure.)
Now that it's tamed, I feel better about picking up a sample or two and slipping them in my purse or pocket in the morning, hoping to test at some point during the day. Usually I wear a "morning perfume" that is light and inoffensive, but tend to do another perfume in the afternoon (with my tea and snack) that is more exciting but which will hopefully still wear down before I greet my beloved at home in the evening. Or get washed off at the gym. Theoretically these will migrate into the bags for "to be filed" or "to give away". Yes.
I'm enjoying entering the little capsule impressions I get off these things in my diary here, but I'm aware that they're hardly "reviews". I know well how very different something can smell in a different season, or when I'm in a different mood. Srs perfume bloggers appear to make a point of wearing something several times, or at the very least over several days, before writing their no doubt thoughtful and detailed reviews.
I'm more likely to record my "Bleargh!" first reaction, or a "Whoa!", or a "Yum!", and maybe (or maybe not) expand on that. I'm perfectly happy to come back to something later, but I'm not trying to write a detailed review of a perfume as I would of a novel.
Please note that perfumes certainly deserve detailed, thoughtful reviews just as novels do. Or movies, or music, or any other form of art. I simply am not always delivering them. I sit down to write that kind of a review less often than I do a quick impression. If I do write a detailed review, I mark it "review". Or, if I think my small impression is about all there is to say about the scent, I'll mark my quick impression as a review too!
So how do I test? I usually open the 1 ml glass vial and use the stick inside to wipe the smallest amount of perfume on a spot on the back of my hand. I learned at the JAR boutique that the back of the hand is just as easy to snort as the wrist, and I save my wrist for something I actually want to wear and have evaporate around me as I go through the day.
If it's a sprayer, I spray the inside of my elbow (sometimes I put the dabber perfumes here too) and I'll tell you why: my skin is so dry that it affects the scent immediately, and in the winter, if I don't put it on some skin that is likely to retain at least a little moisture, I can't correctly smell the scent. I mean it's really off. Snorting the inside of the elbow might not be as suave as the back of the hand, but that's not usually my biggest problem anyway.
In my interview at Ever So Scrumptious, my friend/interviewer said that when she first smelled Back to Black she started to hear Barry White singing and saw a disco ball descending into the room. 🙂 To be honest, I tend to perceive perfume almost like a heart monitor diagram. If there's a POW at the beginning I see it zooming off the chart, and then I picture it swinging down into negative territory, or pulsing steadily, or taking a long slow dive. I sort of picture it moving through dimensions of scent – if the vetiver stays steady but the jasmine steadily declines in power, I may picture it as a vibrating line moving towards zero. Truly though the diagram is just a metaphor – I do picture perfumes more as abstract color shapes, more like Spirographs than disco balls.
I say this only to point out that of course I don't always get the full picture before I record my brief capsule impressions. If it were a serious review, I would feel the need to make sure the wear the whole thing, for as long as it wears, more than once, in different moods and in different weathers. I don't always do that for a "test".
But how do you test?
—
Image is Daughter #2 and her cupcake, by justmakeit; used under Creative Commons license, some rights reserved.
Bookmark or Share