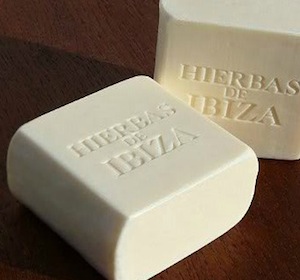 I'm changing my mind about Hierbas de Ibiza.
When Sniffapalooza arrived in Barcelona we were greeted with, among other things, a lovely bag of samples of bath and fragrance products from Spanish company Hierbas de Ibiza. These were provided by JC Apotecari, hands-down the best pointer I could give you for a fantastic place to shop for perfume (and beauty) in Barcelona.
It was November, it was chilly, it was damp, and I wasn't in the mood for an herbal cologne. I sniffed it but put it aside, intend on sniffing (and acquiring) a lot of very different perfumes.
When we visited JC Apotecari, though, I did buy the bath soap. The salts also called to me – well, so did the silver perfume solid – but something about the fragrance translated into the soap really worked for me.
I'm so glad I bought it because this has been the perfect doldrums-of-winter bath scent. Like the Agua de Colonia Fresca, the pillar of the collection, the soap contains real herbal and citrus ingredients from the actual isle of Ibiza. But in the soap, those herbal and citrus ingredients – the mainstays of a true classic cologne – are softened and the drydown notes the company lays claim to come out. A touch of vanilla is mostly what I notice and it softens the entire thing, as if a field of beautiful grasses had bloomed.
The notes the company lists are orange, lemon, lavender, lemon verbena, rosemary, thyme, sage, verbena, geranium, jasmine, orange blossom, cinnamon, and vanilla. If there's anything there that frightens you, though, I would strongly encourage you to look past it. The whole is blended really beautifully. This is not something whipped up in a yuppie basement. The family that makes this product cares deeply about it and makes a good product. I believe that the company has limited distribution because it can't mass-market something so carefully made.
Lots of people don't want a classic cologne, but if you did, you could do very well with Hierbas de Ibiza. But everyone wants to feel a little springier this time of year in the northern hemisphere, and if you do, I highly recommend the soap. Hierbas de Ibiza also makes a nice shower gel and body lotion, as well as a shampoo and hair conditioner I have not tried. The lotion has decent lasting power on this lizardy girl. But it's truly the soap I find to be a beautiful experience, over and over again.
Bookmark or Share