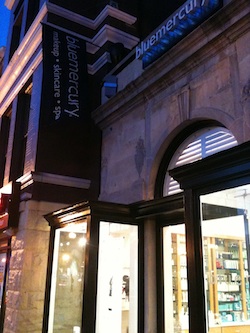 To continue the shopping theme, I feel I must mention that I ventured into BlueMercury when I went on a business trip to Washington D.C. last month.
I thought from the website that it would be a much bigger place. Apparently BlueMercury is a chain, and some of the locations have spa areas and such.
It isn't. It's just a few steps from the Dupont Circle red line subway/metro/tube stop, and it's a sufficiently small storefront that you might miss it if you weren't looking for it.
If you, like me, occasionally need to pick something up on a business trip, this would be a lovely place to do it. They had an eclectic collection of brands on the shelves, all easily displayed for browsing in the small store, and very full collections of some relatively hard to find makeup brands. Bobbi Brown and Laura Mercier loomed large in the tiny space, and the lovely sales associate made very sure I knew that there was going to be a Bobbi Brown sales event the coming weekend. (I think it was Bobbi Brown. For sure there was a Celebrity Makeup Artist coming and I could ask questions as well as see demos and buy products, right there and then. He wanted me to know. Poor man didn't know I am terrified of Celebrity anything and undoubtedly wouldn't have come to ask questions even if I were going to be within the city limits, which I wasn't.)
Molton Brown, Fresh, Phyto, and Kiehl's adorned the walls. For fragrance, they had a full collection of L'Artisan Parfumeur, including a bottle of Tea for Two; I got to sniff Laura Mercier's L'Heure Magique (it does indeed have the slight tea note that Patty, I think it was, pointed out on Perfume Posse, as I mentioned in passing in "Random Snorts"); there were some not-always-easy-to-sniff Tom Fords and Diptyque out for appraisal as well. Those kinds of brands made it worth side-stepping, perhaps, the usual Sephora experience and taking it up a notch with this store.
The Fresh Cannabis Santal that I tested was also surprisingly good, but I don't think I would have enjoyed it as much if I weren't layering it with the L'Heure Magique. Perhaps I'd have to wait to own both perfumes before I buy either – though I would buy L'Heure Magique first. It was a far better blend, very elegant and day-wearable, where the Fresh Cannabis Santal struck me as so much harsher and cheaper; but there was something about the particular sandalwood (or ersatz sandalwood) in the Fresh that I really dug. Seriously, would wear them again – if I could wear them together.
But I wasn't buying perfume in March – so I bought a Laura Mercier blush (everyone raves about it!) instead. 🙂 It is indeed very pretty, wearable, sheer and buildable. It is going to be my travel blush on vacation this spring.
Recommend a visit to this nice little shop, and if you are traveling and need something, definitely swing by.
Bookmark or Share