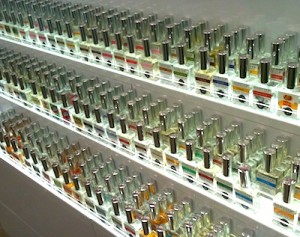 Even if we're not buying, we're enjoying perfume shopping, yes?
Actually I visited Miami in April, after the no-buy moratorium, though technically, if you asked my wallet, the no-buy moratorium should still have been on. I didn't feel as much pressure not to buy, but I wasn't dying to spend spend spend either. It is a good mood in which to perfume shop. Plus, I was on vacation, and hanging out with my brother, one of the coolest, most relaxed, froody dudes with which one could possibly hang out. I have never in my life met a straight man more interested in shopping than my baby brother, so some shopping was inevitable (though sadly he doesn't give a damn about perfume).
Much of the time I was on my own and just wandering about. I had never been in Miami before. I walked across the street to the Walgreen's to buy some sunscreen (you can never fly with enough when you're traveling to a beach, you know?) and WHOA, was greeted by the Demeter library you see above.
In fact the entire beauty section of this Walgreen's (in North Miami Beach, one street over from the beach) was huge and gorgeous. There were serious department store brands, though I didn't make notes – trust me, you would not have had to travel farther to pick up anything you wanted. It was even more upscale than your average Sephora these days, and very spacious and well-lit. What a jackpot.
I, however, bought some Easter chocolate, sunscreen (I use only physical sunscreen, the Neutrogena baby products), and some stuff with which to wash out tomato sauce stains I had caused at dinner the night before.
I did want to do some "serious" perfume shopping while in Miami so I made a point on later days to make two specific stops: Alberto Cortes and Bal Harbour Shops.
Alberto Cortes turned up in all my web research about perfume shopping in Miami. Superstore, good selection, blah blah blah. It took me hours to get there and get back (yes, more than two hours) and was a complete waste of time. Though I should have perhaps guessed from the photos, all the perfumes are behind the counter. If you want to smell something, you have to ask one of the nice middle-aged ladies.
Now the ladies were very nice, and they had the charming Miami habit of being perfectly happy to continue talking to me in Spanish even when I answered in English. I've studied many languages badly, and usually when I answer a question in English it's clear enough that I understood you, but am too lazy (or too poor a speaker) to attempt to craft a reply in the language under discussion. Usually when this happens they reply in English and it's off we go. (In Germany you CANNOT shift them back into German, as they love having a chance to practice their English.) These women took my English answer and just responded back in Spanish. We noticed this happened a lot in Miami, which is a very biligual place. It is a pleasant enough habit, everyone gets along, and it's a lot less militant than Quebec, where they will answer you again in French and then explain to you in French that they will coach you in French. I had waiters who wouldn't take my order in English; they wanted me to give it a Francophone try!
ANYway. I don't want to ask nice ladies to try scents. Too much trouble, and I need time to think (and many more perfumes to smell than one or two). And I also saw nothing I was dying to try. Creeds? Meh. Hermes? I've smelled them all. So I left within about ten minutes. The lunch I had next door was much more exciting. (Also the thrill of wending my way through a restaurant no wait it's a hallway no wait it's a bank no wait it's a lobby to find a "public" bathroom. Too much excitement!)
We did make a whirlwind stop at Chanel, both my brother and I, so that I could sniff Les Exclusifs (I had just finished reading The Secret of Chanel No. 5). But as previously stated he is not into the juice, so I went back later after I'd dropped him off at the airport (to try to cheer myself up).
It was Saks that had the most interesting perfume floor – lots of brands, lots to sniff, and some sales associates that were not annoying. The Chanel SA was particularly helpful, talking me through some of the scents I wasn't familiar with and tossing me samples.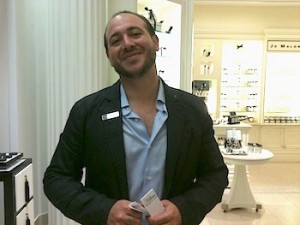 Joseph at the By Kilian counter was truly an ace SA. He managed to ask in a non-creepy way if I'd tried the new By Kilians, because he'd seen me walk all the way around the floor and was wondering if there was something I was looking for. When I told him "something new" we had a nice conversation about the Arabian line (those gold travel bottles!!), and then he did get me to try Bamboo Harmony and Water Calligraphy – which I hadn't even known existed. I told him I'd tried all the new ones, but I meant the Arabian line. He stuck with the thought – again, without being annoying – and managed to point out that there was new new! And he didn't look shirty when I said that Water Calligraphy seemed like a standard aquatic to me, though very beautifully done. I don't diss aquatics – I wore Cool Water for a long time and I think Ciel is one of Amouage's more overlooked wearable day scents. Water Calligraphy is in that category – very pretty, good quality, well done, and easily wearable, I would imagine, for an awful lot of people (more wearable than some other By Kilians).
Bamboo Harmony is the one I really liked, though. In my notes I wrote down "touch of sandalwood – fresher, greener water". It reminded me more specifically of a zen garden than the more generic Water Calligraphy. This was one that was not like anything else, and still very pretty, and very wearable. I like it, and if/when I buy myself a full bottle (or one for anyone else) I'll probably phone up Joseph at the By Kilian counter at Saks in North Miami because he was incredibly nice, helpful, and interesting. And who wouldn't rather buy their perfume from a guy with a cool outfit and some knuckle tats over a heavily-made-up woman giving you the disapproving-mother look?*
Overall I was disappointed with the perfume shopping in Miami but perfume shopping serves its purpose when I travel, which is to give me a reason to get out and explore and find things and areas that I otherwise wouldn't. (And talk to people that I otherwise wouldn't get to!) Miami loves its perfume, and like Barcelona it loves its fruity fresh smells. There are discount perfume stores frequently and, as I said, even slightly rarer sights, like a full Demeter library in the drugstore! The Bal Harbour shops are an extremely upscale mall rather far north of the city but if you get a chance and want to do some shopping (and have access to a car), I'd recommend it. And then go get Brazilian steak at Area 55 just a few minutes away – oh my God, the deliciousness. It's an evening well worth it.
—
Photos by me.
*Let me be clear: the nice Latina ladies at Alberto Cortes would never have looked disapprovingly at me. Several of the Anglo sales ladies at other perfume counters at Saks, however, rather did. No, I did not stop and take their most generic suggestions of the most generic perfumes. Yes, I did look rather unkempt. But hey, it's a beach town – and my clothes, while wrinkled and sandy, were actually good quality. (Same for my hair – it was wrinkled and sandy, but good quality!) I don't know what about them made them look that way at me, but we did not hit it off. Jo Malone, Chanel, By Kilian – these were the counters that were fun to visit.
Bookmark or Share