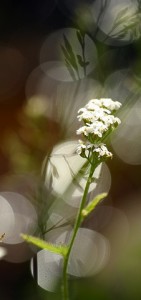 Fleur No. 1 by 1000 Flowers is a nearly perfect spring perfume.
If you've already tried 1000 Flowers' widely touted first release, Réglisse Noire, you know that this line is about as indie as indie gets: it's Jessica Buchanan, who as far as I know does everything from sourcing her own bottles and blending her own perfume (and may well package it all up for mailing too).
Réglisse Noire gets a lot of love on the perfume boards but licorice is one of the few scents (and flavors) that I really don't care for, so this excitingly herbal licorice did not make it into my Love cabinet.
But I love the story of a small art business (who doesn't?) and so when her second fragrance, Fleur No. 1, came out, I was keen to try it and in fact bought some.
Fleur No. 1 sounded from its description like the kind of thing I crave but can never quite put my hands on this time of year: a real May bouquet of flowers, flowers, flowers. It's available from Indiescent and the notes listed are "Narcissus, orris root, galbanum, white magnolia, hyacinth, moss, new baby leaves, wild violets, melting snow, pine buds, green nectarine, and cool, wet earth." Aside from the orris root, that's exactly what I want to smell in the springtime; and even I admit that orris gives a smooth deep finish to otherwise floral bouquets, a roundedness that they need, especially when, like these do, they contain a high percentage of natural ingredients.
Despite the galbanum listed, the herbal tinge here is never sharp, never harsh. In fact the smoothness and elegance of the blend is surprising given that one really can discern both floral and herbal (and earth) elements; in that way, it behaves exactly like a real bouquet, gathered in the morning while the blooms are still dewy. Cue "It's May" from Camelot!
It's affordable too, even though it comes in only one size (a 15 ml splash bottle, again carefully sourced by Jessica herself). The bottle might frustrate those who love to spritz, but it's sturdy enough to toss in a purse and easy enough to dab from, so I can't complain.
I don't usually wear eaux de toilette either, but I would be suspicious of anything that claimed to be such a bouquet of flowers and came in an EDP strength. No floral extract is going to be that deep or wear that long; eau de toilette is exactly what's called for here.
And it lasts longer than you might think, several hours even on my lizard-dry skin.
So I am recommending it with bouncing hearts and tigers and balloons? Well…
Here's the thing. I try not to have expectations for perfumes; as in most areas of life, if you have expectations, you may well be disappointed. I bought Fleur No. 1 to try because it sounded like exactly what I wanted. And I could have easily forgiven it for not being exactly what I wanted.
But it is exactly what I wanted. For about fifteen minutes.
The delightful green herbal floral jumble of smells with which it opens reminds me truly and completely of a garden in spring: broken stems, fresh leaves, tiny florets, even, as the notes indicate, a touch of earth. I love these smells; I love them in my tiny potted herb collection which I wish were a real garden, and I want to wear them.
Unfortunately, as with so many perfumes, my skin lets go of almost all the topnotes very quickly. And the topnotes make Fleur No. 1 what it is. If you want a perfume that doesn't dry down to a something heavier, this is what you're going to get.
What Fleur No. 1 dries down to is probably best described as that "green nectarine" note. I get something fruity (VERY SLIGHTLY fruity – people who fear fruit should not be nervous), still unripe, but not the main reason I wanted the juice. This green light fruit stays with me for some time, more than an hour at least, but it doesn't make me swoon with joy – in fact it just makes me want to reapply to get more of the topnotes back.
Which, let me remind you, you can easily do, as this is an affordable perfume in a portable, lovely bottle. Well worth the purchase for me, and maybe for you too.
It's not a musk at base; it's not a sandalwood or patchouli or anything like that either. If you, like me, are tired of the very similar drydowns one can get from plenty of commercial perfumes, then admire Fleur No. 1 for not taking that easy out. It's an eau de toilette with a high natural content; you're not going to get the average floral here. If you're looking for something more interesting, more fresh, more evocative of nature than the average floral, Fleur No. 1 would be a lovely choice. You'd be supporting an independent perfumer, but I bet you'd be happier to own and wear the juice itself.
—
Image is white flowers by John-Alden, via Flickr; used under Creative Commons license, some rights reserved.
Bookmark or Share