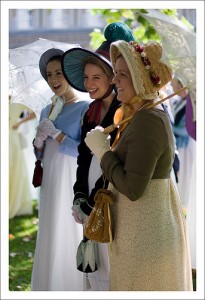 As with Carner Barcelona's D600, my first impression of Histoires de Parfums 1804 (George Sand) is of ball gowns. Silk ballgowns.
But where D600 wants to surround you like curtains (possibly these ball gowns have been stored in the attic for a while; you may not be in the mood to be surrounded), Histoires de Parfums 1804 is willing to float.
What strikes me about the fruity opening is that it is made a bit matte and free-floating with the addition of the grounding base notes that are actually there from the first and will be with you till long after the party. While the notes listed include pineapple and others report that it strikes them quite vehemently, to me it just reads as a rather indistinct "fruit punch", but not the artificial kind that those of us who were children of the 70s have come to expect as "fruit punch", the kind you get when you actually macerate real fruit.
Others have also described this as heavy and sweet, and I don't find it that way, but then again if you compare it to a citrus vanilla like Shalimar what else could possibly seem "heavy"? I find it, again, willing to float around me in a cloud, not unlike silk, which is actually quite warm and protective but weighs very little. I can't deny that it is sweet, but it isn't chemical-candy sweet like too many cheap perfumes these days. Which might just be another way of saying that it is the type of sweet I like.
I looked for a painting of Regency darlings to accompany this review but couldn't easily find a photo that was appropriately licensed, so I used this one of these lovelies at a Regency festival in Bath. And in fact they are appropriate for this perfume, which reminds me less of dusty paintings or swooning historical artifacts and more of real blooming girls, skin warming as they dance, in real beautiful gowns, with real flowers in their hair, drinking delicious beverages made with real fruit, and glowing a little from the exertion of the dance as they eye up the marriage possibilities in the room.
I am not a fan of Regency per se but I am a huge fan of the Eloisa James Regency romances; her characters are so smart and adult and her relationships built around something other than the stupid misunderstandings that drive too many romance plots. Some of Eloisa's duchesses et al. are a bit too knowing and too seductive to wear something as girlish as 1804. It might be too bumptious, though, for Helene, who begins in Duchess in Love and doesn't get her story resolved until Your Wicked Ways: the cool, slender blonde with no sexual confidence. No, it's the perfect perfume for Josie, the plump, outspoken Essex Sister who makes lists of attributes to look for in a husband and how to seduce one, who is practical enough to medicate horses but silly enough to wear a very silly corset (until she gets over it). 1804 is not too pretty or precious, not too elegant or aloof either; it's young and happy with shifts of brightness and a bit luscious – well worth trapping in an alcove and inspiring one to steal a kiss.
The silk notes – I mean, vanilla sandalwood – dry down to a lovely veil that lasts for quite a while. This is a sort of a perfume that will envelope you at nine o'clock in the morning but which you'll still find if you sniff close to your skin by four. Possibly its nearest scent twin is Molinard's Iles d'Or, a fruity floral from 1929 and therefore very far from the fruity florals of today's department store counters. I'd be interested to know whether someone like Ari at The Scents of Self, who doesn't care for florals, could wear this one. I think it doesn't easily compartmentalize itself into a gourmand or a floral. It is more evocative than representational. This one just makes me happy.
—
Image is regency three 2008 by Owen Benson, via Flickr; used under Creative Commons license, some rights reserved.
Bookmark or Share