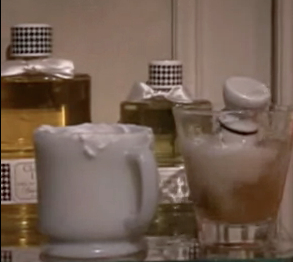 Few people will admit to liking the smell of human nether regions. Yet I'd bet a dollar lots of us do; there's an awful lot of sex going on, after all.
There's a much better essay that needs to be written on American problems with admitting that sex is enjoyable, and American problems admitting that they sometimes enjoy the smells (of, caused by) sex, and American problems with classic perfumery, which often evokes those smells. This is not that essay.
Back in the day, Americans were not so squinty about such scents, and there are still a lot of vintage perfumes floating around that have those old-fashioned, delightfully carnal elements that I sometimes adore. Surely one of the reasons to collect vintage perfumes is to smell (to whatever extent it has remained preserved) the way our forebears thought sexy smelled; and those forebears liked skin.
I have two new vintage fragrances, both of which I got for less than the price of the one new bottle of Lubin Gin Fizz I've been eyeing for a while (yes, I want some, yes, the modern, no, it's not up for discussion). Serious value for the dollar here, and unparalleled fantasy material in just a couple of little bottles of liquid that have survived down through time to end up in my graspy little hands.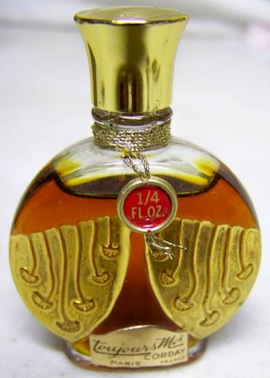 One is Toujours Moi, the Corday version from at least the 50s (though the bottle, a traditional quarter ounce of parfum, has the most lovely art nouveau design on it you've ever seen.) While I don't think of myself as a massive bottle lover, this one melts my heart.
And the juice is a gorgeous oriental, with far more skin and… delightfully warm body in it than Shalimar, at least to my nose. This baby deserves its own full review, but there's a sharp element of sweat (one of the first times I'd ever say I actually smell a sweat note) in this baby, along with the warmest, cuddliest, well, fur. I've never been particularly interested in having sex on a fur coat or even a bearskin rug, but if it smells like this, I might give it a go.
At the same time, a recent viewing of "Guess Who's Coming to Dinner" sent me off again on my periodic search for a decently aged, decently priced vintage Miss Dior. I scored a set not only of the parfum but of the EDC, in its box (so protected from light) and in great condition.
I really wanted one of those houndstooth bottles, like you see in the still above, captured from the scene where Spencer Tracy and Katherine Hepburn are abluting and arguing in the bathroom together like the old married couple they are. I have to assume the bigger bottle on the left is Miss Dior; there's not enough detail for the blowup, but I'm pretty sure that's an M it starts with, not the D it would need for any other eponymous Dior juice. I suspected from the greener color that the other bottle might be Eau Sauvage, the man's scent, for Spencer, but see no evidence that Eau Sauvage ever came in the houndstooth bottles; also, both bottles have a bow on top. Whatever the second bottle is (it's not yellow enough to be Diorella), Miss Dior is still there, and would have to be no matter what.
And while there are a lot of glorious florals and citrus in my Miss Dior EDC, there's also a sharp note of skin – maybe not nether regions, but certainly the crook of the armpit, or at least the elbow – that makes it oh, so sensual to my nose.
They don't make perfumes like this any more – except of course that they do; the civet that's in almost every Amouage is one of the reasons why I think so many serious perfume lovers gravitate toward them. And of course there's Amaranthine, which I wore yesterday; a violet that's been engaging in some very naughty activities, very enthusiastically, on a cool spring day.
Over at Perfumeshrine there's a great post on "animalic" with pointers to yet more scents in this corporeal category.
Feel free to recommend your favorite body/sweat/sex scents to me; I'd love to hear about them!
—
First image is a section of a still from "Guess Who's Coming to Dinner" showing the Dior bottles in the bathroom scene; second is a photo of my new bottle!
Bookmark or Share