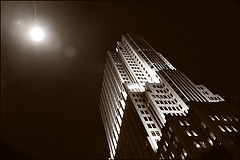 A small-town writer with a big taste for perfume gave a great overview of life as a small-town perfumista over on Bois de Jasmin.
Several of my friends who know I'm into perfume have often commented that, living as I do, forty minutes from New York City, I must have lots of opportunity to enjoy pursuing perfumes.
Those comments and that poster's article made me think it might be fun to go over what it's like to live as a big-city perfumista – not just a big city, but a New York City perfumista.
First is that shopping in the suburbs (where I live) is probably just the same as shopping in lots of America. There are some anchor stores at the mall that carry good, creative lines: Nordstrom, Bloomingdale's, and Saks Fifth Avenue being the ones that come to mind. Malls are probably closer than for a lot of shoppers, but that may well be as the crow flies, not actual travel time, as traffic and roads can make a 20-mile drive an hour or two away.
To take advantage of the local perfume buying you must trek into Manhattan or, for some of the more outlying brands, Brooklyn (CB I Hate Perfume is there, for instance). This means an hour or so at least on trains and subways, most of which are marked in ways that make it clear that if you aren't FROM New York, they don't want to help you navigate there, and which cost $19-$23 (that includes the average Long Island rail ticket and subway fares – and not subway fares hopping all over town, either).
And that right there is kind of New York in a nutshell. If you have money, you can have almost anything you want; if you don't, you're out of luck. They can market a special event in Manhattan on a weekday from 2 to 4 p.m., and they'll get enough takers that they don't have to wait for you. Maybe this happens in every large urban area; but it's a sign of the fact that the potential market is large, even for very niche sellers, so I'm not that important to any one individual one.
In Manhattan, my perfume haunts are Bergdorf Goodman and Plaza Hotel beauty plaza uptown, and MiN downtown. There is a reason these spots are always on the Sniffapalooza schedule. Between them they carry most brands you've heard about, from Xerjoff to Boadicea the Victorious to SoOud, and more. To me, MiN especially is like an east coast version of the Scent Bar/Luckyscent on the west coast: a well-selected, very broad collection with great customer service. They are sometimes the first, or the only, place to bring us very niche products like Carner Barcelona or The Pink Room, and they're very happy to do it. I also very much like New London pharmacy, on 8th avenue, and of course if you have time to schlep farther you can make it out to Brooklyn or beyond.
So what could possibly be wrong with being a perfumista in the big city?
Don't get me wrong, I'm not complaining. There are lots of shopping options, as I've just outlined, and yes, Sniffapalooza takes place right here twice a year, and if there's something so small or niche that it isn't carried elsewhere in New York or hasn't come to your notice, Sniffapalooza will take care of that for you (like the great trio of innovators this year: Spadaro, Providence Perfume Company, and Kelly & Jones).
However, you do need to have some money to take advantage of all this, and the economy is always geared toward people who have even more money than you do. The head SA at the Guerlain counter at Bergdorf's has a memory like a steel trap and remembers me and is super nice to me. But I've only bought three actual bottles from her. She has customers that will do that in a day; she doesn't have much incentive to reach out more to me and try to sell to me, like the SAs the Bois de Jasmin writer frequents. I would buy more from her, but if I spread my shopping around to the other counters and other stores in New York – because I can, – I don't have as much business to give her.
There are few bargains. Because the market is so large, there's always someone willing to pay more than you. Thrift store "finds" are rare, and yard sales usually contain whatever the owners couldn't sell on eBay. High value items circulate with high value.
And sampling is almost impossible. SAs will not usually make samples for you, nor will they let you make samples. They can wait for the next paying customer. Just like everyone else, I spend plenty on samples from the same places Rosarita frequents. For vintage or discontinued bottles, after all, the only alternative is eBay or similar anyway.
And swaps are just as exciting to me as for anyone. Because my collection isn't as deep as many people's, I'm always super-excited about freebies and extras in my swap boxes; and I make a point of passing along any samples I have lying around extra as well, because I want others to be just as excited as I am.
So in fact what life for a big-city perfumista has that it doesn't for a small-town perfumista is closer access to stores (where one may or may not have money to spend), and less opportunity for more personal relationships with sellers or serendipitous finds in the neighborhood. My biggest savings? On costs for travel and housing at Sniffapalooza. Also time for shipping, since I'm so close to a mail hub that mailed packages often get here a little quicker than they would otherwise!
—
Image is Bright lights, big city by Anjan Chatterjee via Flickr. Used under Creative Commons license; some rights reserved.
Bookmark or Share