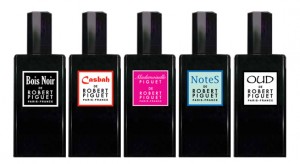 I think James Herriot, the great veterinarian storyteller, wrote that an enthusiast is appealing, but a fanatic is irresistible.
This was in one of his stories in which he is led to consume mass quantities of homemade wine and ends up very much the worse for wear, illustrating the dangers of the fanatic's irresistibility. Nonetheless, there it is; we can't tear ourselves away.
Joe Garces, CEO of Robert Piguet Parfums, immediately struck me as one of these types of people when I saw him for the first time, presenting at Sniffapalooza this spring. Robert Piguet was bringing out a whole new line of five fragrances, a habit that tends to set off my annoyance alarms (WHY MUST there always be SO MANY??? HOW WILL I RESPONSIBLY REVIEW THEM ALL??), but Joe deftly sidestepped all possible annoyance with his engaging tales of discovering real oud, and making a symphony out of Notes.
All the five new fragrances were temporarily available that day at Bergdorf Goodman (I have to say, I was there last week and all five WERE still there); they're also available online. Joe said the idea was to have one scent available in particular locations or cities. Who cares? For now they're not too hard to get, and Perfumed Court is helpfully doing a sample flight too, so, yum.
All five of these were well worth sniffing; for a surprise, all five were something that I, with my expanding amber and spice horizons, would wear; and all five deserve their own reviews. What I'm going to concentrate on here, though, is Notes. Because I fell in love with Notes, and I'm still in love with it.
I felt iffy about buying it – was I just swept up in the excitement? I was; how was I going to feel in the morning waking up next to this I-barely-know-you bottle? But something about Notes grabbed me and told me I'd never had anything like it before. I knew I hadn't, and I knew I wanted more of it; so I brought it home with me, and it's been making me happy ever since.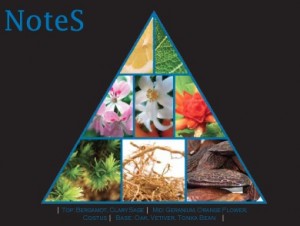 Notes is described here and there as a fougere. One of my friends who's wearing this too says it still seems very masculine to her. Frankly, I'm not seeing it. I make almost everything sweeter, and I'm willing to blame that for the sensation I get from Notes, which is neither feminine nor masculine, but indeed a symphony of impressions, crescendoing and blending into something at the end I can only describe as unique. I like this trend of doing scents that don't particularly respect classical categorizations in perfume. How else are we going to discover things that are truly new?
I am swimming in florals and gourmands, and Notes seems like a gateway experience out of my comfort zone into a place that's just as gorgeous but new. There are no sharp edges in Notes, no clear delineations (no arpeggios in these Notes!), but there is overlapping and there are chords. The drydown is as comfortable as a fuzzy amber but there's no fuzzy amber here; the wood and tonka bean provide warm sweetness without being the least bit cloying. Before we get there, there are four-handed ragtimes of flowers and herbal notes that also somehow go perfectly together; I wouldn't have thought they would. If you're put off by one of the listed notes – bergamot (I'm looking at you, K,) or clary sage, or orange blossom, I'd encourage you to try Notes. The costus darkens and warms it all a bit, and I swear, the blend is exquisitely artful. While you might notice a ping here and there from some particular ingredient, it is more likely that you will simply be swept away by the rise and fall of the music – no recitatives here, and no flat notes.
But it's not a diva-ish aria either (if you were afraid of something like that from the people who brought you Bandit.) It's not a shy scent – I did wear it first to work and wondered, as I sat in a slightly warm room, if I had perhaps made a mistake as it expanded around me. Don't bathe in it; this is a Piguet after all. But don't fear it either.
The irresistible perfume fanatic Joe Garces has winners on his hands with this one (hopefully further reviews will follow, but suffice to say that the oud is neither boring nor repetitive of all the other ouds out there, the Casbah, yes, smells like Rick's Cafe, Mademoiselle would be at home in a hat and gloves and Bois Noir is as bois-y and noir-y as one could want as well.) If it's not already clear, I like lines where we get differentiation from each other, but also something different from everything else that's out there (brands that are just variations on the same theme bore me). Cue my spiked interest in a whole new line! This new collection is in fact well worth it, and Notes –
Well, let's just say if a fanatic is irresistible, Notes makes me irresistible.
—
Images shamelessly swiped from Robert Piguet Parfums as well as Ca Fleure Bon's coverage of this new collection.
Bookmark or Share