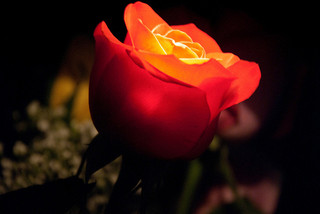 This smells like an Amouage. I need some Lyric to compare this to. Lots of incense – not quite as cinnamony as my favorite Amouages – still.
Oh, there's the rose! That's really quite bright for a rose in all this incense, isn't it? Not the least bit muddy or thick.
OH. There's a touch of fruit now that almost lights this on fire – it went from heavy and dark to light and bright so quickly! And still there's that Amouagey-woody background…
A sliiiiight whiff of Guerlinade in the background now – more vanilla coming to the fore? What is that fruit – peach? But not a sticky peach. I've smelled it before somewhere, but it isn't Champagne, it isn't Elie Saab… Wait, maybe it is Elie Saab…
Now it does remind me more of Champagne/Yvresse. But everything floral/peach tends to come back towards that for me. My skin playing tricks on me? 🙁 More of it is there on the arm that got dabbed more wet. Like I can over-apply Attrape-Coeur. Sure, spray until wet! Oh, there's definitely more vanilla and more wood (sandalwood?) on that side.
Ohhhh, there was a moment of green glowing in there, with the spice and wood and a live bright rose, and it's gone…
—
Image is September 13, 2010 – A Rose, by K Wudrich. Used under Creative Commons License, via Flickr; some rights reserved.
Bookmark or Share