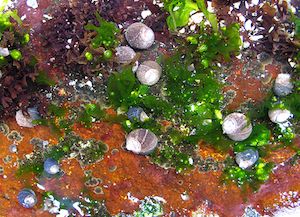 I was so irritated recently by Miller Harris Fleurs de Sel that I'm looking for other salt perfumes to wear. For some reason on the particular day that I wore it, it was only dune grass (vetiver) and perhaps lavender; no fleurs, and not really any sel, either.
I was annoyed enough that I tried three other marine perfumes recently (I am not afraid of aquatics but I specifically wanted that salt that comes with the sea, something I feel is one of the finest smells the planet Earth has to offer).
I finally got some Dior Dune. This one has, yes, some sea dune to it, but behind it is a traditional big Dior bouquet, which makes it interesting to say the least. I hear it hasn't changed much over the years, and it certainly is drier than another contemporary Dior, Poison (which I also love). Harder to get hold of cheaply since it came out that Kate Middleton wears it, it is, like the Duchess, sufficiently unique that it is interesting but not out to scream for your attention either. Like Poison I wouldn't want to try to wear it in super-hot weather, though, and since I think of beach/salt fragrances as, well, for summer, this one kind of gets put in the second tier.
The new Micallef, Vanille Marine, I think is really lovely. When you put it on, if you are looking for it to represent exactly what it's called, vanilla and the ocean, you won't be disappointed; and those scents do go together better than you think they might. As this moves towards the drydown the aquatic elements move towards grass and then wood, while the vanilla moves through benzoin towards wood as well, both salty and sweet blending and balancing as they go. What smells like, to be honest, a not particularly expensively made scent, is nonetheless interesting, unique, and really very pretty. I'm considering a full bottle of this one; I can't imagine anything else quite like it. I could imagine that some, though, would find the vanilla too sweet for summer wear or the aquatics too, well, aquatic for winter wear. What an interesting blend this is.
Heeley's Sel Marin is really probably the pure ocean scent I was going for. While Frapin Caravelle d'Epices is, as Mark Behnke describes it, a ship just docked full of spices, and The Different Company's Sel de Vetiver is a men's dry ocean cologne full of sea grass, Sel Marin is purer than either of them, a light citrus ocean salt that smells exactly what I wish every morning smelled like. I would imagine that, like the other two I just mentioned, this is considered more of a masculine; but like the other two I just mentioned, it is also simply an interesting, devastatingly crisp scent for anyone in the summer. A woman wearing this and a white blouse surely is ready for anything from sex to Wimbledon.
I used to have the good fortune of being able to spend at least a few days every year on the beach; alas, the family beach house went the way of the ex, and now I don't. Even when I'm not at the beach, to me summer smells like this smell. When I used to go to the mountains every August, dry Colorado air that would suck the moisture right out of me, I would use Focus 21 Sea Plasma Moisturizing Spray on my skin and hair partly for the salt smell. (Also, it worked fantastically well.) I kept a bottle of it long after I ever needed it again just because I loved the smell; I finally threw it out after many years. Summers make me long for the smell of sea salt; to me it's the smell of relaxation, refreshment, and reflection at the end of a long year.
It is very dear to me, this smell of ocean air. Do you love it? Do you have any perfume that reminds you of it?
—
Image is Salt water puddle by photoholic1. Used under Creative Commons license, via Flickr; some rights reserved.
Bookmark or Share