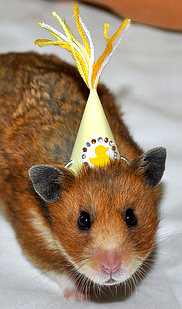 Whew. That was a while.
So what HAPpened was… JetPack was interfering with WordPress. I consider this perverse, since JetPack is PRODUCED by WordPress, but whatev. I had no choice but to wait until a patch came out.
And now it seems to have done so! And though I am missing a week or two of traffic data, it is back, AND people can comment! That's just lovely – er, the way it's supposed to work.
SO, that happened. I'm glad that's done. Sniffapalooza is in two weeks and I have Things to Say about Perfume.
But not right now… I'm tired and my darling beloved husband bought me a copy of "The Avengers" and the cat loves me and all is right with the world and I was up really early. Sleep now, dissertate later.
—
Image is Petal in her Party hat!, by LuLu Witch, via Flickr; used under Creative Commons License, some rights reserved.
Bookmark or Share