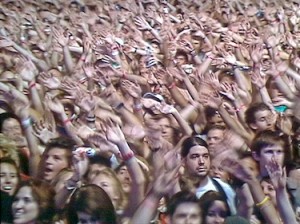 The Unseen Censer is having a bit of an identity crisis, y'all.
I'm not really going back to my go-to bottles that much. I am the big floral girl, I am the 80s-shoulderpads-girl. I am Vanilla Girl. Did you see, by the way, the awesome roundup of vanilla perfumes by usual vanilla-phobe Patty over at the Perfume Posse? Well, I know most of those perfumes; I wear a lot of those perfumes. Those are my perfumes.
In fact, vanilla was in large part the reason I got into perfumes, as it did not make my beloved recoil with an "Eurgh!" noise, and so when I started looking for new perfumes, I started looking for vanilla perfumes.
And I found them, with a vengeance. If you're wondering where all the Tihota in the world went, Patty, look no further.
What do I wear when I'm not sure what to wear? Well, usually, Donna Karan Gold. Tihota. Vanilla Extasy. Poison.
Lately, I'm just not feeling it. I don't know where or why, but I want a little more edge to my perfumes. Chocolate and patchouli added to the usuals just won't do it. I want things a little tougher. Or, perversely, I am far less judgmental about white musk than I have hitherto been ("laundry musk" being one of my favorite insults for a perfume).
I've really fallen hard for Un Petit Rien, from Miller Harris, and I am wearing a lot more of my DSHs that I thought were too tame for a while there, like Celadon. Ava Luxe Pearl Musk (talk about "laundry musk"). And the ridiculously soft clean fig that is Bill Blass Nude. It's been still too muggy and warm to pull out the Mahjoun or the Organza Indecence; instead I've been wearing (don't judge me) the new La Petite Robe Noire by Guerlain, and instead of turning up my nose at the sticky cherries (FRUIT, y'all, FRUIT), I've been wallowing in it. Gaiac 10 – used to seem so dry and ugly to me, and now I can't get enough of it. WHAT IS ALL THIS WEIRD-ASS STUFF I AM WEARING??
I've even been wearing – this is really mortifying – Billionaire Boyfriend.
Clearly I need to get out the Bottega Veneta and some sort of a leather flogger and atone.
(You know, I've been wanting Leather Garden from NMF for a while and they're having a sale…)
What stage of perfumista-hood is this? It isn't acceptance, resignation, or grief. I'm super-thrilled with what I acquired in the third quarter of this year and also (until some very special bottles turned up on the Bay) keeping my personal purchases down to a personal best level. I'm buying more selectively, but wearing … kind of crazily. This is a bit whacky.
Getting ready for Sniffapalooza and wondering what I'll get to smell, and if I'll buy anything! (No plans at this time.) I got to sniff quite a few new things at MiN NY on Tuesday with the lovely and talented Undina! (which really requires its own blog post), and that reminded me how very different things can smell on different people and how much fun that is. So I'm bracing for Sniffapalooza with no expectations and my nose perhaps more wide open than it has ever been before.
—
Image is Killer Crowds by Stephen Crane, via Flickr. Used under Creative Commons license; some rights reserved.
Bookmark or Share