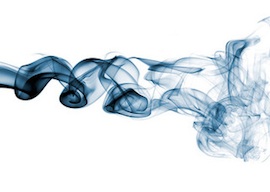 I don't think I've ever been so wiped BEFORE I began a Sniffa. What with the being sick, the medicine for being sick (I've said it before and I'll say it again: health care sucks, and the only thing worse than health care is lack of health care), plus Harleycat undergoing a bout of emergency health care and my beloved working himself to the bone all day and night for a week, and I really did not have a lot of resources on tap for this Sniffapalooza.
But, I know how much I enjoy it once I go, and this time was no different. SO glad I went, and looking forward to tomorrow (SUPER EXCITED TO VISIT OSSWALD for the first time!). And I did have a good time. I love seeing actual human people and talking to them about fragrance.
Pretty much everything that was presented at the morning Bergdorf breakfast was sniffworthy, and lovely samples were given. I track what I get at each Sniffa, and numerically there were fewer samples this time, but what the vendors gave were generous and very sniff-worthy samples.
Trying to emulate the disciplined and organized Undina, I made notes of the things I really wanted to try on skin while the breakfast presentations were going on, and actually did try those things on when we got to the floor. (Duh, you may say, but I often fail to do it.)
What did I want to smell and remembered to try?
Jo Malone's Blackberry and Bay – Ari at Scents of Self loves it, lots of bloggers love it, and yes, it really is good. Nice to smell something more original and still light and evocative of nature as JM is known for.
Guerlain's new oriental perfumes – Mark Behnke at Ca Fleure Bon likes the Songe d'un Bois d'Eté, but I preferred the Encens Mythique. The Songe got flat on my skin.
The Ramon Monegals with their exquisite bottles. Oddly, the only one I was drawn to immediately was Lovely Day, which was a light fresh day scent; going to revisit these for sure.
Nest's new fine perfume line. I didn't even know there was Nest. I bought the Mint & Moss shower gel. The fine perfumes are lovely; Midnight Fleur was far and away the Sniffa favorite, but I did find I liked Amazon Lily, which was a very fruity lily. (I guess not so surprising that I would like it, given my massive love for Donna Karan Gold.)
Florabotanica by Balenciaga – I really liked this. It has the pure fresh rose top of Eau de Chloé, but with a whole grassy woody garden underneath it. Really nice. Also top-notch sample method: instead of a paper strip, a gorgeous floral ribbon of the Florabotanica print, sprayed with the fragrance. This is safely tucked in my purse!
L'Ambre des Merveilles, of course – and they have a truly adorable little lock bottle (not available in this scent, but available in other scents I love from Hermes, including 24, Faubourg) for gift giving. Love.
Fortunately for my pocketbook, I fell in love with neither Clive Christian's V (though I liked the men's a bit more than the women's) nor the Amouage Interlude, men's or women's. You know I'll be testing them more, so this is not a "final say" by any means.
And the two new scents from Atelier Cologne, Rose Anonyme and Vetiver Fatale, suffer from very silly ad copy (at least I find it cringeworthy), but are truly well-made and very wearable scents, and the owners of the line are such an absolutely adorable French couple, I may end up buying some of this just to feel good about supporting them. But then I may not, too; I have so much Orange Sanguine still to go through. Still. Really nice.
WHEW. I must go to bed.
—
Image is Smoke by Joe Plocki, via Flickr. Used under Creative Commons license; some rights reserved.
Bookmark or Share