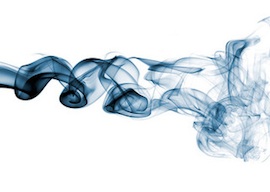 Day 2 of Sniffapalooza is over, and I'm exhausted! How 'bout you?
I dropped into Molton Brown to smell Valbonne; was not excited, but further information on that anon. Le Labo, where I tried out Santal 33 and Rose 31, I think they are. Atelier Cologne, where…
Okay, here's the thing. The Unseen Censer is a massive sucker for anyone being nice to her. The lovely young man at Atelier remembered me from Sniffa last year, and offered me an empty travel bottle for my Orange Sanguine if I were going to make a purchase, so how was I NOT going to buy the Rose Anonyme? I have a complicated relationship to the Rose Anonyme anyway; I keep insisting I don't love rose, and then I keep buying them, and… it just feels dysfunctional somehow.
Anyway, so I spent that. Really blew the record I had going, which was a personal best for Sniffa – zero bottles bought until I hit Atelier.
Skipped MiN since I was just there Tuesday, and enjoyed the lunch presentations as always on the second day, which usually features new perfumes. The women doing 8 Drops?, I think it's called, were lovely [P.S. It's called 8 Count] – I have to look up their website, I must have their name wrong – and the new line, Hayari, was very classic and appealing in that classic way. The Only for Her starts with grapefruit and ends with patchouli and was very lovely on me – but unavailable for sale.
Osswald was just as exciting as I thought it would be. There were a couple of lines I really don't know and want to get to know better, and this is the place to do it, including Huitieme Art in the gorgeous porcelain bottles, and the Profumum line, which has too many scents and I have to research it a lot more before I go in there and do any serious sniffing. Plus I put on some of the Micallef Vanille Marine, which I shouldn't have done because I already know I like it and the vanilla just blew everything else out of my nose. I had to quit.
I really enjoyed today, more than yesterday, but both days the best part was getting to see people I've seen at Sniffas before. So many lovely people on both days, and everyone wanting to talk perfume and sniff everything on everyone else. So much fun. My nose is tired but my socialization spleen is full.
Walked over to Babycakes for …, well, basically, dinner was cake. With a side of cupcake top, which they gave me for free. Did I mention I'm a sucker for people being nice to me? If you can't eat gluten or sugar, head over there and check them out, it's amazing.
My beloved met me at home and rubbed my feet. How could my life be better?
—
Image is Smoke by Joe Plocki, via Flickr. Used under Creative Commons license; some rights reserved.
Bookmark or Share