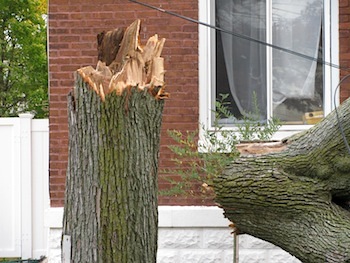 Perfume is about your environment, about pleasure in inhabiting your environment, and for much of the last two weeks, my environment has sucked.
We were lucky, getting our power back after only about a week. There are still 64,000 people on Long Island without power – there are people we work with without power. There are people we know who have lost much of their belongings, having to rip out the first floor of their house down to the frame; there are people we know who have lost their houses altogether, largely to fire in Breezy Point.
We were lucky, so lucky.
It's impossible to feel like you have a right to complain when you were so lucky. Yet I can say unequivocally that living through Sandy sucked. (Better than the alternative, but it still sucked.) Living through the storm sucked, camping in the house without heat or gasoline to go anywhere else sucked (I will fill up my gas tank every time it RAINS from now on, people), and yet having days filled with the housekeeping tasks of cleaning out the fridge before it really begins to smell or rotating the food in the coolers kept one from ever having ten minutes to really relax. I figured I would at least get a couple of hours one day to rearrange my perfume sample collection, if I were stuck at home because of the storm for a day, much less a week. Nope. Every minute choc-a-block with suckitude, except after about 8 p.m. when it got dark and cold. We sat around listening to NPR on the hand-crank radio and I read on my Kindle Paperwhite – my new recommendation for a Kindle to get you through a hurricane, with its self-lighting screen that nonetheless lasts forever.
When the world goes to hell perfume can help one feel as though things are at least normal. I didn't wear much because I had my beloved with me most of the time – far better than perfume for steadying the nerves. One day he went to work, and I wore Amouage Lyric – luxurious and rich, it does not smell like the end of the world, and when it's 50 degrees inside and out, the sillage is quite restrained. Also I occasionally dabbed on a little of my favorite, Ava Luxe No. 23, which truly did make me feel as though perhaps things were OK, and I should sleep some.
We did have, of all things, hot water, so at least every evening we had nice hot showers before we crawled into bed under the down comforter (which Harleycat really loved). The Nest moss and mint shower gel was a Beloved-approved shower luxury for me, smelling clean and fresh and yet rather distinctively pampering; and, when by myself or taking a morning shower, I had the fantastic, I-never-don't-like-this Black Pepper body wash by Molton Brown to pick me up.
The turtle weathered the storm quite well with a sophisticated system we developed of shoving him (in his travel container) into an insulated grocery bag with a filled hot water bottle, and wrapping the whole thing with a wool comforter. (If you think I'm here to recommend wool and down comforters over perfume right now, you're probably right.) I had to move him around so much and, in keeping no-electricity house, wash my hands so much, that my fingertips quite shriveled up and started to crack off, but with judicious application of First Aid Beauty's Ultra Repair Cream (I got it in a TestTube, I think), they are recovering. At almost the last minute we got power back in time for me to go on a business trip that I had scheduled for last week, so I went and left my beloved here, and he got through the followup blizzard by himself, because at least he had power and heat (another day stuck at home for him, though). I hied off to Denver for several days and enjoyed transportation, and power, and the sympathetic but utterly not-understanding looks of people who cannot really imagine what it's like to see one's entire region really brought to a standstill. My beloved stayed home and sat in a gas line for hours in order to get enough gas to pick me up when I got home. (And we drive a Prius. Even a Prius eventually needs gasoline.)
The schools were closed for more than a week and the gas lines wrapped around every block (sometimes for many blocks) wherever there was actually gasoline. The gas rationing system introduced on, I think, Friday seems to have largely solved that problem, though true to the fundamental ridiculousness of Long Islanders we saw lots of them lined up at the gas stations on the first rationing day even though for them it was not the right day. (The police turning them away at the pump must have trained them out of that pretty quickly.) It still takes an extra ten or twenty minutes minimum to get anywhere because of roads that are blocked off, and dismantled trees are in pieces and stacked everywhere along every road.
Nothing is quite right, really. I wore L'Ambre des Merveilles and Billionaire Boyfriend in Denver – warm, comfortable, undemanding. Also some Elie Saab – a little brighter and prettier, as a pick me up. I took a little vintage N'Aimez que Moi to enjoy but didn't really wear it; it's so teary-eyed, and I wasn't in the mood.
Still catching up on sleep and I have no idea when my nerves will really settle. Because of a recent unemployment (not mine or my beloved's fortunately) and the storm, my Thanksgiving plans have also changed, and it looks like I'll be hosting it, to a small group this year. Cooking Thanksgiving dinner is one of the great pleasures of my life; I skipped it last year for the first time in probably twenty-five years, to make room for a new type of holiday get-together. I'm not really in the mood for it this year. But I am going to make my shopping list, buy that turkey, and keep thinking of all I have to be thankful for.
—
Image is of a snapped tree, by me. Published under Creative Commons license; use with attribution, not for commercial use.
Bookmark or Share