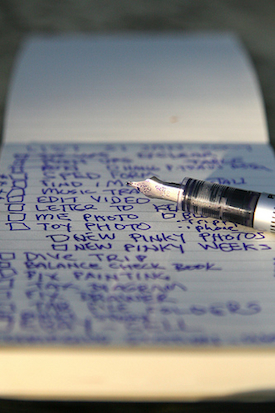 I love lists, though I'm not so great at writing them. I am constantly juggling lists in Dropbox, lists in Google Docs, lists in Zenbe, lists written in my spiral notebook, lists written in my flat notebook, lists written on post-its and stuck to various surfaces near my phone to represent various states of urgency, and very occasionally, lists written on my hand.
My lists are not under control, is what I'm saying. And I don't want to pretend that my list is in the same category as some of the great lists posted on the perfume boards recently. I'm all excited to see if any end-of-year lists get posted – I LOVE "Best Things I Bought This Year" lists – but I'm talking about "And 25 more fragrances every perfumista should smell", by Robin at Now Smell This, which contains links to OTHER great lists, and the gift guides at Ca Fleure Bon and The Scents of Self, or the absolutely epic Guide To lists that the Perfume Posse has been hosting (I've got the frankincense and myrrh one open in another tab right now to peruse at length.)
No, my personal thing is not that together. I defer to these people's expertise, and you certainly shouldn't be taking any kind of guidance from me. So I tried to imagine the opposite: perfumes you really don't need to smell at all. I have a perverse love for them, though in some cases don't particularly brag about wearing them; but you could safely miss them and still have a rich, full life as a perfume lover from here until eternity.
WARNING: As you know, Bob, my skin is dry, so I tend not to wear perfumes for their top notes (frequently I don't even SMELL them), and I don't mind sweet (meaning I wallow in it, though I don't wear, for instance, Pink Sugar – I do have limits). I walk the line – the line between manageably sweet and Dear God The Sugar Swamp Is Pulling Me Down. You might be on the other side of the line. Here there be plushy, luscious, candy-coated crocodiles. Wear at your own risk.
Here's the list, in the order that it occurred to me, with absolutely no governing principles applied except that it occurred to me to put it on this list, and that 13 seemed a suitably unlucky number:
Covet, by Coty. No reason except that I pulled it out of my drawer yesterday and wore it, and enjoyed it. It's a musky soft thing, not "spicy" no matter who's saying it, and I like the flower bottle. I personally don't think that it duplicates anything else in my collection, which is why I keep it, but there are no revelations under this pretty/tacky cap.
White Diamonds, by Elizabeth Arden. I've said a million times how I discovered this scent from this post, and I still do love it. The key is indeed to wear very little of it. The tiny parfum bottles are often sold on eBay for a song. (Yes, my philosophy is "If it's huge and potentially tacky, it's probably better in extrait", and that philosophy has not yet steered me wrong. See Mahora below.) If you're curious, Diamonds and Emeralds is "the jasmine one", Sapphires is "the lily one", and Rubies is "the rose one". But I like the original White Diamonds best – an 80s impressionist floral that is feminine and cozy without being groundbreaking.
Laila, by Laila. I love this cool watermelon Nordic treat, but unless you too occasionally crave something that strides the line between Norwegian fruit and Heidi's flowers (remember Heidi? Anyone else kind of disappointed at her marriage?), you won't miss this one. (Hey, there's a Heidi's Children? I never read that!)
Angel Fragrance of Leather, by Theirry Mugler. I totally blame the Candy Perfume Boy for addicting me to all things Mugler (though I haven't smelled the Cologne yet), but I realize most of the rest of the perfume world is over Angel. I prefer Alien to Angel, but the leather version of Angel is the Angel I was waiting for; the leather gives the chocolate and candy and patchouli a little grounding, a little dryness. Probably most other people in the world could give it a miss.
Poison, by Dior. There are so many other sophisticated tuberose bombshells out there that there's no reason to stop at the Dior showcase for this one. But I love this one. I have had a long complicated relationship with it, and since, see above, I do not mind things that are bombshelly, I adore Poison.
La Petite Robe Noire, by Guerlain. I hear the 2nd limited edition was better than the first, and that the limited edition was better than the mass market one you can get now. I don't care, I like this silly thing. I like the chewy cherries and the linearity of it. It demands nothing of me, but stays with me. Come to think of it, I'd like more friends like that!
Back to Black, by By Kilian. For all the hoo-hah over this when it came out, I still meet perfumistas who've never smelled it. I guess the world is full of honey tobacco fragrances and they can live without one as – well, I'll just say it – as bombshelly as this one is. For me with my dry skin, I treasure things with sillage and longevity, and Back to Black is as delicious a honey pipe tobacco as I've ever been able to find – and I've looked. If you haven't come across it by now, I'll assume you don't need to!
Inner Grace, by philosophy. There are a thousand white musks in the world; you don't need this one.
In fact, if you have Cabaret by Gres, you already have this one, plus a dash of rose. I like Amazing Grace, and I like Inner Grace, which makes me feel clean and calm when I'm traveling. Oddly, I can't really wear it at home any more, because it gives me the weird sensation that I'm on a plane even when I'm on the couch. I guess that is scent imprinting for you.
Billionaire Boyfriend, by Kate Walsh (developed with Givaudan). I can't wear this without thinking Ari at Scents of Self might be a bit disappointed in me; but I can't stop wearing it. This warm take on a "masculine" keeps popping up in my mental "I'll just put that on" list.
Lune de Miel, by Fragonard. All the perfume boards keep saying this is a dupe of Lancôme's Trésor, and I don't care. Yes, the classic blend of florals is very similar. But where the Lancôme smells mass-produced to me, Lune de Miel smells lighter, fresher, richer, and just… well, maybe it's that I can't resist a perfume named "Honey of the Moon"?
Cleopatra, by Tocca. I just love the smell of cucumbers, what can I say? And this one is a lovely light crisp day scent built around… the smell of cucumbers. I'm sure your love affair with cucumbers isn't as intense as mine. If it is, tell me if you've found a better cucumber. (Marc Jacobs' Cucumber splash is pretty good too. But this one is a better-done perfume. You could easily miss ALL the Marc Jacobs' splashes; they all dry down the same and they just don't last.)
Shalimar Parfum Initiale, by Guerlain. You don't need it. You don't. I just like it. Sometimes it's hard to live in the twenty-first century and smell like the twentieth. On those days, this fresher, lighter, modern version of Shalimar isn't a bastardization of a classic; it's a welcome updating, making an old friend wearable again, like relining a great classic coat.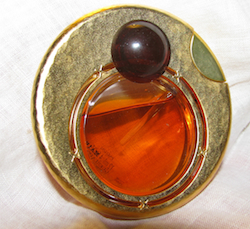 Mahora, by Guerlain. I believe this is the one Luca Turin referred to as "hot mess". Well, this girl loves this hot mess, with its massive tropical flowers – but you don't have to. The world is full of tropical flowers. It's OK if you save this one for me. I love it and its stupid disk-shaped parfum bottle that is impossible to store. (The parfum minis are more manageable, storage-wise.)
There you go – in contrast to all the thoughtful, carefully researched great lists out there, a useful pocket list of perfumes you can give a miss!
—
Top image is "Another List – 31 January 2009" by puuikibeach, via Flickr. Used under Creative Commons licensing; some rights reserved. Other photos swiped from vendor sites except the photo of Mahora extrait, done by me. Because I could not find ONE vendor photo of that bottle, and I don't swipe photos from nice people on eBay or anything. But WTH, Guerlain couldn't post ONE picture of that bottle? I had to get OUT of bed and go find my bottle and take a picture of it, and if you knew how my uterus was behaving today, you'd know how much I did NOT want to do that. What on earth did Mahora do to you, Guerlain? Steal the silver? Make off with your girl? Get over it. Anyway. That's my photo, of my own Mahora extrait, and if you want to use it you can, under Creative Commons license, not for profit and with attribution, mmmm-kay?
Bookmark or Share