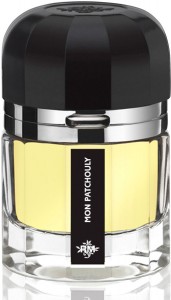 I've been wearing some Mon Patchouly, the lauded new patch from Ramon Monegal, and I love this stuff. It's the softest, most elegant patchouli you'd ever wear. It's cozy, it's delicious, it's gorgeous.
But I have to wonder: why does a perfumista world that is raving about Mon Patchouly so very much tend to hate on Mugler's Angel? Because when it comes right down to it, they both wear down to very similar patchouli essences. I have to assume it's because Angel is so massive from the start, and because it's so over-the-top sweet.
The sweetness in Angel provides a chocolate edge to the patchouli, but I have to say I smell a similar kind of chocolate in Mon Patchouly – just a lot more restrained. Actually it's really kind of a chocolate-floral smell, the sort of echo of gianduia, the chocolate flower, that makes some people love Missoni so and some people hate it so madly. Perhaps that's why Mon Patchouly does not remind anyone of candy, and Angel reminds everyone of candy; it's more gianduia and less factory sugar chocolate. I like gianduia, I like Missoni too, and I like Angel. And I like Mon Patchouly. These all make sense to me; I just wonder why Mon Patchouly gets so much love and Missoni and Angel don't. Is it just that it's polished? It's the quality of its composition? Because these Ramon Monegal perfumes are well made. They're just not so radically different from other things that I want to rave about them.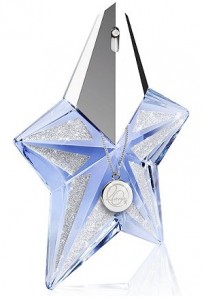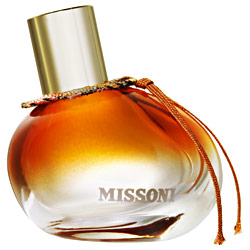 I do love that Ramon Monegal bottle. And I do think a bottle of Mon Patchouly is in my future. So I ask myself: if I have Missoni and I have Angel (in several flavors!), why do I need Mon Patchouly?
There's a dark soft veil effect to Mon Patchouly that is very elegant, quite complex, and not found in the other two chocolate/patch perfumes I mentioned. It cannot offend, it is easy to wear, and it does not scream "CHOCOLATE PATCHOULI WHUMP!" Is "It is less offensive" a good excuse to buy a perfume? Especially in a world where one often wants something that does not just blend into the background.
Perhaps it is. If Angel is like a wooden cart in terms of technological developments in transportation (not always comfortable but it will get you there!), and Missoni is like a boat (sounds good but in actual execution you don't like the residue it leaves), Mon Patchouly might be the rocket ship final draft. It's sleek, it's finely crafted, it's well thought through, it requires a lot more money to get off the ground, and when you do you get an experience that others don't get to have.
If your goal is just to get from A to B, you don't need Mon Patchouly. If your goal is a unique experience – one you'll want to repeat over and over again – you probably want to try it.
Bookmark or Share