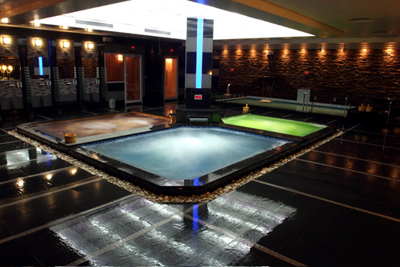 The Unseen Censer hasn't gone anywhere, I've just been Doing Things. I've had a lot of Health Care recently (I am TOTALLY going to post a picture of my IV bruise and gross you all out, because I totally deserve the sympathy – no, I don't, it's fine and I'm fine, but it looks disgusting), plus the holidays and Yuletide in Boston and Stuff.
I've been sniffing and thinking about what to report, but right now I'm just checking in to say Still Alive, Happy Holidays, and you totally should visit Spa Castle if you're ever really stressed and tired of being stressed.
Spa Castle is four floors of bodily goodness in Flushing, about half an hour's drive from my house in good traffic. You start on the top floor, in the hinoki hot tub or the pools or the swim-up bar (or, if you are smart like us, all three), then work your way down through the exercise rooms, massage rooms, food court, Sauna Valley (salt sauna! jade sauna! gold sauna! ICE SAUNA!) and spa down to the level where there is gender-segregated bathing. (Everything else is co-ed, and in uniforms, except the bathing level.) Hot tubs, jet tubs, cold tubs, steam room, American style showers, and Japanese style showers – there is no way not to leave cleaner than you have ever been before. In your life.
I took a hair mask and wrapped my head in towels while we did the jet tubs and some other random soaking tubs (this was after all the other stuff, just on the bathing level), then I took a scrubby glove and a hot salt peppermint scrub to my skin. There is not one inch of me – not ONE – that is not exfoliated, moisturized, and relaxed. Ladies and gentlemen, let the new year begin, I am as ready as I'll ever be.
Obligatory scent info: there is a scented theme pool in the bathing area on the weekends, supposedly Herbs for Strength on Saturday and Roses for purification or something on Sunday. I've been half a dozen times and only once gotten a whiff of anything scented in the scent bath. Who cares? That's not why you're going. The place is fantastic.
They do provide plenty of room and counter space for anointing yourself with whatever you want after your bathing is complete, including a couch/lounge/TV-watching area for just chilling while you dry, or nap, or whatever. So that might be a nice place to put on a dab or two of something and just breathe.
I like taking a sugar or salt scrub and taking off as much skin as I can in the Japanese showering area (you sit on little stools with a hand-held shower, so you can reach – and scrub the hell out of – every inch of yourself). So far I've had clementine and on another occasion peppermint scrubs, as well as a Christmassy rum raisin one, so my scent experience really is just the scrubs I bring with me. Oh, or today, I had a massive tube of Bliss Lemon and Sage body cream I picked up for cheap at Nordstrom Rack; my bathing buddy said she thought the lemon blew out anything else about the smell, but like most Bliss products, the scent goes away soon and it's effective on the skin. STILL TOTALLY WORTH IT.
If you EVER need to relax, grab a friend (I took a good one), and the scrubs of your choice (basic shower gel, shampoo, conditioner, and moisturizer are all provided, if you find yourself in an emergency spa situation – which has happened to me), and a bathing suit if you want to do the pools on the top floor, and spend as much of your day here as you can. It's $35 ($45 on weekends) to get in and covers all the facilities (food, spa services, massages and such are extra, as well as $2 for a Large Towel Rental for a beach-towel thing you can carry around with you everywhere and use as a pillow in the saunas. Also totally worth it.)
They close at midnight and we were absolutely in the getting-kicked-out-before-closing crowd. TOTALLY, TOTALLY WORTH IT.
—
Image is of Spa Castle's bathing room and swiped from their website.
Bookmark or Share