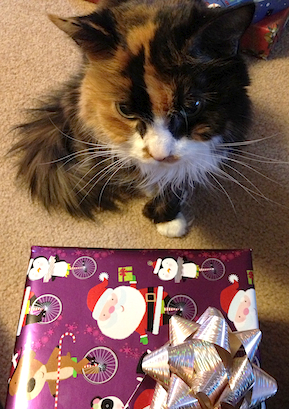 Holy crap, the year is over.
This year often sucked, and I will be glad to see the back of it (don't let the door hit you in the ass on the way out, 2012). Nonetheless it has seen the acquisition of a hellacious amount of perfume in this house, and I feel I should write some sort of wrap-up post to it all (if not a Best and Worst of 2012 – see blogroll for many of those!). Feel free to search on this site for details on any of the bazillions of perfumes mentioned herein.
I still can't believe I spend this much time and money on perfume. What the hell am I even doing?
Biggest innovation in 2012:
Splurge on samples, not unsniffed bottles. I'm certainly doing less blind buying, and that is all to the good on every front.
I still save almost all my samples and try to try them many times. Case in point: I've tried Chinatown at least 2x before, and all I got was incense. Yesterday I put it on my exfoliated, moisturized arm – and got a wonderful waft of fruit and beauty. Seriously, it was a totally different perfume. If I didn't save my samples I'd constantly be wondering how things smelled to me now and rebuying them.
Goal for 2013: better sample filing.
Best new brand discovery of 2012:
It's an old brand for most of you, but I kind of went apeshit for all things Mugler in 2012. So many flavors of Alien, it's just not right. But I also acquired various forms of Womanity and Angel, and even A*Men (the pure malt IS good). There's nothing particularly rare or upscale about it; I just love the stuff.
Otherwise, I was quite taken with the new fine perfume line at Molton Brown, Travels in Fragrance, and learned to love for the first time several Le Labo scents, which I'd never liked before. Developed a massive unfortunate love for Le Labo's Gaiac 10, and Santa found me a decant. Santa's real, people!
Brand I wish was easier to find:
Ruth Mastenbroek. Amorosa is lovely. Also Roja Dove; wish he had an American distributor.
2012 Perfume I Found Most Insultingly Vapid:
Isaac Mizrahi's Fabulous knocked Versace's Yellow Diamond off this pedestal. This thing is so cookie-cutter, so boring, without one single feature to recommend it, that it irritates me. Pour some colored water in a bottle and charge $50 and stop calling me.
Perfumes I got in 2012 that made it into my regular rotation:
Frederic Malle's Dans tes Bras makes me do the happy dance. I feel shame, but I love Billionaire Boyfriend by Kate Walsh. (Hangs head.) Amouage Memoir, after a rocky start, became a dear beloved pal, especially after I discovered the body butter! (At Sniffapalooza in the fall I was sniffing it again and said out loud, "I wish they had Memoir in the body butter." Looked it up online when I got home and lo! Memoir body butter! THE POWER OF WORDS!)
Hilde Soliani's Bell'Antonio has gotten less wear now that it's gotten colder, but isn't any less fantastic. Fresh's Cannabis Santal is the lightest, easiest sandalwood evar, and has launched me into a whole new exploration of sandalwood. Robert Piguet's Notes still makes me super-happy whenever I wear it, and I have really fallen in love with Histoires de Parfums as a line. Hermes' L'Ambre des Merveilles… how could you not love this? I am going to have a hard time not buying any limited edition bottles of this they put out. Tom Ford's Black Orchid became a big afternoon perfume and even my officemate decided she liked it. (Claims she never smells it when I put perfume on in the afternoons, but noticed – and loved – this one!) Guerlain's La Petite Robe Noire – yes, gets worn more often than Apres l'Ondee. Slumberhouse's Pear + Olive made me smile every time I wore it, and I carted my decant around with me for months. And Kingdom… ah, Kingdom. We fell in love this year, didn't we, Kingdom? (Hmm, maybe I figured out my New Year's Eve perfume after all…)
"This is what I waited for?" of 2012:
Don't get me wrong, Vero Profumo's Mito is gorgeous and splendiferous. Somehow, though, I didn't end up wanting to wear it all the time like I thought I would. I have a feeling this one is going to burst out of the gates in the spring.
Seville a l'Aube also got me very excited, but still mostly reminds me of Tang. Clearly, here the fault is with me. I suspect my skin is not bringing me the nuances of this one.
The "I Bought This And I Still Can't Find It" Most Brain Time Award of 2012:
I swear I have thought about buying Cuir de Lancome like fifty times. I finally bought a small decant of it… and promptly misplaced it. What is it with me and this scent? Olfactoria keeps reminding me that it must be fantastic, but I can't come to grips with it.
Best surprise of 2012:
Le Labo's Anthropologie line, especially Belle du Soir, and how much they are encouraging me to think that hip young women don't all wear stupid fruity florals, at least not exclusively.
Coco Noir:
Sadly, sucked.
Happiest eBay acquisition:
My full bottle of vintage N'Aimez que Moi, by Caron. Well, it was full; I've given some away, because this falls into the category of "Open it and enjoy it. All things pass from the earth but while you're here, you need to smell this juice."
Biggest splurge of 2012:
A full bottle of Guerlain's Attrape-Coeur. It was very silly, but I didn't stop myself. Je regrette rien.
Stupidest unsniffed purchase of 2012:
I tend to dislike natural perfumes and I didn't even know the brand. But I bought Ayala Moriel's Moroccan Tea Time, because of my special relationship with Moroccan mint tea perfume (among other reasons, it was one of the perfumes I wore to my wedding – Ava Luxe's version) and love of tea scents in general. I don't adore it and it was silly to pay so much for it given that I don't wear it.
Lesson I really MUST remember (make a note):
I truly can't wear Joy. I smell too much cat pee in it.
Second best lesson I must remember:
It's not the samples that blow out my budget for perfume, and it's not the expensive bottles that I really, really want and wear, either. It's the $40-$80 "Oh, why not?" purchases, and I've really tried to cut down on these, both as decants and full bottles.
Flat-out, drop-dead gorgeous perfume of 2012 that you must smell if you are interested in perfume at all:
Sous le Toit de Paris, one of the newest scents by Atelier Cologne, created for the centennial anniversary of the cupola of the Galeries Lafayette. I had quite a year in violets, as you may surmise from the N'Aimez que Moi and Dans tes Bras above (not to mention Ari at Scents of Self sucking me into wearing Apres l'Ondee). This is the quintessential 21st century violet. This one is not just unique; it is perfection. I am a sucker for perfumes that manage to give me, however briefly, the sensation of not smelling a bouquet of flowers, but sitting in a garden of living flowers, perhaps (luxuriously, decadently) crushing some of them beneath me, on a sunny spring day when the breeze is sweet and the world is full of possibility.
This is that perfume.
I love opulent and big-shouldered perfumes. Sous le Toit de Paris is neither. Sous le Toit de Paris is the gamine heartbreaker actress,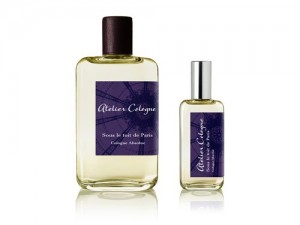 a Keira Knightley or Anne Hathaway of a perfume (never mind that those young women both front other perfumes). It floats yet has substance, appears delicate and yet demands attention with an undeniable presence. It appeals to the sense of the natural, but is perfectly technically executed. Anyone could wear it and everyone should.
The vetiver and the violets are exquisite together, and perfectly done in one of Atelier's high-tech perfumes, where they capture a natural scent at a particular moment (I assume with chronochromatography) and reproduce it in one of their light-but-lasting anytime/anywhere scents. There is no one who cannot wear an Atelier Cologne composition, and as bored as I got rotating through Bois Blonds/Oolang Infini/Orange Sanguine (they all dry down similarly on me), I am paying more attention to this company now because of Rose Anonyme, which I adore for no reason except love, and Sous le Toit de Paris rewards any amount of attention.
I will undoubtedly buy a bigger bottle of this at some point to go with my small one, just because I am stupid, but also because I hate the thought that I might never be able to smell this again. If N'Aimez que Moi is the violet-scented echoing wistfulness of the women of World War I, Sous le Toit de Paris is a hopeful but realistic deep breath, yes, in a roof garden in Paris, in a complicated modern world.
It's almost enough to give you the energy to look 2013 right in the face.
Bookmark or Share