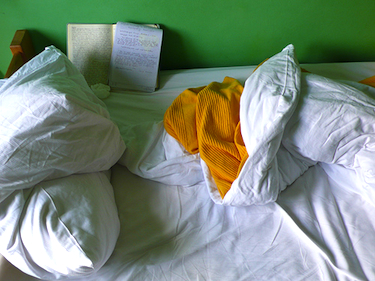 I intended to write a review of some if not all of the Luckyscent Decennial perfumes this weekend.
I also wanted to respond to an actual reader's actual questions on sandalwood and rose for men.
I could have posted something about some of my new post-xmas splurgy acquisitions – Bill Blass Nude in parfum, McQueen My Queen, or a bunch of other samples. Or my Xmas splurge, vintage Vol de Nuit in parfum (which I could compare to the current extrait).
Or show my new sample storage system, courtesy of the Container Store.
Or respond to all the recent posts on vanilla with some vanilla thoughts of my own, vanilla whore that I am.
Instead my big accomplishment of the day was eating my lunch not in bed. I am very grateful I had the flu shot; I have felt for three days like someone has beaten me with a sack of doorknobs, but I could be a lot sicker. Maybe you should get a flu shot if you haven't had yours yet.
I also considered writing on "fragrances for the flu" (I can recommend Ava Luxe's Ambre Tibet for comfort, or philosophy's Amazing Grace when you need to feel Not Icky), but couldn't get up the energy.
I had a good night's sleep and thought this morning that I would go outside and do some errands, at least. Instead after showering and getting dressed I realized that in fact that had been my big energy burst for the day.
Bed is getting a little boring, y'all. Send me your thoughts on what you think I should write. I'd be grateful.
—
Image is "Sheet, tissues." by Laura Appleyard, via Flickr. Used under Creative Commons license; some rights reserved.
Bookmark or Share