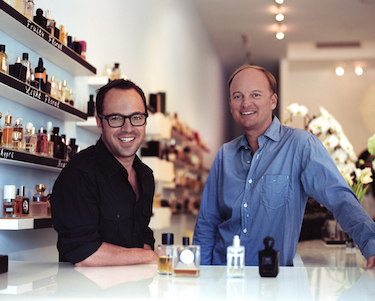 Curating a world-class perfume store may look easy – the gentlemen at Luckyscent make it look easy – but it isn't. Adam and Franco don't just run one of the best perfume stores in the country; they have to find the perfumes worth selling, and if you've ever shopped outside of what gets recommended in the perfume blogs or sold at one of the top perfume outlets, then you know how tough that is. There's a lot of repetitive dreck out there – but in my opinion Luckyscent doesn't stock any of it. That's because the owners have great taste in perfume, and their tenth anniversary perfumes celebrate that taste as well as their ten years in the business.
All four of the Decennial scents deserve full-length reviews, but I'm going to split them into two pairs.
If the Decennial perfumes highlight what Adam and Franco like to wear, these two gentlemen like wood and spice in their perfumes. They're fantastic for the middle of winter, and though all four are quite different, all of them make me wish I was curled up next to a fireplace in an Aspen ski lodge.
And I don't ski.
Nuit Épicée and Santal Sacré make a his/hers pair, to my nose. I smelled Santal Sacré first, and I've seen more reviews of it on the blogs, and I agree with the reviews I've seen elsewhere that there's nothing particularly sacred about this sandalwood – in fact it could be read as almost naughty. There's a lot of warm skin in it, the kind of musk I smell in the hair behind my husband's ear, as well as an astringent note as if the sandalwood itself had been made into an infusion that was used to wash someone's body just before they made love – or perhaps just after. It's warm, but without the plushy sweet wool note of something like Donna Karan's Black Cashmere, which she has said was modeled after the smell of her husband behind his ear. Its spiciness actually reminds me of – Hey, WHO'S BEEN SLEEPING WITH MY HUSBAND???
Hmmmmm. Anyway. Not very sacred. (Are one of you boys snorting my husband's neck, Luckyscent?)
I can't imagine a man who wouldn't smell fantastic in this, but any woman who loves sandalwood would love this too, because it's very serious sandalwood. Trying to think of a comparison, I thought of Caron's Parfum Sacré, which has a very serious sandalwood as well; but there's no rose in Santal Sacré, which perhaps makes it more special, as those two notes so often go together. (There's an astringency to pure rose that goes very well with the astringency of sandalwood, but it's nice to find a non-obvious combination too.) Here the complementary astringency comes from the spices, which I can't place with any specificity (though "ginger" and "incense" are listed in the fragrance notes.) I suspect the perfume wouldn't smell so dry on someone with less dry skin, but it's pretty dry one way or the other. A glorious dry spicy incensey sandalwood. Fantastic.
Nuit Épicée is a wonderful companion piece to Santal Sacré. I think of cedarwood and sandalwood going so often together. In this case, the softness and sweetness of the cedar are put in a separate perfume, Nuit Épicée, along with perhaps cardamom – it's not gourmandy, not at all, but certainly sweet, sweet like my grandmother's hope chest, sweet where Santal Sacré is astringent. There's a floral spine to Nuit Épicée as well, which would make it just as comfortable for a woman to wear as a man who loves to smell good. It's a light floral mix, but no predictable rose here either; and the cumin note that is listed doesn't leap out at my nose, but perhaps is just what makes it seem such a companion piece to Santal Sacré with its warm breathable skin.
To me these two smell like yin and yang in a circle. I would wear them together – in fact, testing them on opposite hands creates a glorious miasma that is delightful to breathe in. But both stand entirely well on their own, too. Each one is an entirely complete perfume in itself, not too busy nor too spare, not too refined or too rough. What elegant, beautiful scents to celebrate a tenth anniversary with – or a January, if you're so inclined. Anything worth celebrating, these could celebrate.
Part 2: Lys du Desert and Bois Bourbon.
—
Image is of the owners of Luckyscent swiped from their site.
Bookmark or Share