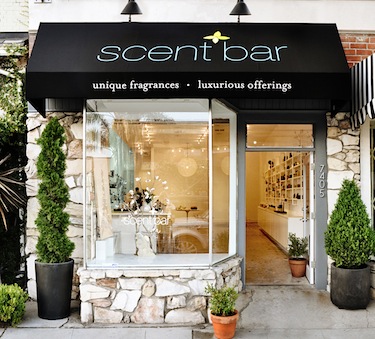 The remaining two scents of the Decennial anniversary perfumes are very much a part of the set. Both have startling juxtapositions elegantly executed; both involve beautiful wood notes; neither is spicy to my nose, like Nuit Épicée and Santal Sacré, but both involve very creative comestibles that one seldom smells in perfume. The bourbon in Bois Bourbon is not an abstraction of bourbon, it's really a very naturalistic invocation of bourbon; it's not a generalized "This Is What Bourbon Smells Like", it's very specific, very closely related to actual bourbon on the tongue. Lys du Desert has a similar effect we'll discuss in a moment.
Ari at Scents of Self liked Bois Bourbon and said that if bourbon really smelled like this, she'd drink it. I am a bourbon drinker, and I don't smell much of actual bourbon in Bois Bourbon. To my nose there's just a faint note of bourbon itself, a very slight woody sweetness that's my favorite feature of actual bourbon. It's very slight, though, so don't think of this as a sticky scent, at all.
In fact the primary feature of Bois Bourbon is an amazing light greenness and the way it plays off the rich brown bourbon. I'm afraid to say "green" because then you will think it's galbanum-y, like carnation stems, but that isn't the green at all. Somehow the effect is of a green piece of wood that's been cut. The bois in Bois Bourbon is a young tree – maybe only ten years old? – that smells of fresh young life and somehow supports, complements, and also completes the age of the bourbon.
As part of a set with the scents I previously reviewed, Bois Bourbon makes it clear that the Decennial scents are all about wood. There's the dry astringent wood saved for a special occasion of Santal Sacré, and the wreathed-in-flowers-and-spices wood of the homey cedar chest of Nuit Épicée; with Bois Bourbon we move outside, perhaps to an orchard where we are trimming a branch or two. There are no flowers here, no fruit; just the air of a young world in spring and the wealthy indulgence of a good glass of bourbon. It's a very curious juxtaposition to my nose and I can't stop sniffing it. Is this what men's clubs used to smell like? No, this is like a rich man's California porch in the Napa Valley. Or what they smell like in the imagination of Jerome Epinette, the nose? Or perhaps what L.A. smells like?
I like the work of Jerome Epinette, who did many of the scents for Atelier Cologne and also for Byredo. He has a nice way with juxtapositions that are surprising but not heavy-handed. He was also the nose for Santal Sacré and Nuit Épicée. It's interesting to experience his work in these perfumes, all labeled Eaux de Parfum rather than the "colognes absolues" that Atelier produces. His juxtapositions are just as creative, just as light a touch, but with more presence, and the results are far departures from the classic citrus/toilette water flavors of any type of cologne, absolue or not.
I tried all of Epinette's scents before I tried on the one scent Andy Tauer did for the Decennial collection, Lys du Desert. I had rather a reaction against the blogosphere's slavering adoration of Andy Tauer, and the repeated mentions I saw of Lys du Desert without any mention of the other three in the set. It seemed like my fellow perfume fans were gallumphing around in a herd, snorting Lys du Desert and muttering "Andy Tauer! Andy Tauer!" in some sort of religious observation-slash-stalker fandemonium.
Full disclosure: I've won one of Andy Tauer's Advent giveaways before, so I've corresponded briefly with him, and from my own interactions with him and from everything everyone else in the perfume world has ever said about him, he's one of the nicest perfumers in the world. He's super committed to his art but also very pleasant to fans (which most creators are not). At the same time, I do not own a full bottle of any Tauer scent (except the one I won) and I've never fallen madly in love with a Tauer scent. So I'm all for saying nice things about Andy Tauer, but I'm not a slavering fangirl either, and the sheepling surrounding the release of Lys du Desert (especially to the exclusion of the other three scents in the collection) kind of irritated me.
So I saved Lys du Desert till last, and here's what I thought as soon as I finally put some on:
This is really goddamn good.
The wood that is the focus of Lys du Desert is mesquite. I have some mesquite flour I have tried cooking with, and its smoky maple scent/flavor is the platform on which Lys du Desert is built, but slightly drier than the mesquite flour itself – rather more like the wood one often uses for smoking meats, I imagine. There's a touch, maybe just a hint, of that smoked meat hint here as well, but nothing as full-out meaty as Lonestar Memories, which I really can't wear. No, on top of the mesquite wood here there are indeed dry desert flowers, the hardy kind of delicate ephemeral flowers that can live on less than a foot of rainfall a year.
I am from southern California, and something in the floral hints here spoke to something deep in my brain, so deep I can't really identify it. I know my backyard used to have prickly pear blossoms in it part of the year, and dry grasses flowered from time to time. Is there some of that in here, pretending to be the lily of the desert? I don't know. I do know that Lys du Desert speaks to me of my relationship to the outdoors when I was very young – of lying on hot outdoor rocks in the sun, looking for rattlesnakes and coyotes. When I first wore it, I dreamed that night of the tiny frog, the size of my thumb, that settled in the water fountain we put outside for the dogs – because water was that precious, and life was that tenacious, out there.
Despite the delicacy of what I perceive as its floral petals, Lys du Desert isn't shy. Lily is one of my favorite florals, and I'm delighted to have a new interpretation of it; it makes it feel more "mine". It's not as light a hand as Epinette's concoctions. You'll know you have this baby on, and with more than a spritz or two so will others. I hope they like scent, because if you're wearing Lys du Desert, you absolutely will not smell like anything else they've ever smelled and you won't smell like anything soapy, department-store, or cookie-cutter. This stuff is unique, complex, evocative, satisfyingly beautiful, surprising, and somehow oddly luxurious.
So then I went from being annoyed that Andy Tauer's perfume was all anyone was talking about, to being annoyed that it was so good.
This slightly smoky mesquite lily is a star. I was wrong, everyone else was right. It's gorgeous, no doubt. But the reason I wouldn't recommend picking up Lys du Desert, even in sample form, without getting the rest, is that actually LdD is so stunning that I don't think I would wear it unless what I wanted to do was wear Lys du Desert. It's not a background perfume. It's not difficult, but it's pretty damn attention-grabbing, even if it's your own attention we're talking about. I honestly think I will reach for the others to plain old wear just as often, if not more often, than Lys du Desert. Luckyscent offers a sample set of all four scents; as far as I'm concerned, that's the way to go.
Don't get me wrong; I'm going to wear Lys du Desert, and I'm going to enjoy the almost amazing experience of wearing it. But I'm going to wear all four of the perfumes in the Decennial collection, and I particularly enjoy contemplating them together, because to me, together they are a string quartet of woods: sandalwood, cedar, green young wood like ash or vine, and mesquite. I like the scent of wood, from carved wooden bowls to antique rocking chairs, and I like how these talented perfumers have mixed those woods with everything from flowers to foods to make four beautiful perfumes. Fitting for the temple to scent that is the Scent Bar, these scents are not like anything else, but they're also completely wearable and delightful while also representing new directions in development for their noses. What an achievement. What great perfumes.
—
Image is of the Scent Bar, storefront home of Luckyscent, swiped from their site.
Bookmark or Share