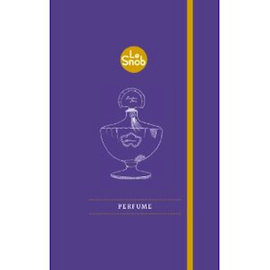 People often ask me (OK, I think I've been asked maybe half a dozen times) what book they can turn to for finding out more about perfume overall.
I love books, I love perfume, I'm always looking for good books on perfume. Sadly, there are few, even when one turns to libraries and such. They tend to turn into meditations on the art of composing scent (Jean-Claude Ellena), investigations into the operations of producing scent (Chandler Burr), inside stories and fanboying/fangirling about the history of scent (Roja Dove), or hagiographies of some particular ingredient, scent, or perfumer (this covers books as divergent as Tilar Mazzeo's The Secret History of Chanel No. 5 and Celia Lyttelton's The Scent Trail). And then there's The Guide. (Luca Turin and Tania Sanchez, for the one or two people who might be reading this who haven't already gotten The Guide.)
There aren't that many books that really are about the experience of enjoying perfume, or more pertinently, learning to enjoy perfume. This is why the rare treat that is something like Alyssa Harad's Coming to my Senses is so delightful to the perfumista, budding or otherwise. We want to read about people coming to an awareness of their senses that they've never had before. We want to read about people like us.
Perhaps right before the stage of wanting to read about people like us – people who have gone down the rabbit hole of scent – we might want to read about how to go down that rabbit hole. Every day, some new sucker fan decides that they must smell more, and the lucky ones visit some perfume blog to ask about how to go about it. The unlucky ones, or even just the ones who want a more directed approach than they'll get from asking a hundred rabid fans what to smell next, could well do with a more directed guide.
Le Snob: Perfume is that book. This is a great little book that in a very organized small space orients you to the best of classic perfumes and the best of niche perfumes, and explains all the basic terminology that a would-be perfume lover would want to know. Dariush Alavi's compact little hardcover has an elastic band, like Indiana Jones' dad's notebook, in case you want to stuff it full of your own notes of archaeological adventure, I assume. It's beautifully made and clearly, helpfully written, and very rewarding whether you want to dip into it from time to time or read it cover to cover. You wouldn't think such a small volume would be such a useful historical resource. But it nicely fills the gap between not knowing anything (about the existence of a classic perfume house called Caron, for instance) and the pages and pages of information on the web about Carons past and present, formulations and buying opportunities.
Don't think this volume is encyclopedic. There's too much to know. There's plenty of opportunity to argue about the picks of the author (except that the perfumistas I know are generally too nice to argue about one another's tastes). If I were with a friend investigating perfume, those aren't necessarily the L'Artisans or the Guerlains I would have him smell.
On the other hand, as a set of signposts in an undiscovered country, Le Snob: Perfume gives great landmark. Even if you personally don't think the scents included are your favorites, it would be hard to argue that they're not worth smelling. (I'm one of the few perfumistas in the world, for instance, who doesn't care for Traversée du Bosphorus; so even though I wouldn't foist it on a friend, you should probably smell it – it's me that's on the outs on that one.)
And I really could not argue with a single scent marked "Le Snob: Essential". If you're interested in perfume at all, if this book marks it as an essential, you should smell it. They're touchstones of the art form, and you'd want to know them as reference scents at least. Some of them may be a bit recent and trendy (how long is Amaranthine going to reign as a perfumista favorite?) but even those scents are standouts that are well worth smelling (what other modern sweaty-sex-floral is going to give Amaranthine a run for its money?).
The book also has scattered through it little nuggety essay-lets from people in the perfume field – things like Amouage's creative director's thoughts on gender and picking perfume. These are wonderfully selected and edited, and look to me like they are perfect to answer the sorts of questions newcomers to perfume tend to ask.
As an avid Kindle reader I wish this book had come out in an electronic edition. I don't need to appreciate the pretty purple cover as much as I need to keep the piles of books around the house down to a minimum. Plus I love Kindle books because they're with you wherever you go. But I don't regret buying Le Snob: Perfume in hardcover format. And at least it's small enough to fit easily in a pocket or purse for shopping excursions.
If you read this book, I suspect you will have at your fingertips a lot more knowledge about the perfume field than a lot of fans.
I'm delighted to have found an awesome book to which I can refer would-be perfume fans who want to learn more. For anyone who finds the terminology on the blogs intimidating, try this book. Or for anyone who just has the nagging feeling that they've missed something… Some critical perfume or perfume brand… This is a great guide. It's really not for the perfume snob as much as it is for the perfume fan. If you haven't read it, and you're interested in perfume, unless you consider yourself an "expert" already (and most of us don't,) I think you're going to like this book.
—
Image is cover, swiped from the web; link to Amazon does not make me any money at all, it's just provided for your convenience.
Bookmark or Share