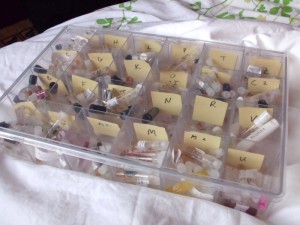 Let's talk storage porn!
Like all perfume junkies, for me the need to store samples appropriately is pressing. If you can't find what you've got, you can't wear it; moreover, you run the risk of being so driven by inappropriate lust that you go out and buy more, even if you are responsible enough to know that you have some of that perfume somewhere already. That is a Bad Plan.
I've tried a number of different storage methods for the tiny glass tubes of joy all over my house. To date the most popular method was different colors of large organza bags, which just tended to amalgamate my samples into wads, but at least they were identifiable wads. Since they each held dozens of samples, finding something I wanted when I wanted it was not trivial, however; certainly not trivial enough for a morning when I was looking for something specific.
Putting all the samples I hadn't tried into one big bowl improved sample uptake for new things, but still did nothing for the storage and retrieval of samples that had BEEN tried and wanted to be worn again.
I have a small silver cup that belonged to my great-grandmother on my bureau that holds a few samples that I know I like that I'm trying to wear instead of splurging on full bottles of. But I still have a lot of samples that have been worn, and need to be filed, primarily so, as has been stated, I don't buy them again. I don't give away samples I don't like; I only give away samples I DO like, primarily ones I already splurged on full bottles of. Samples I don't like need to be filed and returned to when I learn how to interpret and/or enjoy amber, or incense, or what have you. (Iris is the most recent thing I've noticed that I claim I don't much care for, but sure am enjoying in a number of perfumes.)
SO! Recently in my area a Container Store opened up. I could spend a lot of time every week at the Container Store, but it took a couple of visits before I settled on the sample box pictured above. At 24 compartments it's just about perfect. There aren't 26, for my alphabetized compartments, but I have few perfumes in the U V W X Y Z categories, and it works well. The compartments would be perfect for many many average-sized sample vials, lying on their side or standing up. What messes it up is the occasional large sample size; but most of even those will lie in one of these compartments catty-cornered and still allow a lot of other space.
I've discovered that the most perfume houses start with C, as I have done two of these boxes now and both have a C and a C-2 compartment. (You can see in the picture above, which you can keep clicking to expand if you want to see detail, also an A-2 and an M-2 compartment as well. The photo is of Box 1; Box 2 only needed a C-2.) Even with overloaded Cs, it gets the number of samples in a slot down to a reasonable number where if you were looking for something to wear of a morning, you could take out the handful of vials, plop them on the bed and root through them to find the one that you want, and then plop them back, all in a reasonable amount of time.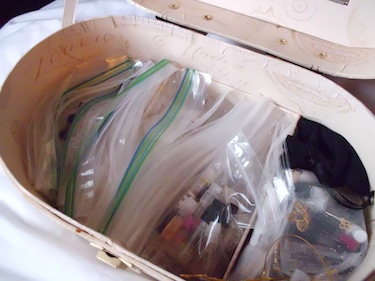 The two large divided boxes now hold the bulk of my samples, old and new. I have two other boxes, smaller but with larger compartments, that are holding complete sample sets in the snack-size baggies previously used for all storage. You can see in this picture the old system, now dismantled. The baggie system was good, and there was only one baggie per perfume house and they were organized alphabetically. But it didn't lend itself to rooting through looking for new things, and though it took up less volume, taking anything out was sufficiently a hassle that I just didn't do it. It's undoubtedly better as a real filing system – baggie Chantecaille, in the Cs in alphabetical order, open it to find Kalimantan, done – but somehow it wasn't working for me, and I had reached capacity on this little box, even using the top tray as well, without half of the samples being in it. So, I'm expanding to the divided boxes. Let's see how they do.
In transferring and organizing I've found a few samples that dried up/evaporated, which makes me sad. They were all 2-3 ml spray vials, either from Perfumed Court, Luckyscent, or Sonoma Scent Studio. So that tells me that the glass 1 ml sample vials are a better long-term solution for sample storage than those little atomizers. Nothing super-drastically missed has gone away completely, but I'm on the alert now about those sprayers. Also, I think where I had that box was just too hot; I'm going to keep the divided boxes on the floor in my bedroom under the furniture, and hope it stays cooler in there (it's usually the coolest room in the house).
I'm super-excited about my new storage system, but also just enjoying it. Alas, the next step will not be as fun: updating the spreadsheet. I need to update the location of every sample in both these boxes, as well as record the evaporated ones, so I'll know I don't have those samples any more. On some Sunday morning when I want to hide in my room this will be a good activity to do. Might take two Sunday mornings, though.
So, how do you do your sample storage? I'm reading the posts over at Perfume Posse this week with much interest. I'm way behind on my perfume blog reading, but storage is a concern common to us all! If you've got a creative solution (I really like the ammo case idea, though it didn't work for me, I did try it – also ring inserts from jewelry boxes you can stand your little vials up in, great idea.) And do you keep everything?
Bookmark or Share