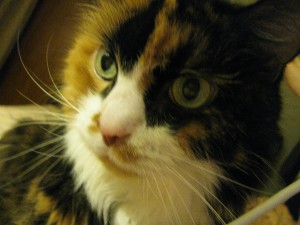 So Monday was my kitty Harley's last day. She had battled kidney disease bravely for many years and had had a tough few months. But the good grace with which she accepted her daily injections of subcutaneous fluid was just one example of how constantly she made things easier on me, and I'm glad in the end we were able to make things a little easier on her. She was down to 4 lbs 12 oz – hard to remember at one point she had been 12 pounds and people referred to her as "footstool-like"!
Harley came to me at age 4 from the Northeast Animal Shelter, a no-kill shelter in Salem, MA. Like many New England cats, she was polydactyl, with two extra toes on each foot. However, she never showed signs of learning how to operate a doorknob, a computer, or a pull-tab can.
She lived with me for thirteen years, through many tough life changes, two moves, and a year unemployed during which I wrote a lot (to which writing she contributed by being draped across my left arm while I typed). I directly attribute to her the completion of a screenplay that got second place in the Nicholl Fellowship, my one published fiction credit, and a published academic paper. Because it's tough to move around a lot with a very heavy cat on your arm.
She was for many years the only person around for me to talk to. But she accepted the additional of my beloved to our house with very good cheer. Though originally she wanted to retain her right to prime seating on the couch, she soon gave it up in favor of my happiness – and the right to sleep next to my husband's (very warm) feet.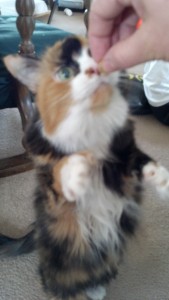 Harley was a great car cat, and was happy to drive to my mother's to get spoiled while I was away on job interviews, or to take vacation at my brother's house. She and I mastered the art of the cat visit to a motel (there are more pet-friendly hotels than you might think). Eventually I realized that she was a vampire kitty, because when the sun was coming up, no matter where we were, she required a sun-free hiding place in which to ride out the transition. She explained this to me at great volume and it was me that was slow to catch on (mostly because it was very early in the morning when she was trying to explain this). We also flew together, and the security staff of airports pronounced her gorgeous – which of course she was.
While never a big fan of toys she had a great love of string, but only when its ends were dragged around in an interesting fashion. She also loved to watch birds, and I think cherished the idea that she might one day catch one, even though that was patently absurd because she refused to go outside.
She loved chicken with a refreshing purity of focus. Turkey was not acceptable, nor either was duck. Beef was right out. Chicken was what she liked, and chicken (in various health-appropriate forms) was what she got. In her entire life she never jumped up on a table or a counter she was not supposed to, and she never stole food that wasn't left on the floor. She did, however, prefer stolen water over water provided to her in cat dishes or fountains, and would occasionally complain if there were no glasses of water on the nightstands in the bedroom for her to pilfer from.
She did not like music, loud noises, or for me to cry. The older she got, and the more she realized that she was monarch in her own home, the more equanimity with which she accepted strangers, but she was never outgoing. A quiet kitty, her idea of a perfect weekend was sitting on the couch with me typing on my computer keys, listening to the birds in the trees, and falling asleep until she faceplanted right into the upholstery. Me too, Harleycat. Me too.
Harley's very excellent health care was provided by Catnip & Carrots Veterinary in New Hyde Park. She is survived by myself and my husband, her catgodmother in Boston, and a small turtle who just doesn't give a damn. She was accepting in the face of necessity, a good judge of character, and a true and loyal friend. She is very much, and will always be, missed.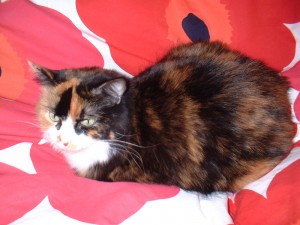 Bookmark or Share