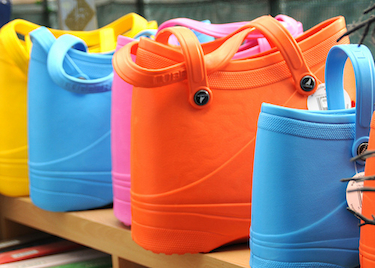 So here's stuff I just took out of the drawer and spritzed on myself because I could, to remind myself what it smells like. Quick drive-bys, again, which seem to get the most traffic!
I am trying to thin out the collection, partly so I can find stuff I want, partly because it just is getting unwieldy. And when I look in a drawer full of perfume bottles, I want to be excited about wearing every one of them.
In some cases I can't even remember why I acquired these things!
Amouage Amanie – Sadly, I'm going to have to find a home for this. Its green bergamot-y soapiness is just that – soapiness. Nothing else, though very nicely done. I didn't like Pure Grace from Philosophy and I don't like this one. This doesn't make me feel "clean", it just makes me irritated.
Borghese Il Bacio – This white floral beauty just makes me smile. I don't remember why I picked this up; someone, somewhere, said "early 90s white floral" and I went looking for it to buy it unsniffed off of eBay. Whatever the reason, it is so pretty. I need to wear it more often. It's more elbow-y than a modern white floral, not quite as smoothly blended, WITHOUT tuberose (I am heavily prejudiced against tuberose this week), and with a clean-ish drydown that isn't laundry musk. I really like it. I can't imagine anyone smelling this and not saying "You smell so pretty!" I bet Mals at Muse in Wooden Shoes would like it. (Well, maybe not; it IS an early 90s perfume, with an over-the-top artificial floral Something – freesia? – that could be a little stabby in the nose if someone were sensitive to it. I like it very much. If I did want to feel "clean", this would be it.)
Histoires de Parfums 1725 – I remember wanting this one but I couldn't remember why. HATED it going on, but it immediately dried down to this musky, myrrhy, ambery goodness. Not too heavy or too sweet, it reminds me of a masculine, yet I totally want to wear it. Leeeeeetle too much benzoin or tonka or whatever that stuff is I don't love in the drydown, but it is good stuff.
Vintage Lanvin Pretexte – this is another "smells like a vintage perfume" that Undina would not care for! I suspect at some point I'm going to come back to this, perhaps in winter, and love it. But right now it pales in comparison to the Vol de Nuit, and I am finding it hard to care. Shouldn't necessarily have invested in that one.
4160Tuesdays Over the Chocolate Shop – I still need to wear more of this to get a good handle on it. If you don't like sweet perfumes, you wouldn't like it; but it's so much more than your average department-store candy-smelling dreck. There's a lot in it, and it rewards examination, even if what there is in it is a lot of types of sweet. It's like a bowl of lots of different types of candy – honey chews, chocolate squares, even sugared almonds. Who doesn't love a bowl of candy? Not me.
Olympic Orchids Café V – This is one of the darkest perfumes I have. It's almost a bridge too far, in terms of the resinous richness – deeply dry, its richness is complexity, not heaviness, which is quite an artistic achievement. I'm going to want to try this a lot more times. This is one of those ones I can tell is going to smell differently in different weathers and to different moods. I wonder what commercial perfumers do to make perfumes that aren't so changeable. These artisan-made perfumes are much more reflective of the weather and your mood, aren't they?
OK, so. Quick drive-bys. I revisited a lot of things I was happy to see in my drawers and no matter what I thought I "ought" to think I tried not to leave anything in there I wasn't happy to see. I'm sure there's more to do.
One thought I had was to put the roses together somewhere. Because I only occasionally want rose and then I can go and choose from "the roses", specifically. This would be Krigler's Oud for Highness, Amouage Lyric, Ava Luxe Roses (and I think Incense Rose), and Annick Goutal Rose Splendide. That's enough of a rose selection for anyone.
I clearly have put too much effort into acquiring multiple perfumes from a line because I really like one perfume from that line, too. I have those second (or third, whimper) bottles, but I don't wear them. Got to watch out for that in future.
—
Image is "Grab a Bag" by conespider, via Flickr. Used under Creative Commons License; some rights reserved.
Bookmark or Share