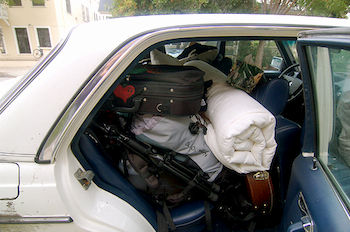 OMFG I am so tired. Are you guys tired? I'm exhausted.
For various reasons of the plot I didn't get or take any time off these last five months. Then I decided to do all my Fun Things at once. One thing is clear: I need to organize my down time better. Or stop organizing it. One or the other.
BUT, awesome visit to Columbus last week into this week, then a day at home to see an advance showing of "Much Ado About Nothing" with Q&A by Joss Whedon (he is my master now), then off to Philadelphia for reunion. It wasn't a "Grand Reunion" year for me (e.g., a multiple of five), but I totally kibbitzed on the Class of '88 and the Class of '93 and had an awesome, awesome time.
I missed my cat while I was traveling (yes, I know she's gone; but it's a brain habit, worrying about her while I'm away from home); I tried hard to stay on top of eating food that would be good for me and ate too much of the wrong things; I didn't sleep enough; and last Friday was one of those no-good, very bad days when, if I HAD tried to eat ice cream from a cone, it would have fallen out onto the sidewalk before I'd taken more than one lick. Lots of Stuff going on. And in the middle of it, yes, go ahead and judge me, I missed my perfume collection.
Missed it despite having 3 minis, a decant, and at least 5 samples with me. Because, you know. PET THEM. And also it's fun thinking "What will I wear today?" But not as much fun when most of your options are at home. You'll wear what you brought with you, is what you'll wear.
My traveling and wearing wardrobe this past week in actual fact consisted of:
Dries van Noten by Frederic Malle. This one is variable enough to stay interesting and pretty enough never to offend. I liked it better in the cold weather (37 degrees overnight in Columbus; I had to borrow my brother's wool socks, and slept in them) than I did in the heat (95 degrees in Philadelphia, the last great rain forest). There was an odd benzoin note that came out in the heat and stayed awhile that I didn't like as much as the drier wood note I got in the colder weather. Still, I enjoyed this, and this was my first big multiple testing of this scent. Not sure it's full-bottle worthy but well worth a decant.
Jovoy's Psychédélique, my massive new love. Somehow a bit darker and drier in hotel air conditioning, this one never disappoints. Great for sleeping in. This is the one I told the Candy Perfume Boy was like a more elegant, tasteful Angel. I stand by that assessment. A bit of drier cocoa (very welcome if you liked the Angel Goût de Parfum) and very smoothly blended patchouli make this scent pretty all-purpose to me, but above all great for sleeping. Soothing like a piece of chocolate cake before bed. Comfort perfume.
La Petite Robe Noire by Guerlain. If you are sticky, this will make you feel a bit cleaner. If you are homesick, this is good to spritz on the hotel pillows. If your armpits stink and just need some disinfecting, this is good for that too. I've said it before: I love this stupid thing. Yes, it's cherry laundry with just a touch of girlish Guerlinade. I didn't say I recommended it. I said I loved it.
And DSH's Divine Gardens. Before this one just gives in and becomes what smells to me like a very long-lived opoponax, this one is my favorite garden that is NOT green and NOT a big floral. Reserved but classically pretty, like a wildflower still life painted in chiaroscuro in oils, I suspect it's the touch of sandalwood in this that I find so soothing and uplifting. This is my favorite flying fragrance; it cannot offend on a plane, but is lightly relaxing, and the teeny one dram bottle of the parfum fits into the most stuffed carry-on bag. With this and some lip balm, you just might survive the flight. Drink lots of water and wash your hands often.
I drove 5 hours over the last 3 days in 90+ degree sunny weather in my car in which the air conditioning is broken. I have been too cheap to fix it for more than a year. You reap what you sow, man.
Yell out if you have perfumes you like to travel with, and tell me why!
—
Image is "The Car is Packed" by Cameron Parkins, via Flickr. I hate Flickr's new interface. Used under Creative Commons license; some rights reserved.
Bookmark or Share