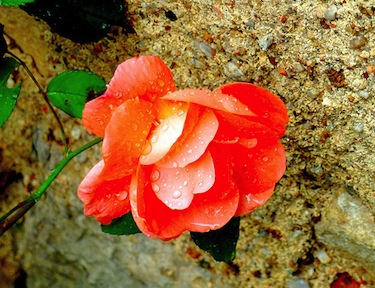 What's your favorite overlooked gem?
Sometimes while you're swimming in rarities and art you have to learn to appreciate, you overlook that which is easy to get and easy to understand.
I don't think L'Eau de Chloé gets enough blog love. This is a lovely, pretty dewy rose with a touch of fresh greenness that won't make you think of galbanum, it'll make you think of fresh greenness. There is nothing vintage about this rose; it's as fresh and light and this decade as any scent you can find, but delightfully not a copy of every single other mass production scent out there. It's not the underside of a turtle's shell, it's not the rare scent of mold nodules on sea rocks in France, it's a dewy pretty green rose, the kind of thing that might make you feel a little younger, a little happier on a sunny summer day.
I liked it on first sniff, I bought a bottle, and I still like it. It survives thinning attempts and rearrangements. I have a decant I carry around from time to time; it just works. It doesn't last for eight hours, but as it is a perfect summer fragrance, I wouldn't want it to; only a heavy-duty laundry musk molecule lasts through ten hours of summer heat and sweat, and I don't want that. This is the perfect scent to let me feel clean and pretty even when ten minutes after I get out of the shower, I am sweating like a pig. (A graceful, tall, well-educated pig.)
It may be that people don't try L'Eau de Chloé because Chloé is such a divisive fragrance and most perfumistas are sick of "l'eaux" which are generally watered down versions of their originals, and watered down in the most unimaginative and possibly unpleasant ways. Interestingly, it doesn't serve L'Eau de Chloé well to be labeled as a "flanker" to a scent to which it seems to have no relation except to be produced by the same maker.
What scents – maybe current, easily available scents? – do you think get overlooked?
—
Image is "Rose et goutellettes", by benoit theodore, via Flickr. Used under Creative Commons license; some rights reserved.
Bookmark or Share