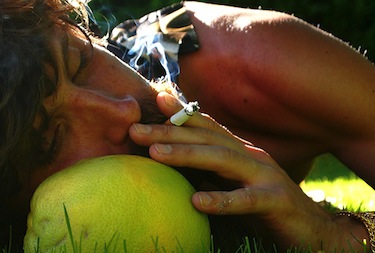 Ever smelled a fruity oriental? If you have, drop a comment saying which one. Because I have to say, it's kind of a new one on me, though I have the sneaking suspicion that something else in my collection falls into the same category.
We went yardsaling this past weekend, my beloved and I, and I did manage to score a few finds: 2 almost-used-up bottles and a full one. The two almost-used-up ones have more than a family resemblance, as you might suspect.
One of the bottles was a Chanel Allure parfum, one of the 7.5 ml bottles, with perhaps 2 ml left. Allure is not something I love, but I suspected I would like it better in parfum strength, and as usual that was indeed the case. I went through the usual flurry of feelings about anything kind of new that doesn't suck: "Oh, this is pretty." "Yum, I love this!" "I should wear this all the time!" "Wow, this is really sticking with me." "I'm kind of tired of this." "I wonder if I should wash this off now." Allure in the parfum strength is not shy and though I never really got the warm spice feeling that online reviewers seem to love in the thing, it was definitely a cuddle-gourmand sort of situation that after a while felt rather smothering.
(I swear the more fumes I smell the LESS I feel able to describe any of them.)
Well, it was no accident that this woman's other bottle of well-loved perfume was something in a similar category: Balenciaga's Talisman. I had never heard of this before, but I know Balenciaga has done some great perfumes, and also I assume anything old sucks less than whatever the current formulation is. This woman, whoever she was, had 2 not-quite-empty, perhaps-three-milliliters-left bottles of this stuff, so I did not pass up the chance to try it.
One thing's for sure: it doesn't matter whether it says EDP or EDT on the bottle, this stuff is not shy. This is a shoulderpads perfume for sure. It even could bear some resemblance to my beloved Poison except it has less overt tuberose and more frooooooooot. I'm not even sure there are any florals in this thing but there sure is a lot of frooooooooooooot. (No, of course there are some florals – something white and synthetic, I can't even pretend to identify it, it's just a drop-shadow effect on the frrroooooooooooooot.)
Thing is, under all that fruit is the tiniest leather floor padding. I mean, I love me my Poison but there's something else in this one. It's a gourmand fruit… motorcycle jacket? Expensive handbag? I can't tell. It's not a leather powerhouse, you might not even identify it as leather at all, but to my nose it's there and kind of… cool. Not like icy cool, and not teenager cool either, but actual cool, like Norma Shearer in The Women, a rich white woman in jodhpurs eating apples as snacks on the porch. Capitalist cool.
Don't get me wrong – cool under an avalanche of frooooooooooooooooot. I mean, I'm talking about excavating some vaguely interesting wafts amongst a veritable nose tsunami of gourmand powdery 80s synthetic froooooooooooooooooooot.
For all that, it's somehow more appealing and less off-putting than today's average fruity floral. It's a fruity oriental. It's from a different era and it smells it.
I don't know – I don't want to wear a ton of Talisman, but I'm pleased that I smelled it. I will come back to this one in the winter when I bet it will be as cuddly as a box of puppies. A box of puppies in a motorcycle jacket.
—
Image is sleeping angel, by darwin Bell, via Flickr. Used under Creative Commons license; some rights reserved.
Bookmark or Share