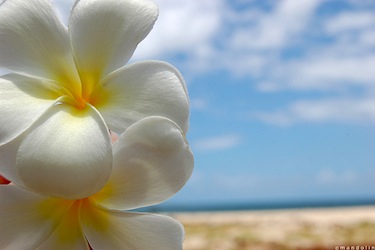 I believe people love what they don't grow up around. Or maybe it's just that they love what they lost. I was a big beach child when very small, and then we moved away from the beach and I've been trying to get back to it ever since. Where I live now I'm 20 minutes from a beach; I seldom go, but I should, because it is balm to my soul.
My brother (who is my primary traveling companion – my beloved does not really dig travel) loves beaches too, and we have been to Hawaii as well as San Diego and Miami (and here on Long Island, of course). He gets a lot more out of beaches than I do, being a big fan of things like surfing and jet-skiing. I am a big fan of digging my toes into, and then out of, the sand.
Our beach fandom caused me to buy a sample of "Amongst the Waves", a new perfume from small perfumer Olivine. The Unseen Censer does not accept freebies – I'm proud to say that I've reached the point with this leetle blog where they are, infrequently, offered, but I do not accept them, except in situations where anyone could get them, like samples in a store. I do, however, buy based on advertising, and in this case I suspect Olivine sent me an ad because of this blog. And it worked.
I would believe that Amongst the Waves was inspired by Hawaii. Some perfumers try to tell you that their beach perfume is just "reminiscent of" beaches, meaning it doesn't really smell like the beach experience. That can be either good or bad, depending on whether or not you want the exact smell. In this case the page doesn't claim that it's "evocative of", and that's good, because Amongst the Waves smells exactly like being on a Hawaiian beach. There is a backdrop of tropical flowers (quite good ones, actually, not some of the nastier mass-produced chemical versions – these flowers are soft and tender), but the foredrop is salt and Hawaiian Tropic suntan oil. And sun, and the sound of waves…
If those are the smells you want, then you'll want this reasonably priced scent. After a few minutes (on a warm, humid day) it quiets down into more of a skin scent on me. I tested the eau de parfum, not the oil. If the scent had stayed bigger, it would have been more of a problem – "Who's wearing Hawaiian Tropic tanning oil to the office?", someone might have asked – but it didn't and it wasn't. With lower sillage, it turns into simply a yummy tropical cushion of beauty that floats with you through the hours – not gourmand, not chemical, and not overwhelming. Eventually I wished that I had slightly more flowers and slightly less coconut. But as it was, even on the Censer's dry skin, it was tropical vacation in a bottle.
I'm looking forward to testing more Olivine scents; I bought a sample pack of the eaux de parfum. Tropical flowers seems to the the theme for this perfumer, and I'm totally up for that. So far the only other one I've worn is Olivine, their signature scent, advertised as a tropical gardenia. It goes on like a soapy, waxy fat gardenia, and I like that. For those of you who found Chanel's Gardenia a bit too Stepford-wifey, this is a much less buttoned-up, ironed-out gardenia. Sadly, the lovely fat waxy gardenia turns into a fairly standard musk – "clean" and "fresh" (is it Ambroxan?). But it's OK with me, for a scent at this price point. I wouldn't want a full bottle just for the opening half hour, but I respect it for what it is. I'll be interested to see how the rest of the scents go – and the little lip gloss sample I bought, too.
They drew me in with the advertising for this one, because I am weak in the knees for beaches, and I'll be interested to see how often I reach for it. I already wrote this summer about getting seduced by Undergreen's White; something in my brain clearly wants coconut/white-flower perfumes this summer. This one might be a little flowery-er, certainly more literal and less mysterious, and even more a wish that I were on the beach with salt in my hair and sand in my toes right now.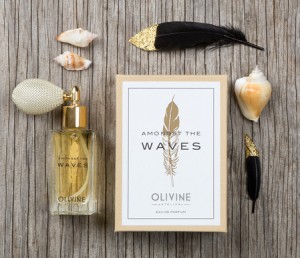 —
Top image is "Falling flowers on the beach" by mandolin davis, via Flickr; used under Creative Commons license, some rights reserved. Bottom image is swiped from vendor website.
Headline is based on my friend Bill's observation, when visiting a Long Island beach with me for the first time, that my beach could certainly beat his beach up.
Bookmark or Share