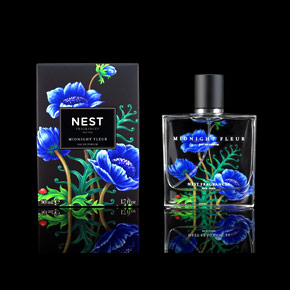 One of the gifts in the goody bag at Sniffapalooza's Fall Ball last year was a lovely mini of Nest's new fine perfume line. The packaging for these was so gorgeous that one could well covet a bottle even if one didn't like the juice – and the juice is lovely too. (Ca Fleure Bon reported that Passiflora, Amazon Lily, and White Sandalwood were done by Cristophe Laudamiel, and Midnight Fleur and Dahlia & Vines by Jerome Epinette, who has also done work for Atelier Cologne and has a great hand with lighter scents.)
This packaging is based on 18th century "paper collages" by artist Mary Delany. Collage doesn't begin to convey the incredibly detailed beauty of these works, which were created to be as botanically accurate as possible, according to the presentation we heard at Sniffapalooza. These original all-black bottles are simply stunning.
From my point of view it's unfortunate that the bottles will now be more clear, but apparently it's to provide shelf appeal now that Sephora is stocking these pretty scents. Light is bad for juice, but this isn't the sort of thick stuff you treasure drop by drop anyway; these are all pretty, light scents that people will theoretically use quite quickly. (NEST's website indicates that the Dahlia & Vines and White Sandalwood scents are Sephora exclusives.)
At Sniffa fall 2012, we each got a lovely mini in our Bergdorf breakfast bag. And here's why you need friends: of course it was pure chance if the mini you got was of the scent you liked. But if you have multiple people – why, you can swap! I remember standing over the display sniffing from the full-size bottles and swapping with two other lovely ladies I had just met till we all had exactly what we wanted. Where else can that happen! You can't beat that.
My post "Never give perfume" is still one of my most visited pages. And I do believe Suze Orman, the financial guru, when she says that most people do not want whatever gifts you give them, and you would do better to ask them what they want before buying them something they don't; candles and other scent products appear to be a big offender in this category (in a recent TV show she specifically exhorted people not to buy others candles! And I know I've received some unwanted candles in my day). But I was also charmed and touched by Undina's recent post about giving perfume, and I also know how much pleasure it can be to even by yourself something that smells lovely this time of year.
So whether you buy it as a gift or for yourself, I suspect some of you will want to know that NEST house, body, and fine fragrance is now available at Sephora. I've previously only seen these at Bergdorf Goodman, so I think this is nice. As you know, Bob, this is not a beauty blog, but I do like to write about what I like; and I really like shower and body creams in this line, even more than the fine fragrances.

One of my favorite Things to Smell in the world, hands down, is the Moroccan Amber shower gel from NEST. This is just a creamy rich and somehow light scent that is glorious to wash in; when I'm facing a lackluster day this never fails to be a cheering pick-me-up. The Mint & Moss shower gel is also a fantastic summer scent: without being what I now think of as "department store generic clean", it is light, refreshing, and yes, clean, and doesn't weigh on me even on the muggiest days.
I think of them as pretty much the perfect one-two punch of winter/summer shower scents. I also purely love the Moroccan Amber in candle form. For people who don't want a lot of perfume but do like scented body products, I have a feeling that the body cream versions of these will be absolutely lovely options. I suspect they will be new enough to be fresh to most folks, but nicely enough they now aren't so hard to get that people can't replace them when they want to do that. (Wasabi Pear is also a great option from NEST and whenever I drag people over to explore the NEST counter they gravitate toward, and like, Wasabi Pear. I'm not usually looking for something that crisp and sweet, but if you are, Wasabi Pear is also a great option.)
Sephora doesn't appear to be carrying the candles; NEST has its own website but also does sell through resellers like Bergdorf Goodman. If you're determined to spend gift money on that holiday candle, at least try the small votives from NEST: affordable and small. (They do also have a large 4-wick candle for $225 if a grander gesture is just plain required.)
In addition to the Moroccan Amber (my precious…), NEST has a "Holiday" candle, which is a wonderful mulled wine/orange scent that sure smells like a party to me. It's a pretty juicy orange and pretty foody spices; whatever you want to smell partyish and delicious will smell partyish and delicious with this baby. There is also a Birchwood Pine candle, which smells like an evergreen tree hung with some incense, maybe some other curls of aromatic wood for decoration. At my house, where Hannukah slides into Christmas and Solstice and mostly we're celebrating the dark at the end of the year and the coming light, the combination of a fragrant living tree and juicy orange and mouthwatering spices is just about my idea of heaven, and I love the idea of burning them together. For $14 for the votives, this can be done!
So I still think giving someone perfume is probably not going to result in the giddy happiness that we perfume lovers wish it would; and candles are probably the best sign of "I couldn't think of what else to give you but this will last longer than wine." But I also know that scented shower gels, hand creams, and yes, even candles can be a great source of joy for many. If that's where you're at, or if you just want to spoil yourself a little this holiday season (which is honestly MY biggest recommendation!!!), try some NEST. Collect 'em all, connect 'em all – swap with friends!
—
Images are promo images swiped from Sephora! Yep.
Bookmark or Share