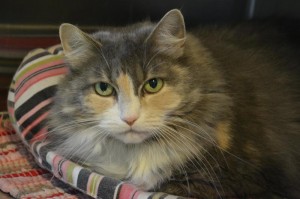 As regular readers know, I've been without a kitty for most of the year. I did not take my kittyless situation lightly, but I didn't want to rush into a new kitty relationship. Except for dorms in college, I've never lived in a home without a cat. A home without a cat seems empty, unfinished. Kind of sad.
I did some shopping over the summer, and was frustrated on all turns; but I also realized I didn't want a new kitty, I wanted my old kitty. The best kitty in the world. She was so good. I had to get past that first, because the hard truth was I couldn't have my kitty back. It was a new kitty, or nothing. And I had to be ready to let the new kitty be a different kitty. Time only moves forward, not backwards.
I've kept looking, here and there. I toyed with the idea of adopting an adult being let go from a purebreed breeder. I'd subscribed to a Twitter feed, Retired Friends-Cats, which tells you when a purebred cat becomes available.
I had no real attachment to a purebred cat, having been raised to always rescue a rescue, but I did feel like it might be my one chance to get a purebred if I wanted to try it. I've had only 2 cats in 30 years; I don't change pets often. It was kind of nice to consider one of those animals, though I have a very complicated relationship to purebred animals. It's a whole big thing.
ANYway, while surfing sites for Maine Coon cats retired from breeding, I came across a cat listed as a Maine Coon mix, and rather than being a state away (or many states away), she was in a shelter just half an hour away, on the island. And she was scheduled to go for an adoption event on Sunday.
I couldn't figure out why such a gorgeous cat hadn't been adopted yet (she'd been there since June), but I didn't want to take a chance that someone might decide on her as a holiday gift to themselves – not before I got to meet her. I drove up to the shelter, which was really nice but still a shelter, you know? It was a no-kill shelter where cats had to be essentially endowed to get a place there, and could stay there forever if they didn't get adopted. The whole place was given over to the cats – no cages. Really nice for a shelter. (So often shelters are depressing for everyone including the animals!)
The princess floofball above had been living in a stairwell for a month, though, because she wouldn't eat when she was around other cats. She didn't interact and didn't seem to be having any fun. Now let me be clear: this cat is ENORMOUS. She could stand to miss some meals. But people get nervous about those kinds of things in a shelter, so in a gorgeous two-story shelter with tons of rooms and furniture to climb on, she was living in the stairwell, and on Prozac.
Yes. I have a cat who is on Prozac. Back in my day, that sort of thing didn't happen.
So I took her home.
I'm leaning towards Princess Moose for her name because she's a moose for sure – when she's more settled I'll have to post more photos with something in it for scale – but also Princess because she has a kind of a delicate mew, and a kind of gentle "Can't someone deal with this?" kind of disempowerment in her eyes.
She's been to visit my vet – the practice focuses almost exclusively on cats and they have a lot of cat specialists. Lots of vets aren't actually up to date on cat diseases or their care, as people in the U.S. tend to spend more on health care for their dogs than their cats. (I know that isn't true of the crowd of people who will be reading this. But overall it's the case.) The vet we consulted with says she's healthy, the same age as advertised (she's about four), and her dry coat will clear up with a better quality diet. She should stay on the Prozac while she adjusts to her new environment, then we can wean her off of it.
She's not a big mover, by which I mean she's kind of a rug ornament. So far her activity has consisted of laying on the floor, and laying on the floor in a different position. (Except for two mornings of waking us up meowing at dawn because THE ZOMBIES ARE COMING.) But I adopted my previous cat from a shelter where she'd been for six months, and I know it takes a lot of time to adjust to the world after so much time behind bars. She's eating and purring, and her primary form of interaction is to roll over as soon as you pet her and show you her ENORMOUS FLOOFY BELLY so you can brush it. Yes.
Photos of floofy belly will undoubtedly happen.
SO. That's why I was too excited to do the draw. Also busy and distracted.
Life goes on.
With a cat.
As it should.
Bookmark or Share