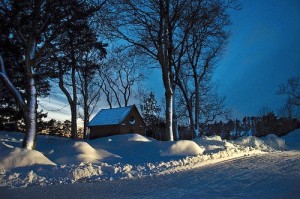 Do you like that classic Christmas song? I love "O Little Town of Bethlehem", it's so soulful and low and sweet. When I hear this song, I can smell that little town as well as see it. It's an image in my mind that is no more real than any image of a town painted on the front of a Christmas card – maybe every Christmas card, because you know exactly the image I mean. The one with little cabins snuggled down in hollows among steep mountains, with snow drifting near or on them, and the glowlight of the moon or stars or both making blue shadows on them and the brave upward-thrusting fir trees that surround them in their mountain keep.
When I was little, I thought that little village in the snow on every Christmas card was supposed to be of Bethlehem, where the baby Jesus was born. It's a reasonable supposition, born of juxtaposition: there you are as a child, singing songs about Bethlehem and surrounded by sleepy mountain snow images everywhere you look; you're bound to associate them.
I didn't know till I was much older that in fact wherever Jesus was born, it probably looked a lot more like the places I lived, in southern California, than that sleepy Alpine village. At the very least, the manger was probably not covered in snow and not surrounded by conifers, any more than my house was, though it probably wasn't surrounded by palm trees or prickly pear plants either.
For better or worse, though, in my childhood brain, when I hear "O little town of Bethlehem" I picture that cold blue and green mountain village in the snow, and I smell it too. I smell candle wax, and fir trees, and oranges with cloves studded all over them, because those scents were real in my memory; and ice, and the ozonic scent of approaching snow, and hay and cow's skin, and the dry woody bark of logs in a cabin's walls, because I've smelled all those things too. And it mixes in my mind with smells I've learned from the perfume world: the furry warmth of myrrh, and the sparkling richness of frankincense.
How to relate this to perfumes one can buy? I'm not great at this process. I'm not one of those people who's constantly searching for a perfume I can imagine in my mind but not find; nor am I the sort of person who imagines someday she'll have a custom scent, because I have a hard time imagining smells I have not actually experienced. I can't compose music and I can't compose scent.
But in this case, I can imagine the scent exactly, and that makes it tough to explain what perfumes are closest to it. It's one of the few times I'm looking for perfume to match my thoughts, rather than the other way around.
There are a few options that present themselves, of course…
Well, the classic discontinued Asja, of course; its spiced fruits don't just represent the cloved oranges, they can fill them out, like coloring in the background of your picture with stripes of a thousand colors. I recently revisted Asja, thinking it couldn't be all that after all (and I hadn't worn it for at least a year – it's one of my favorite Thanksgiving perfumes). It began with a perfumey opening that didn't appeal at all, a sort of classic mix of ingredients you've smelled a million times that was more offputting than alluring, too strong, and not at all evocative of the season. But within minutes it had dried down to its glorious self: something richer than apple pie and lighter than lemon meringue yet evocative of both without ever being foody. Asja is the smell of the chatelaine of the castle: the woman who holds the keys, plans the feast, and deserves a spot next to the fire when all the work is done and pleasure dispensed.
But what a Western focus, my medieval Christmas dream. This is supposed to be the little town of Bethlehem, after all, and the silver frankincense of Amouage is one of my favorite features of the house's perfumes. Let's veer east, and imagine Lyric as the ultimate Christmas perfume of this little snow town. I had a friend who had a Christmas wedding, whose wedding bouquet was the most beautiful combination of red roses and green holly. That's the smell of Lyric: the clean metallic perfection of rose, warmed with the frankincense, as special occasion as the bridal gown of a Christmas bride, an olfactive representation of the deep red and green with some thorns on the edge. Be careful; that which survives in the dead of winter has its own defenses. But it's so beautiful, and well worth experiencing.
The frankincense could be planted deep in a fur stole, a la Anna Karenina, too, and remind me of a different sort of eastern snowscape: as if the little town of Bethlehem were deep in the Russian Caucasus mountains. This is probably my favorite perfume interpretation given my current tastes. Something like Ambre Russe, the perfume of a glorious Russian princess carrying fruit in a silver bowl from a hothouse into her gold and amber lined castle; a fruity snuggly amber of a perfume, but mixed with frankincense and myrrh to give it more wood in the base. Do you know a perfume like this? This is as close as I can get to imagining a perfume that doesn't exist. But Ambre Russe is basically it. I might layer it with a small spritz of Ombre Fauve to give it that furry-er base, without going all the way to the true animalic fur that would really bring in the smell of the barnyard that the manger deserves. (A spritz of L'Air de Rien, for this, anyone? Or even – let's go nuts – vintage Dioressence?)
What I haven't been able to capture in this perfume portrait at all is probably the most salient feature of the picture in my mind: the smell of the snow itself. That cold, crisp, frozen smell – you know it, but what have you ever smelled that smelled like it? For some reason a bunch of modern perfume interpretations of ice or snow from realistic scent companies like philosophy or Demeter tend to represent snow with sort of a cold lemon note. I don't know why, since this isn't even close, as far as I'm concerned. It has a metallic edge to it, and anything that evokes copper or steel would help; but it also needs more elements of another nature that I'm not sure perfume has ever done. Frankincense is perfect here, when it's a chilly one; I would mix some of that wonderful silver frankincense with something to evoke metal, and then maybe some iris, a note I find very chilly and metallic, and rose for the clean soft part of the note. This might get close to what I think of as the smell of snow. Is there a perfume out there that captures this? What do you think?
When I imagine the song "O Little Town of Bethlehem", what mostly sticks with me is the calm and the peace of the music, and the little village it describes. It might not be an accurate representation of the lyrics, but I hear a song that tells of a quiet little miracle taking place almost underfoot. And I do think that's how miracles occur – not with choirs of angels, but with small gentle acts of kindness, every day. Though nowadays I'm not the least bit inclined to describe myself as Christian, the Christian aspects of my upbringing stick with me in these images I have of the holiday and the birth of a messenger in a cold mountain town, unnoticed, but momentous. It surprises me, how I can easily imagine the scent of that. How about you?
There's plenty more thinking about The Scent of Music to be had. A joint group of bloggers has been kind enough to let me participate; visit them and smell more of the scent of music for this holiday season, and enjoy!
Jingle Bells http://australianperfumejunkies.com/2013/12/21/the-scent-of-music-jingle-bells/
Lulajze Jezuniu http://chemistinthebottle.wordpress.com/2013/12/20/the-scent-of-music-lulajze-jezuniu/
Winter Wonderland http://alliamaredhead.com/2013/12/21/the-scent-of-music-winter-wonderland
O Come All Ye Faithful http://riktigparfym.se/2013/12/22/the-scent-of-music-come-all-ye-faithful/
In the Bleak Midwinter http://olfactoriastravels.com/2013/12/22/in-the-bleak-midwinter/
Carol of the Bells http://undina.com/2013/12/21/scent-of-music-carol-of-the-bells/
Christmas Means Love http://anotherperfumeblog.com/2013/12/21/christmas-means-love/
Christmas Time is Here http://chickenfreaksobsessions.blogspot.com/2013/12/the-scent-of-music-christmas-time-is.html
O Little Town http://www.unseencenser.com/2013/12/22/olittletown/
—
Image is .little house., by -Christina-, via Flickr. Used under Creative Commons license; some rights reserved.
Bookmark or Share