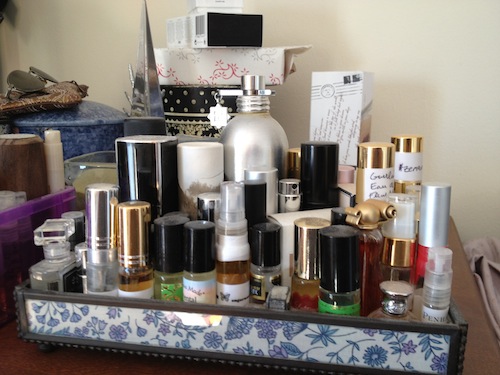 Good lord, where have I been? Let's get back into the swing of things with hoard porn. Everybody loves hoard porn.
This is the glass tray of small bottles that lives on my small bureau. These live on a glass tray because that damn Montale bottle leaked and melted a circle into the finish of the bureau, one of the few nice pieces of furniture I had ever purchased for myself. Boo, Montale. So now if I'm going to have bottles on that bureau they have to be in or on something.
Most of these scents are things that I will wear to go to sleep in, OR are small enough that I don't want to forget I own them. That includes minis, like the Safari, that I've gotten at thrift stores. You can see a paper cylinder box from MCMC; it's probably Love, because I happen to know that Kept and Maui are in the drawer, and Garden's in the living room.
There are things here I should get rid of because I never wear (like that mini of pure DKNY you can just see in the box behind the mini of Organza, which I also don't wear), or the Azemour decant. But they're things that remind me of places I've been or people I've shopped with (like K. and the Eau de Fleurs de Cédrat!), so I keep them here. Which is foolish.
There are some oils here I should find another home for, including the Kiehl's Musk. All the Ava Luxe small oils live in a matching glass box that's just to the left, which you can't see in this photo, but there got to be too many of them to have room for anything BUT Ava Luxes in that box, so some other small bottles got evicted. There's quite a few decants, which include some Gaiac 10 in the big black atomizer to the right of the Montale. And there's the Chanel No. 5 Eau Première twist spray that my brother bought me for my birthday one year because he is good to his crazy big sister.
On the far left is the small 7.5 ml bottle of Ava Luxe No. 23 that I most often put on before bed. Right behind that, though you can't see it, is the Untitled No. 7 (from the Scent Bar's Untitled collection) that I wear more often in the summer. Those scents are "me". Though I have bottles of No. 23 tucked everywhere and often take it traveling, and I only have the one bottle of Untitled No. 7, I think of these as fallbacks, "always available", including the small decant of Indult Tihota in my nightstand. If I need to relax and stop thinking and just sleep, these perfumes really help. Plus they are never wrong.
Part of the insanity value of this photo is the purple plastic decant box you can just see to the left, with my most recent (2012-2013) decants in it. This also has in it the wonderful twist-open wooden case for a perfume that I got from Rituals, the spa/scent store in Barcelona. It has the same mechanism as the Chanel No. 5 Eau Première but instead of being sleek and black and art deco, it is wooden and rustic and natural, and feels good in the hand. I don't wear the Rituals scents often enough.
In the back you can see my bottle of After My Own Heart, still in its box, because I am still celebrating getting it (though I think I've had it almost a year) with an American Express/Henri Bendel coupon (they aren't offering it again this year, I checked, boo).
And then behind the spire of my grandmother's vintage perfume bottle, what is that stack of little boxes?
The top box is my "lovedose" of Amour de Palazzo, by Jul et Mad, that I ordered from Paris (though I also found a cool purse spray on eBay, and between the two of them that's about as much Amour de Palazzo as I may ever need) (though it is gorgeous).
Below that is the three-set of minis from Ann Gerard.
And below THAT is a box of vintage minis from Le Galion that I (follow this level of insanity closely now):
Bought in, like, October
Came gift-wrapped with a Christmas star on it, so I left it wrapped so I would have another present for myself to put under the tree (I LOVE buying presents far more than I like getting them but on Xmas morning sometimes if it's sparse I get blue),
PUT under the tree,
And then still didn't open yet.
And in fact forgot what they were. To the point where I just finally ripped this package open to see what they were. Oh! Le Galion vintage minis. What a nice surprise!
Yes, that's how much of a dork I am.
This is why I was all smug bastard on the recent NST poll regarding whether or not we could un-enable each other from buying perfume. I have plenty! Way too much! Buying more is not a pressure on me now!
Srsly.
Meanwhile I am planning a trip to London and Paris on my way to my vacation this spring with my baby brother in Barcelona (BARCELONA!) and can't really hide that I am stopping in two other cities on the way primarily to perfume shop. There's probably something wrong with me.
Now if you'll excuse me I have to go snort myself. Trying the Sortilège. I just found a box of vintage Le Galion minis. If you'll excuse me…
Bookmark or Share