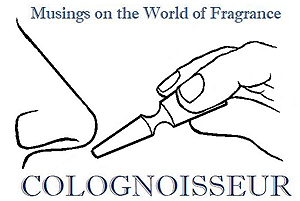 Did you notice the new blog in the blogroll to the left? The Colognoisseur is perfume news, highlights, information, and musings by none other than Mark Behnke, long famed in the perfume world.
If you've ever been to a Sniffapalooza you know Mark, in his Hawaiian shirts and hat holding court wherever the caravan happens to light. Chances are you've spoken to him, as he is outgoing and involved in the good time being had by all.
It isn't easy to get out of bed at 6:30 for Sniffapalooza's Bergdorf breakfast on a Saturday and I would totally give up on Sunday altogether except for the EAU lunch (Emerging Artists Uncorked), which is always really new and interesting perfumes and perfumers, often that I've never heard of before. And Mark introduces them all with thoughtful flair. He really pulls together what's happening in the perfume world and I appreciate an intellectual overview.
But that's not all Mark is. He's discerning but open, and his genuine mad passionate love for perfume shines through at every event. I have bought perfumes specifically because of Mark's recommendations; while I wouldn't wear everything he wears (we have different tastes), I smell everything he ever mentions, because he smells everything, and if he's pointing it out as interesting, it's interesting.
I'm delighted Mark is now writing his own blog at Colognoisseur.com and invite you to check it out!
Bookmark or Share