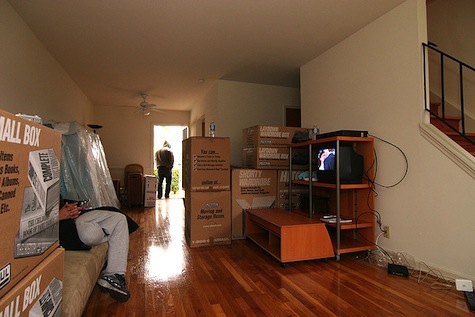 Yes I want to write a wrap-up of Sniffapalooza, start reviewing some of the perfumes I smelled (I've really been enjoying SuléKó's scents – I think there's an English site too somewhere. The perfume is intended to follow in the footsteps of classic Russian perfumery; the bottles are to die for.)
But I have to move. Pity me. I don't know how anyone else ever does this without disrupting their whole lives. Perhaps no one does. I have a heavy commitment schedule and I feel like I'm disappointing absolutely everyone these days. But stuff has to go to the new place.
Moving the perfume itself is a nontrivial activity. But my beloved has acquired for me possibly the perfect storage cabinet – I look forward to posting pictures of it, once it's all done.
Moose is handling it well but we haven't stayed overnight at the new place yet. My heart hurts for her because I know she will have some adjusting to do and she doesn't handle anxiety well. But I know she'll be happy to be in the new place with us and surrounded by all her usual stuff.
She now has a cat tree for the main room and a cat tree for upstairs. Because we will have an upstairs. It's very exciting. We will also have a washing machine and a dryer. and one of those little water dispensers in the refrigerator door. I think it will feel like we are rich. But I'm not sure how to give up having someone else fold my laundry. (This is a very New York area thing. Washing machines in apartments are rare enough and people are busy enough that it's quite common to take your laundry out to someone else. I don't mind doing laundry but I haven't folded anything but my nicer work clothes in about nine years. It's going to be different. Our whole daily housekeeping ritual will be very different.)
I know lots of people treat their blogs very professionally, building up a backlog of content and posting on a schedule. I came from a lifestyle where blogging was a form of communication, person to person. I blog when I have something to say. Like a letter. So I don't have a backlog of content. This is me today; this is all I have to share.
But eventually there will be more Unseen Censer!
—
Image is Moving Day from @kevinv033 via Flickr. Used under Creative Commons license; some rights reserved.
Bookmark or Share