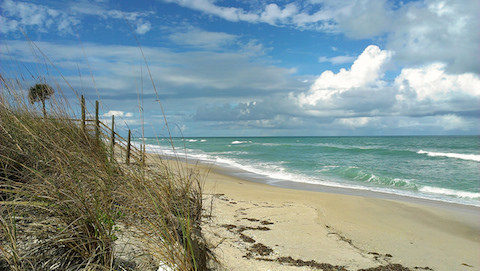 I think what's special about the smell at the beach is dead things. Sorry, not particularly romantic in a perfume blog, but it's true. The sun-cooked, salt-pickled smell of seaweed that has washed up on the beach is heaven to me, and the smell of a real oceanic beach, with its sand and rocks, would smell antiseptic if it weren't for the fantastic rich smell of everything alive and ex-alive that is in the ocean. Full disclosure: I also love the smell of Thai fish sauce and Worcestershire sauce, both made of fermented fish.
That's the umami-rich smell that's missing from a lot of beach perfumes, I think. I don't long for the smell of coconut, frangipani, or Coppertone. I want to smell the smell of life, like sex, like blood, that is the real living ocean. And even of life-giving ex-plants and ex-animals. Those are the smells I associate with the beach, as a born California girl and as someone who would rather be at the beach, any beach, anywhere, ever, than just about anywhere else in the world.
So beach perfumes don't usually thrill me. I do enjoy them, as pretty summer scents. But I passed on CBIHP's At the Beach when I saw it at Bendel's closeout sale on fine perfumes recently, and I own, but don't often reach for, a bottle of Azureé Soleil, solely because of the way Ari at The Scents of Self loves it. I love things that really smell like Hawaii, which is its own set of smells; I love MCMC's Maui perfume, for instance. But that is a scent as much about tropical flowers (which are gorgeous!) as about any actual beach.
I still quite enjoy Olivine's Amongst the Waves, but my go-to "let's try to enjoy the smell of a beach this summer" scent has been Tirrenico by Profumi del Forte, which I discovered because of Olfactif; though the Profumi del Forte line has been beckoning to me for a while, and I DID get a bottle of Versilia Vintage at the closeout Bendel sale, because it is ridiculously gorgeous and ridiculously expensive and it was a good time and place in which to make that splurge.
I've quite been enjoying Versilia Vintage, which deserves its own review; but I've also been enjoying Tirrenico, which I've decided is perhaps the best beach scent I've found yet. There's a coconut note to Amongst the Waves (and to many beach perfumes) that speaks to me of suntan lotion but nothing found in nature on a beach. Tirrenico skips that part, and I like that.
Also the (to my nose) white floral, marine/vetiver, wood, green oak moss, and slightly herbal accords are about as close as you can get, not to a tropical beach, but to an Atlantic beach somewhere on the eastern U.S. seaboard. Maybe not as rich as if there were fermented fish somewhere around, but close. It's fully structured, not the hollow marine/musk shell you get with so many beach perfumes; but it is not, to my nose, particularly floral; and it is multifaceted without being overpowering. There's a lot IN here; it's not so blended that it becomes all one scent, but awfully close. You are not walking around smelling grass, or flowers, or marine scents; it's all one lovely perfume, that stays with you like an impression for as long as it lasts (which is quite a while). Best of all, no one around you will ever think you are wearing Eau de Coppertone. It's beautiful, totally unisex, and my new favorite "scent of beach".
This scent is more affordable than my darling Versilia Vintage (which is apparently "Boise" but says that nowhere on the label – also, it looks as though it was a bigger bottle? IDEK), and I don't know why I don't see more about this scent – or this line – on the perfume blogs. Hard to find, I guess; Henri Bendel had it but their fine fragrance section is no more. (I happen to know that some of their sales staff considered this line their favorite, and were sad that it was going away even before Bendel decided to do away with its fine fragrance section altogether.) Luckyscent carries it. These are very well done, well constructed scents, with no nose hype, no excessive packaging (why the Swarovski crystals everywhere, Bond No. 9?? Why???), no stupid fake backstory, no eight million products in the line, no crap. Just good perfume. Which I'm really enjoying.
I'm going to need to cut back severely on my perfume purchasing this fall to meet some of my other personal goals, but next time I splurge on samples, I'm going to get some more of this line (probably starting with the By Night White and Black). And I'll probably be buying more, if they're still available in this country by the time I get around to it.
Meanwhile, it's August, I started this review three weeks ago, so you can take it for what it's worth. One of my rare "I really thought about this for a while" reviews. Tirrenico. Beautiful beach-inspired scent.
—
Image is "Melbourne Beach, Florida" by Daniel Piraino, via Flickr. Used under Creative Commons license, some rights reserved.
Bookmark or Share