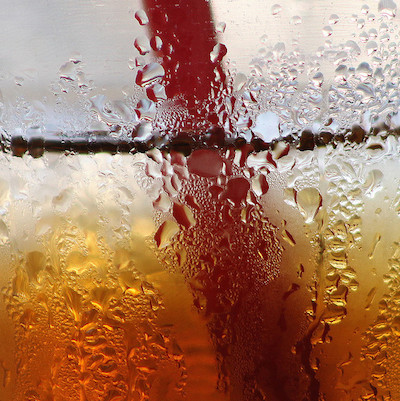 Am I the only one who doesn't use perfume to fight the heat? Of course, I can talk – this is the mildest summer I've had in a decade of living on this godforsaken island, with very little real heat to complain about.
But even in the swelteringest summer, I complain about still air as much as heat. And that can be fixed with air conditioning – noisy, not-environmentally-friendly air conditioning, but air conditioning all the same. If I'm supposed to be sitting in work clothes looking like a grownup, of course I don't want to be sweaty. But the rest of the time I don't mind sweating – I want to keep my sunscreen on, but otherwise, I like to feel my muscles warm. I love hot tubs and the sauna. And I don't dance to perform; I dance to sweat.
No one likes to just sit around dripping sweat, but I learned over several summers working in a dry cleaner's that sweat won't kill you either. I learned how to stay hydrated and keep moving. In the warmer months, I get as lazy and unmotivated to move as anyone. I have to remind myself to keep moving – and if you're going to move your body in the summer, you can't mind sweat.
I don't want a perfume for the faux-cooling – in fact I don't want the sensation of alcohol evaporating off my skin. I want something that won't grow to suffocate me. As I move from over-air-conditioned office to my kitchen or a shower or the gym, I want something that won't rise up and throttle me with its fake woods or chemical-smelling powdery rose.
It had better not cling to me with vampire claws. If I wash it off, I'm done with it. No massive musk molecules dragging about on my hems, please. My nose gets tired more in the heat; in fact the tiniest dab of extrait on the breastbone may be too much if it's still there four hours later and my mind, weary with overstimulation, is ready for a rest – or a new story.
I want brambles in Sleeping Beauty's garden, I want tender magnolia petals melting onto my tongue, I want coolly shining jewels unhidden in a soft dark hiding place of earth. I don't want clean and I don't want chilly and I don't want more fake air conditioning. Air conditioning is for sleeping in, when it's too hot for sleeping in your bedroom and you can't sleep. Perfume is for the living.
Am I the only one who loves that sensation when you push your damp hair away from your neck and the air blows over you and cools your moist skin?
My summer favorites this year:
SoOud Ouris – elegant citrus iris. This is cool thick threads of pure linen, that wear like iron and absorb whatever you pour out, ad infinitem. Perfect summer luxury.
Serge Lutens Encens et Lavande – the meadowy cleanliness of a wooden shower outside your cottage. Reminiscent of southern France in that heat cannot wilt it and it wants you to believe it is a little too good for you. Never too much.
Profumi del Forte Tirrenico – as previously stated, a beach experience par excellence. It has enough underground to it not to be blown away on the breeze, enough richness to it not to be overcome by the other swelling smells of a hot summer. Vacation-y.
By Kilian In the City of Sin – a party in a bottle. This open-handed combination of fruit, flowers and incense never makes me think too hard, never taxes me. I love its stupid dragon-embossed travel spray and I love it for its easy, uncomplicated attractiveness; like a girl who reads, it's kinda sexy not just for everything it is, but everything it makes me think about. Wonderful memories of the Spanish vacation during which I bought it.
Guerlain Encens Mythique – Splendid summer concupiscence. Leather cuffs restraining hands and feet among a bank of fresh-cut blooming flowers while the slightly-too-warm smoke of incense blows over my body. A gorgeous adornment for sweat-soaked skin. Long-drawn-out indulgence.
What are you wearing that isn't just to stay cool? Do you agree with me on the pleasures of getting hot?
—
Image is "the heat is on" by jenny downing, via flickr. Used under Creative Commons license, some rights reserved.
Bookmark or Share