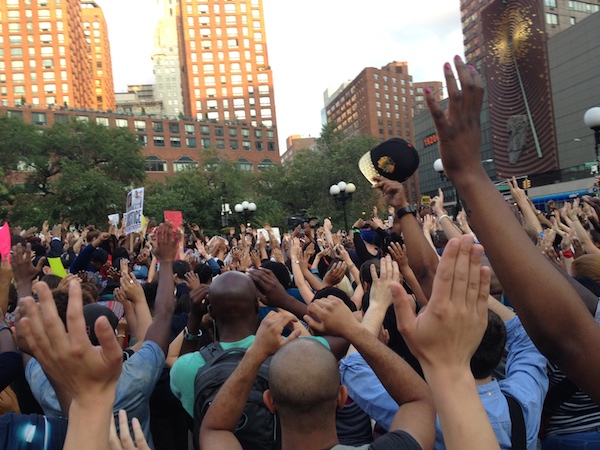 How many of us wear perfume to draw attention to ourselves? I think few, actually. We wear perfume for ourselves, for pleasure, and we worry about it being too much for the folks around us, if we are being "that person" whom everyone else can smell coming a mile away.
What if we wanted to draw attention to ourselves? What if we were protesting? When you protest the job is to draw attention to yourself, through your movements, your actions, your sounds, your look.
Participating in attempts to continue to draw attention to Ferguson, MO here in the United States, I notice that it is hard to get Americans these days to draw attention to themselves. At least some Americans. There are always the brash youth who have little shyness, and of course there are those who well understand the value of drawing attention to make a statement, like this man I saw in Union Square who brought this sign to make this statement: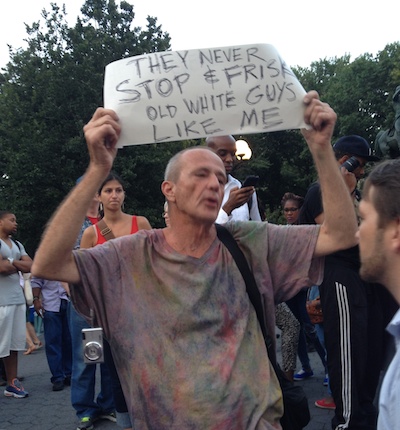 Americans' number one fear is of public speaking. But this guy didn't have to make a sound.
I've seen perfumes that draw attention to causes, like Sweet Anthem and Blue Marble Energy's EOS perfume that had a zero carbon footprint. And of course they can benefit causes: perfumes from Justin Bieber's Someday to Alan Cumming's 2nd Cumming donate their proceeds to charity (perhaps the only thing those two gentlemen have in common). But don't we shy away from a perfume that would draw attention to itself? Or even more shockingly, us?
Can you think of any contenders?
Is part of the problem that perfumes don't speak with words? Because they cannot speak for us. But they can have presence. And we can have presence.
Personally this month I would like to have a perfume that shouts. Preferably when I cannot shout with my voice – for instance when my throat is closed up with tears, or if I am standing silent at a vigil for those who have lost their lives to police brutality. If I were always able to express myself with perfume – not just enjoy it, but express myself – I need a perfume called "Film the Police" that would be all-purpose, indoors and out, and preferably last through long events (and perhaps through marches, or getting arrested) and which would say indelibly, "I am here. I will not be ignored. This injustice must not be ignored."
—
Photos taken by me. #NMOS14 National Moment of Silence for victims of police brutality, Union Square, New York.
Bookmark or Share