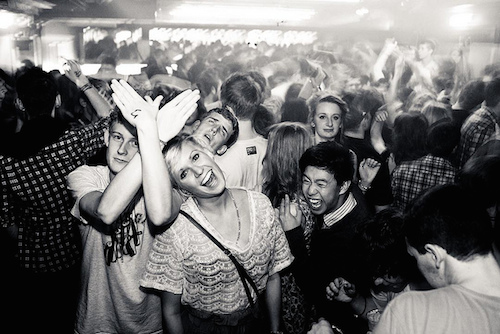 Sorry, I wasn't trying to alarm anybody about saying I had to adjust my perfume purchases. I'm taking some classes I have to pay for, that's all, and I still have some other financial things to get in order from moving. (I'm not ready to admit publicly that I am getting yet another graduate degree. These things just aren't done.) I feel like people come here for the perfume news, if anything, not the me news.
I'm going to Sniffapalooza! THAT'S fun.
Uh, what else. Gucci Guilty Black is in fact even better than the original – in its "concentrated" form (not that I buy that for a second) it's got a certain butteriness to it that really appeals on top of the lilac and amber. Too bad about the Batman bottle.
Are you following Mark at Colognoisseur's adventures at Pitti? He goes to all these perfume expos I never even know about. I love living vicariously through his posts. (I like Italy too.)
Also check out his reviews of the new By Kilians. If you're like me and you love the By Kilians you love and you really dislike the ones you don't love, this set of impressions is crucial. I've already tested Intoxicated and I enjoyed it; I wish By Kilian would come out with a set of three travel sizes of this set, as I'm sure I'm going to enjoy the others too. I feel like there's only so much tobacco a woman can get away with wearing, but I intend to push it.
I am super pleased with my Olfactif samples this month. I'd just been wanting to try Mohur again (I am the only perfumista in the world who didn't go apeshit for it, apparently) and there it is! I'm really pleased with roses and I'm pleased with this selection. I own Lady Vengeance but my purse bullet has a top that doesn't close very tightly and I seldom pull it out, so a little travel spray is welcome; and I want a bottle of Rose Cut but didn't spring for it because I know I wouldn't wear it that much. So this is perfect.
Traveling this week for work – trying to think of what to take with me besides the In the City of Sin and Lavande et Encens I've been wearing all year. But I probably won't think of anything. (Mohur maybe. 🙂 )
Almost everything in my perfume collection is now much more findable in the new place, except when it's not. I need to redo my whole inventory. And when something ISN'T in the collection where it should be, I am totally lost. I am talking about you, L'Artisan L'Eau du Navigateur. I am NOT shelling out for you again. I know you're in this house somewhere.
Did you see The Black Narcissus' review of Aimez-Moi? I've always considered it the codependent cheap cousin of N'Aimez que Moi which I love and have in several forms and never want to be without. N'Aimez que Moi is so much more dignified, more sad, more serious, and somehow beautiful. But now he's made me want to snort Aimez-Moi again (apparently, of course, in the vintage edition). If only for the crazy.
Splitmeet on NST next week. I'll be super-busy all day but hoping to check in. All I really want is to split a travel set of the Le Labo city exclusives. You can get any one of them you want in the set; I just want Musc 25 (though even that for $85 for 10 ml is ridiculous. I have to finish my review, "Le Labo: The Silliest of Exclusive Brands".) I also might want a couple (but only 2 of 3) of the regular scents (I still want some Ylang for sure). I'm not interested in decanting and have bought all the decants I can afford recently and then some. I need to get rid of decants I'm NOT using.
(But I'm always afraid I'll want it later. I hate Sospiro Wardisina. HATE it. I've seldom hated a perfume so much. But then I keep reading reviews of it that rave about it, and I sure as hell don't want to ever shell out for it AGAIN, so I hold on to it. That's stupid, right?)
Updated my theme and somehow Atahualpa has finally turned on me; it's layering my header elements in the wrong order and I'm not enough of a CSS hacker to fix that. And basically too busy to be arsed about it. Oh well.
Somewhere in this house there's ALSO the big bag of samples from LAST Sniffapalooza that I haven't gotten through yet. If I can find that before NEXT Sniffapalooza, I will count that a win!
—
Image is 18.08.11 Mish:Mash by Daniel Easton, via Flickr. Used under Creative Commons license; some rights reserved.
Bookmark or Share