Hey, you didn't come for the polite language. I am under so much pressure to sit down and shut up these days, I have to bust out somewhere. Sorry, it's here.
Sniffapalooza is coming up! And with it the inevitable "What are your favorite frags?" question. I just got to go to a lovely dinner with a bunch of perfumistas last week, and was asked this, and of course couldn't think of a damn thing.
So I thought I'd post a pic of what I've been wearing lately. It's clustered, hoard-like, on my bureau. That's the artistic photo above. The real one, with yet more stuff (in its boxes, Undina!) stacked in the back left, is below.
What have been my most recent loves? These are perfumes I'm seeing steady, for the most part, with a few booty calls mixed in. They're the ones I'm reaching for most often, which is why they're out here on top of the bureau.
Weirdly, I'm still really loving In The City of Sin. So much that my Xmas present to me might be one of the big bottles (and that stupid snake clutch). This thing never disappoints me. There are certain perfumes that are to me what a camel cashmere sweater is to a rich person. Always comfortable, always appropriate, luxe without being flashy. This one has joined that club for me. I have many peachy fragrances, and I can't say it's the most perfectly executed one. But I find it to be the perfect balance between fruit, wood, and spice, and on me it is rather quiet and not particularly smelling like sin. I have a weakness for those Kilian travel atomizers and I'll admit that's why I originally bought this; but it really serves me so often and so well.
You can't see it in the arty picture. Only in the non-arty one below.
Next to it is my Le Labo travel cylinder. It has Dries van Noten in it. I don't have to tell you why.
The decant in the front is my Encens et Lavande. This has become my Serge Lutens above all the others. I have worn the hell out of this stuff day and night for months and taken it on every trip I've been on. I fear it smells masculine, but I don't care.
Lying in the red sleeve, so alluring, so sexay, is my purse spray of La Memoire Retrouvée by L'Antichambre I got at The Scent Bar last fall. This chocolate iris patchouli has changed my mind about iris, all by its little self. I've been purchasing irises all year because of this bad boy. I must have a dozen chocolate patchoulis but this one never fails me. I love it.
There's a buttload* of decants scattered around there, but none of them has actually been getting much play except for the Guerlain Encens Mythique. That has been my glamour scent of the summer. It's kind of sad because I adore it so much I want to save it for special occasions. But I do have a whole additional bottle. I should wallow in it. But I can't. I get more compliments on it than anything else on here.
The white box to the right is Infusion d'Iris. See above, iris.
That Histoires d'Parfums mini toward the back is Vert Pivoine. Sometimes you just need something pretty. Sometimes I want peonies.
The other square decant is the Miel du Bois I bought at the same time as I bought the Encens et Lavande. I've worn it almost not at all. Funny how things go, huh? It was the lavender I didn't think I'd wear.
Behind that is my Chanel No. 5 Eau Premiere purse spray. I need to buy some refills of the pre-reformulation version before they disappear. Yes, it pisses me off that I have to worry about reformulations of EAU PREMIERE already. I wear this ALL the time. If I'm feeling like nothing else will suit me and I need something a little lighter even than City of Sin (which isn't heavy), this will do.
That white box behind that is Tears of Ra, from Soihvole, which I really can no longer figure out how to punctuate. It's good stuff. If you love honey, and I do, that stuff is gorgeous. Like all Liz Zorn's scents, expensive, but worth a hit if you can get it.
The silver box is some Slatkin Absinthe which I bought because of Mark at Colognoisseur. It's freaking fantastic. I wouldn't bother to do a review because his is better and it's discontinued. I am not disappointed with that purchase though.
You can just see the plinthy bottle with the paper label behind all that which is Agonist's Liquid Crystal. This is the lemon incense I bought right after Barcelona which is also a big favorite with me. I bought at backup bottle at the Bendel going out of the fine fragrance business sale.
Serge Lutens' Fleurs d'Oranger – eh, if you keep thinking about something for four or five years eventually you have to get it just so you can stop thinking about it, if nothing else. I was able to get it with credit card points. I haven't worn it as much over the summer as I thought I would. But I still think it's one of the more unexpected orange flowers out there.
The Limette 37 that should be in the Le Labo tub is next to it. And the 10 ml next to that is Byredo Gypsy Water. I didn't wear that as much as I thought I would either.
And that's really all! So many smaller things, they're clustered together. If you check out the NONartistic photo, below…
In the boxes in the back are some things I'm keeping in their wrappers. I finally got a bottle of Bottega Veneta, the original one – and it faded on me in about an hour. I have to try it again. I hope I didn't get a bad batch. I waited so long to buy it. Florabotanica – yes, I have a weakness for the packaging, but I really wear this more than you'd think. I love a rose with stemminess in it. Versilia Vintage Boise, I've written about that, and my beloved SoOuds – Nur, and Ouris. Weirdly, again, I really loved Nur and waited so long to buy it, but Ouris, my impulse buy (because of fellow Bendel shopper hajusuuri), I've worn a lot more.
You can't really see it in this photo but the Lubin Idole EDP I've been cuddling by my bedside like a teddy bear finally got moved over here because I feel like it should get less light exposure, despite the black bottle. I made a little decant (to carry to Ari's dinner, in honor of her) and will have to put the bottle in the cabinet. But I don't want to yet.
Then to the right there's a few more little things. Gucci Guilty, god help me. Atelier Cologne's Sous le Toits de Paris – almost always fantastic (on some warmer days it can get a little astringent on me, at least this summer. It's still a masterpiece). I'm not even sure what those decants are; there's a Fragrance Republic I've been wearing towards the back; and an Angel Taste of Leather I used to keep near the bed I haven't found a place for yet.
Yes, I also have a weakness for stupid fashion pins. In my defense, I do wear them.
C'mon, post your bureau photo! I want to see if it's way neater than this mess of mine. 🙂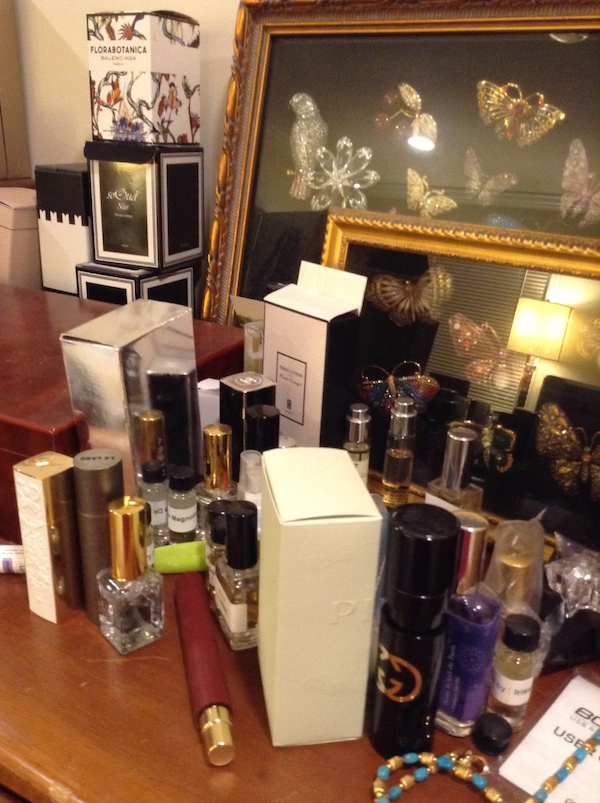 —
Photos are mine. I GUESS you could use them under Creative Commons license, but I don't know why you would want to.
*I felt this word might be a bit indelicate for some of my six readers, even if they made it past the "shit" in the title. I duly asked Google for some synonyms for "buttload". What I got back was from Urban Dictionary: "shitload. more than an assload but still less than a fuckton". OK, I tried.
Bookmark or Share