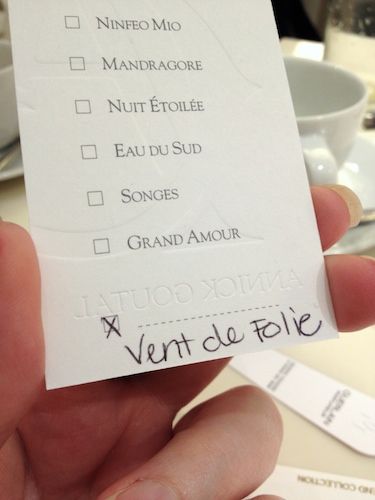 As usual after a Sniffa, I have almost too much I want to write about. I am SOAKED in perfume, y'all. And of course there's always a lead-up; I got super excited and bought (among other things) the COOLEST Linari sample set…
But just to get started on the perfumes themselves (though there were lots of other things to report on):
The collection of perfumes shown at the Bergdorf breakfast were oddly light and spring-like. I would have expected more fall-type scents. This is not like fashion, where they always show a season ahead. Usually the fall perfumes are pretty fall-y (they're often timed to be Christmas and Hannukah presents, after all), while the spring perfumes come out… well, in spring. Lots of the scents shown at this event were kind of springy. But they were more interesting than you might think (if you are a lover of cozier, woolier perfumes, and so many of us are).
One standout was B by Balenciaga, which generated a lot of excitement with its notes list of lily of the valley, edamame, and cedarwood. At first sniff I liked this a lot and am looking forward to doing a longer review, as it was one of the samples we received.
Annick Goutal's Vent de Folie was also appealing, another soft floral bolstered with woods that was closer to something fresh, salty and springlike than anything oriental. This I was also very pleased to get a sample of and may end up wearing more than I would have expected.
I'm also looking forward to trying all the Vreeland perfumes. None of them really stood out to me at the counter, though I loved the deep jewel-toned look of the bottles.
Piguet's Gardenia was pitched to the right crowd. I would bet most of these perfumistas never met a leather floral they didn't like. It was a popular draw at the counter, and that too we got samples of and I'm looking forward to trying it in more detail.
The Soufflé Shalimar flanker was more disappointing to me as someone who actually liked Parfum Initial (which is being discontinued and which I thought was a wonderful modernization of Shalimar). Many fans will say that the Soufflé has nothing to do with Shalimar itself at all. Actually in the far drydown it has a buttery praline note that might, in its echoes, remind one faintly of the vanilla of Shalimar proper. But to get there you have to go through a lot of nondescript fruity musk that doesn't smell like Shalimar at all and does smell like too many other perfumes. I hope it accomplishes for Guerlain whatever they're trying to accomplish in the market with it.
Last fall rose was really having a moment. I made a list of all the rose perfumes that debuted, and then of course failed to write up a really detailed report. (Yes, I suck. Look, do I come over to your blog and criticize YOUR shortcomings?) It was interesting to see that this fall there were a few more rose offerings. There were also at least two notable iris offerings, which I thought was very interesting as iris is a note that doesn't always have a populist appeal. I wonder if Prada's Infusion d'Iris (a blockbuster seller as far as I can tell) is having an effect on other brands who want to have a perfume in this space.
Houbigant's Iris des Champs was the prettier, more approachable sister of the two. This is one I need to give more time to. I went straight for trying Creed's Iris Tubereuse on skin, because I loved it on paper. The iris was earthy and rooty and the tuberose sort of wrapped around it like a puzzle piece, and my seatmate pointed out that there was a touch of lavender holding the whole thing together, and I found that to be true. Unfortunately what had been a beautiful cloisonné piece on paper, on my skin turned into just a dusty disaster, and this made me sad. I fear it's me, not the perfume. I will want to come back to this, but I still haven't found a Creed I want to give my heart to.
Tuberose may have beat out iris as surprise ingredient of the spring, as Jo Malone also showed their Tuberose Angelica addition to their Cologne Intense line. My first response to this was that Jo Malone is a light cologne-type company, and cologne-type companies shouldn't do tuberose. This tuberose was fragmentary and hollow, and the skeleton that they captured was sharp, pokey, and unpleasant. I like Jo Malone's Cologne Intense line (I worked my butt off to get my hands on some Dark Amber & Ginger Lily before it came back into regular distribution) but this one didn't appeal. Perhaps I just didn't wrap my head around it at first encounter. I don't know if it's something tuberose lovers are supposed to love, or something that is supposed to appeal to people who don't usually like tuberose.
Interestingly, they didn't show Wood Sage & Sea Salt, yet that is having surprising success among perfumistas whom I wouldn't have suspected of buying a Jo Malone let alone one that is supposed to evoke salt and water. I've heard at least three people I wouldn't have expected to like it say that they outright bought it. I need to smell this again. It failed to seduce me when I spritzed it on myself on the way through Nordstrom but maybe I need to expose myself to temptation again.
Clive Christian's L wasn't shown but I knew it was out and I knew Bergdorf's would have it; this was also on my "put straight on skin" list. I thought this was pretty but fortunately didn't fall in love. I'm not sure they really need to add on to what I think is their fantastic first scents (especially X and 1872), but I liked C better than L. This one I might try on skin again in a quieter environment but I expect a Clive Christian to rise above the fray and beat back everything else on my hands, at their prices; the fact that L didn't means I don't need to go out and sell a kidney for it right now.
The perfume boards are also all agog over Bottega Veneta's Knot, but now that I've smelled it it would appear to me that BV is coasting on the (well deserved) reputation they earned when they released the first Bottega Veneta scent, which was original and beautiful. Eau Legère is fine but not groundbreaking, and Knot is not memorable at all. Buy yourself one of the bottles of the original and just bask in it.
The Roja Dove exclusive for Bergdorf Goodman was, of course, lovely (I don't think Roja Dove is capable of turning out an ugly perfume). It didn't reach out and grab me and say it had to be mine, but then in the category of Bergdorf's exclusives I already have Amouage's Beloved, also designed specifically with the Bergdorf customer in mind. I love the idea that a Goodman (har) is hard to find, and of course it's very wearable and very expensive as well as being very beautiful. If I get to smell it again I'll post a fuller review; I don't think it was among our samples. It's well worth visiting the RD counter in Bergdorf's just to visit Tom Crutchfield, now representing the brand there, and experience their scents.
The most unfortunate debut (from my wallet's point of view) was of Atelier Cologne's Bergdorf exclusive, called Rendezvous. I love these people and I love their work and Rendezvous was a gorgeous osmanthus thing that like most Atelier scents I could picture myself wearing day in and day out. My purchase of that was my unplanned splurge but I doubt I'll regret it, and as I don't get into the city that often I am just as glad I bought it on the day, when the gorgeous gentlemen were there to engrave the leather sleeve on the mini purse-bottle for me. I have a feeling this will join Rose Anonyme (something else that perfumistas I meet often report owning) and Sous le Toit de Paris (a masterpiece) as one of my go-to perfumes, something to wear when nothing else will do. I'll let you know how it goes.
Notable samples:
Ramon Monegal's Hand in Hand (rose & oud – disastrously the little vial is unlabeled and it already wants to separate itself from its card. Be warned, vendors);
three Parfums de Marly (apparently this brand is quite good but not well known in the U.S.);
all three of the Kilian addiction series (which I've already smelled, and Intoxication continues to grow on me, har,)
Roja's Gardenia extrait, swoon. (Maybe white florals altogether are having a moment? But no. It's not jasmine, it's iris, tuberose, and gardenia (there's this and Piguet's).)
That wonderful B by Balenciaga;
all 5 Vreeland scents;
Tom Ford's Velvet Orchid (and a coral mini lipstick!) (The new Tom Ford patchouli was also quite broadly approved of, as being neither too clean nor too hippie, but very good quality patchouli);
Carthusia Capri Forget me Not;
Annick Goutal Vent de Folie;
Kiori oil (more on this on Sunday report);
the Antica Farmacista Holiday room spray, evergreen with roasted chestnut, gorgeous;
Bottega Veneta Knot;
Shalimar Soufflé;
Piguet's Gardenia;
Aerin's Lilac Path (though they showed the Iris Meadow and I was more interested in that – grass lovers seek this one out);
Volnay Objet Céleste (no idea what this even is);
and a sprinkling of things we've seen before.
That's enough for a start, isn't it?
—
Photos are mine; shared under Creative Commons license, if you really want to use them, please give unseencenser.com credit. Thanks.
Bookmark or Share