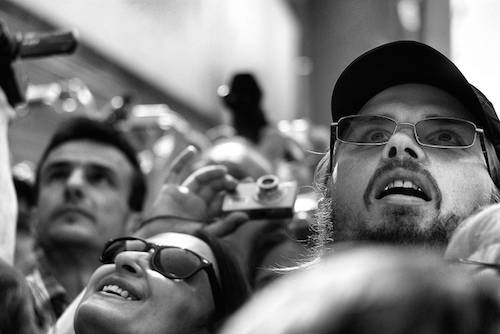 Usually lunch on day 1 includes small speeches from a series of people who have something to do with the perfume industry. Past ones that come to mind have some sort of a multimedia component – the time a Hayari dress was modeled in the room to introduce Hayari perfumes (which I quite like), for instance, or the presentation about sniffing scents of foods that may well soon be extinct. (Which is particularly interesting because as we know, the smell of the food is a great deal of our experience of the food. The question was, if we smell one thing while eating another, will we have a similar experience to eating the real food? Interesting.)
Usually the day 1 lunch is in a place right near Bergdorf Goodman that has great service and is organized for large parties. Because I'm not attending for the food, the generic menu one must perforce get in very large parties meets my requirements (since I get up at 5:30 to attend the Sniffa Bergdorf breakfast – something that I otherwise never, ever do – I am always starving by noon on day 1, and I understand that many of my fellow diners are perhaps not the adventurous eater that I am. And the food is always good).
Most of them are not professional speakers but they have something to say about some aspect of a perfume brand, product or process, so it keeps you alert while you're comparing with your table mates what you sniffed this morning, what you bought, and what you might buy in the future – those perennial topics for perfumistas everywhere.
Usually I find the table conversation as interesting or more interesting than the speakers because we have a more up-close discussion of perfume – again, we have a shared experience in whatever we were just all sniffing together, perhaps including what we saw at the breakfast, for those of us crazy enough to attend that, and it is usually the only time any of us can sit down and spend some time comfortably with other perfume freaks to discuss our shared passion.
For Sniffa's 10th anniversary this year the Karens convinced Chandler Burr, perfume curator, author and reviewer, to do a little question-and-answer interview, which was probably a great format and one that they should use more often. Karen Dubin, the MC and "frontman" of Sniffapalooza, knows more about perfume than any 100 human beings you are ever likely to be able to put into a room together, and as a not-professional-speaker has a kind, interested way of putting a question that works very well. Chandler Burr, as an opinionated perfume art evangelist, is probably the most interesting interviewee one could have for such an event.
It was fun getting to know Chandler a little better as a person through Karen's questions; I've seen him many times in person but never felt I learned as much about his viewpoints on art and life as in this little talk (and a person's viewpoint on life is extremely pertinent to their viewpoint on art, as far as I'm concerned).
She also managed to elicit from him some of his more controversial views on art as a necessarily artificial creation. As someone who has previously tackled this topic in an academic setting, I could certainly see his point. In a world that exists after "found" art and other postmodernist art like Marcel Duchamp's ready-mades (which I am sure are at least part of what Mr. Burr is thinking of), it could be argued that the defining feature of art is the intentionality of the artist's creation, and that synthetic ingredients are that which separates perfume from the merely found in nature.
On the other hand I think that argument contains its own refutation. Mr. Burr's point was that art should not be, cannot be, something which one can merely stumble across. It has to have an element of artificiality/artifice (both words with "art" as their root) within it. But Duchamp's ready-mades prove the opposite point. Something that one stumbles upon in life can be art if the artist arranges it so. No ingredient of Duchamp's ready-mades, which included things like a urinal labeled "Fountain" and a glass vial of Paris air, comprised anything that the artist actually made except inasmuch as he arranged them and labeled them as art. Duchamp might have said the intentionality of the artist framing the object AS art was the act of art creation – and I'm not sure a natural perfume artist (whose work Mr. Burr was categorically denying fell into the category of art) couldn't do the same thing.
Of course, part of the challenge is that they don't do the same thing. Not all, but many of the natural perfume artists whose advertising materials I've seen are extolling their perfumes more as a lifestyle than as art. They express themselves as less concerned with the creation of art (whatever that may be) than with remaining "natural" which is defined as something in opposition to "artificial" – a description that incenses some of the chemists I've spoken to involved in ingredient manufacture, because the question of what is or is not "natural" or "artificial" in organic chemistry is not really a question of "natural = that which can be manufactured from items grown in a garden". This whole discussion is at best completely tangential to the discussion of aesthetics per se, and it is easy to see how Mr. Burr can come to feel so passionately about it given how much his work has come to revolve around aesthetics and how one treats perfume as an art form.
(One can entertain oneself quite a bit wondering what sort of art installation Duchamp would plan to refute this "artificial"/"natural" dichotomy. Or which art installation he DID make that refuted it!)
The more original version of Mr. Burr's point, one that can really only be appreciated by us perfume lovers (and perhaps no one else is qualified to remark upon), is that great perfumery began with the creation of synthetic ingredients. Of course natural perfumers would disagree with this a priori, but as such they remove themselves from the argument, and it is still an interesting point to argue. Of course it assumes that perfumery can be great, can even be art, and then we get into a circle that is not as interesting (perfume as art begins with the creation of the synthetic ingredients because the synthetic ingredients are what make perfume great art). But positing that point for a moment, I wonder how many of us would agree. Is vanillin, which makes Shalimar possible, necessary for a great perfume? Were there any great perfumes before the great synthetics? If so, why is no perfume manufacturer still making them for us to appreciate? How would we know what they were – since perfume's broad market success as a discrete corporate product seems to have begun with the introduction of synthetics? Or is that really true? Several of the perfume houses go back to the 18th century; might it not instead be the case that perfume success in the market coincides with the rise of mass media marketing as much as (or more than) the rise of synthetics? Is it the reproducibility of a synthetic ingredient that makes it possible to make a perfume that continues to give its wearer the same experience year after year? What then do we make of perfumes like Chanel No. 5 which does include natural ingredients (undoubtedly, previously more of them – and that affects what we can know about synthetics too — we so seldom know what is actually in a perfume formula) and which certainly has changed over time? I'm not just referring to IFRA restrictions, I'm talking about the fact that the natural ingredients simply cannot always be the same.
These are questions which only we perfume lovers, with our libraries full of vintage as well as newer perfumes, natural niche creations as well as mass-market blockbusters, are in a position to decide. I think. I have to think more about this. But only we have the knowledge of the broad universe of perfume possibilities from which to discuss the point, I believe.
Listening to him speak it also occurred to me that as much as he has often stated that he just fell into perfume (originally by meeting Luca Turin on a train and writing The Emperor of Scent), I wonder if he is as passionate about other topics he has written about as a journalist. Whether or not he grew up with a passion for perfume, he certainly has one now, and it is that passion that makes him an interesting writer on the topic. He did say that his greatest fear was to have nothing interesting to work on, or some words to that effect. For better or worse, perfume seems to continue to interest him, and because of that he is certainly the person who is producing the most interesting writing on this topic that is of such interest to any of us who might be reading this blog. I am looking forward to getting my hands on his new book on the Dior perfumes, which he touted as more of a real history than advertising copy, and which should be very interesting.
Lunch also included a truly beautiful room fragrance and candle, Baiser Rose, which this blogger wants for Christmas and which certainly brings ME back to the baser feature of perfume loving: covetousness. There was another controversial statement by another presenter, about running a company featuring skin care products that work over and above paraben-free products, which I'm afraid demonstrated a point of view sadly out of touch with the market (certainly at my table we were all of the view that we'll take a few sunspots or wrinkles over potentially carcinogenic ingredients, however logical or illogical that point might be given studies that have been done over time on those ingredients). So overall it was a pretty controversial lunch for a Sniffa, but one that still contained new fun facts to know and tell and new things to sniff and enjoy.
I certainly missed having Henri Bendel after lunch, as crowded as it always was. I think the loss of their fine fragrance floor is a shame, but Sniffa doesn't have the relationship one might hope for with, say, Barney's which is right up the road and has a stunning perfume floor. (I can't blame Barney's; I wouldn't want a crowd of a hundred crazed perfume shoppers on my floor either, no matter how excited about the product they might get! It can get crazy and I am forever grateful to the stores that DO host us. Bergdorf's is forever to be applauded for its willingness to enable boisterous and vehement (though still very exclusive) shopping!)
I thence repaired to a quieter location to drink tea with fellow perfumistas and ruminate over the aesthetic theories of artifice and nature – actually, we tried out the Roblé scented nail polish, gossiped about perfume celebrities and I ate all the cheese. I had to recharge for day 2 – further reporting about which to follow.
—
Image is "They exist" by Boris SV, via Flickr; used under Creative Commons license, some rights removed.
Bookmark or Share